CHECK IT OUT!!!! Here is WGSD's submission to HGTV's Hometown Takeover. To view the video please visit
https://bit.ly/2Uoj92u
. This is also posted on the WGSD Facebook page!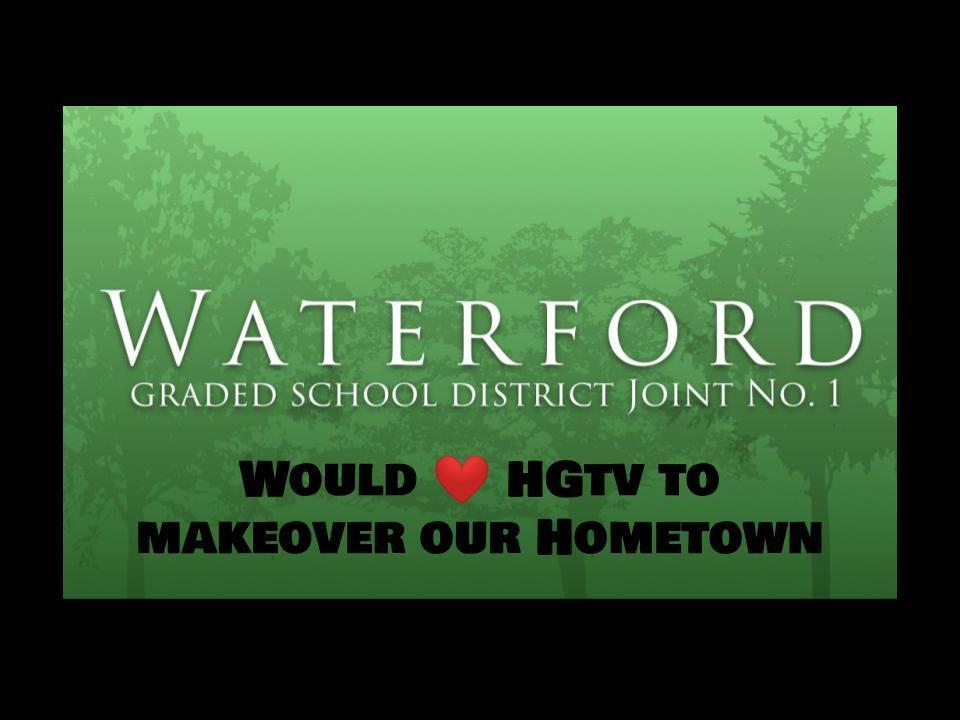 CONGRATULATIONS to all of our students that competed in the MATH 24 competition earlier this week and to 6 of our students that have qualified for the Regional Math 24 Meet at Washington Caldwell on Wednesday, February 5. Math 24 is a mental math card game in which participants use the four numbers on the card, and any combination of addition, subtraction, multiplication or division, to arrive at a solution of 24. The top six competitors from each elementary school are invited the district tournament, where they compete against students from the other schools for the six spots at the regional tournament.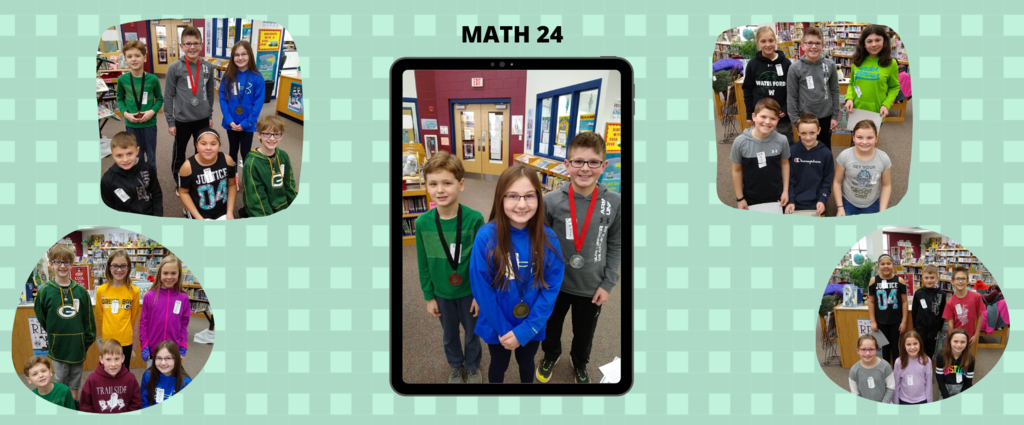 Disney® Themed Dance Class When: Tuesday Feb 4, 11, 18, 25, March 3 Grades: 4K- 6 Cost: $45 Location: Trailside School Register online today! Registration Deadline = January 30th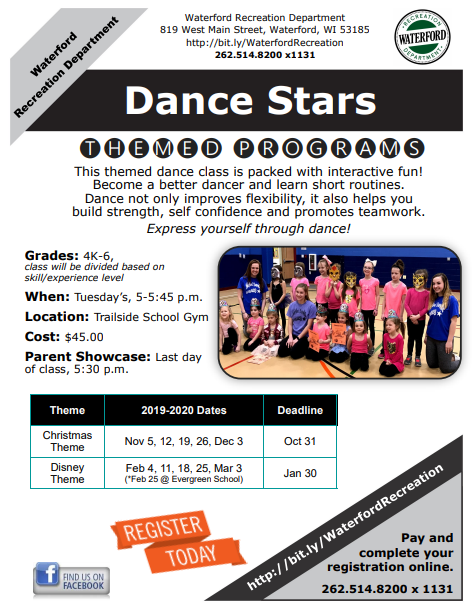 Due to the unexpected weather forecast the Waterford Recreation Open Gym Basketball scheduled for Saturday, January 11th has been Cancelled. Stay Safe Everyone!

Happy National Eagle Day! In observance of National Eagle Day, Evergreen Elementary has adopted an eagle nest through the Wisconsin DNR. Once received we will share an aerial photo of our eagle nest.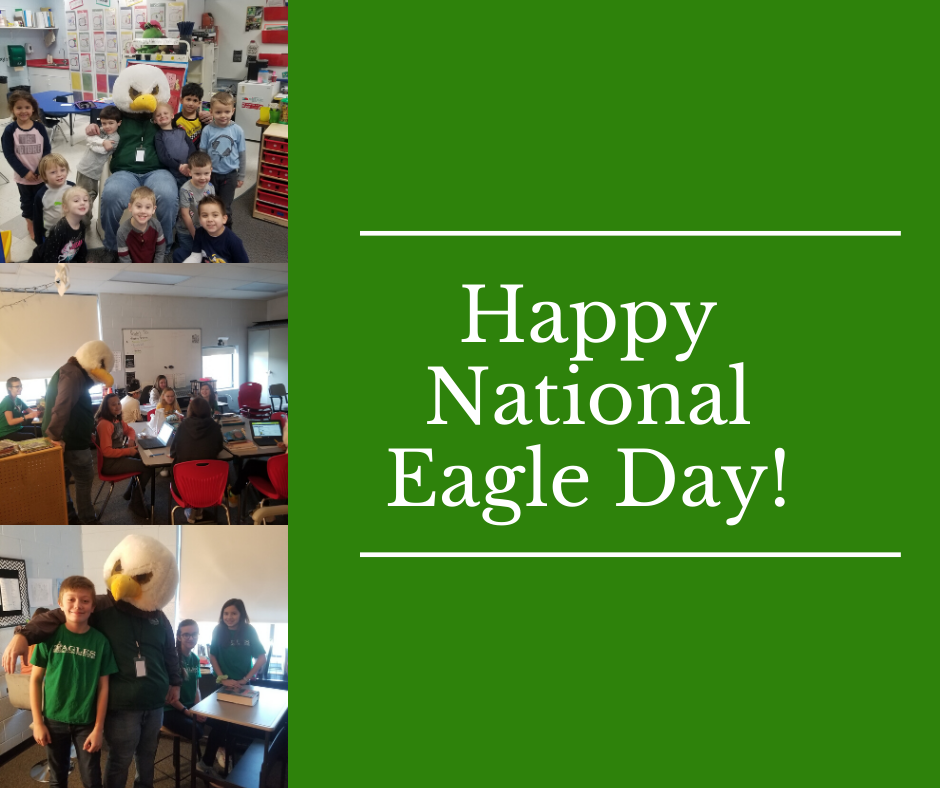 Congratulations to Mrs. Nicole Meier, Waterford Graded School District's Talented and Gifted Teacher. Mrs. Meier was recently appointed to sit on the state board of the Wisconsin Association for the Talented and Gifted (WATG). She will begin her appointment at the start of 2020. We are so proud of Mrs. Meier and know that she will do a great job advocating for talented and gifted students and their unique needs at the state level, which will undoubtedly benefit our students in WGSD!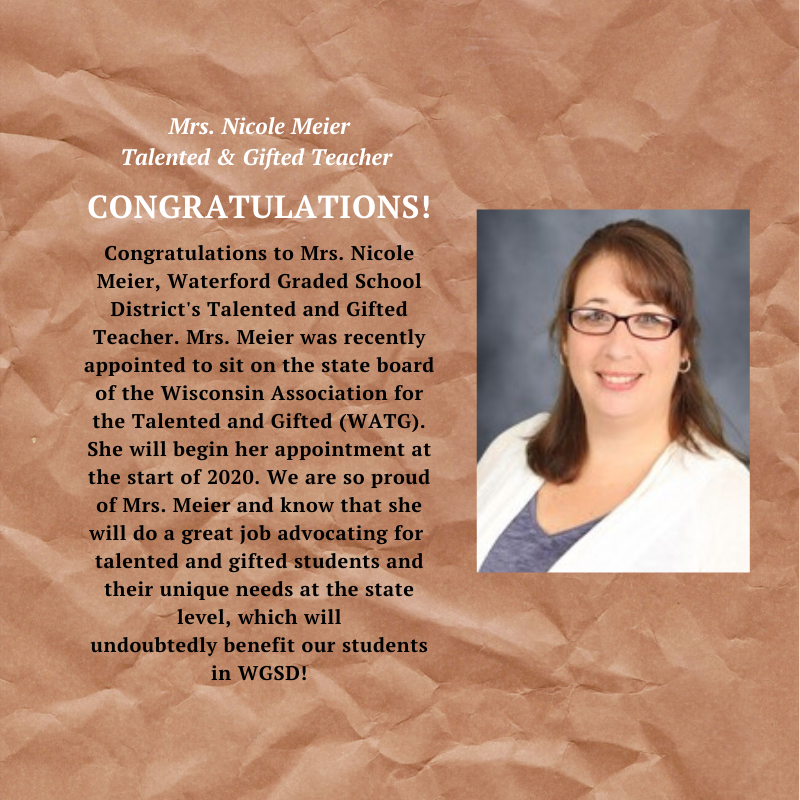 My name is Madison Corey and I am thrilled to be joining the Woodfield team as a 4th Grade teacher! In December 2016, I graduated from Carroll University with my Bachelor's Degree in Elementary and Special Education 1-8 with a math minor. Previously, I have taught 4th and 5th grades as well as Special Education in a variety of settings in the Waukesha School District. As a Waterford Grade School alumna myself, I am so excited to be returning to my hometown of Waterford to teach! I currently live close by in Rochester where I am a dog-mom to two little shitzu-poodle puppies! I love spending time outside playing with them. In my free time, I enjoy reading, catching up on my favorite TV shows, and spending time with family and friends. In addition, I love to show my competitive side while playing card and board games with my family! My passion for education lies in the words of Irish poet William Butler Yeats, "Education is not the filling of a pail, but the lighting of a fire." I find my calling as an educator is not merely to deliver content in hopes that it sticks, but to inspire my students to become curious learners that yearn to find the answers of tomorrow's problems!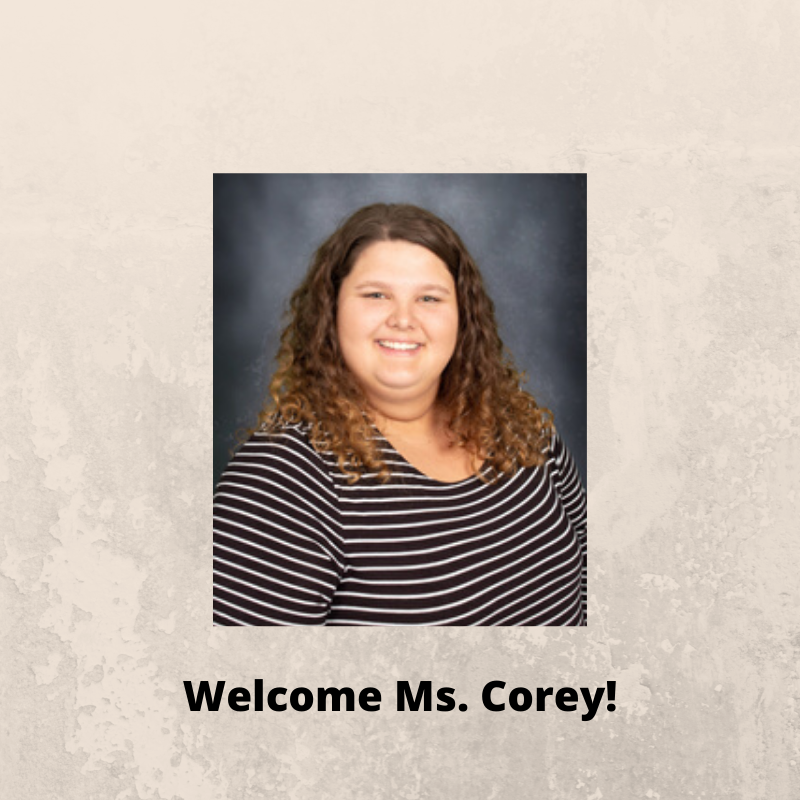 Welcome Mrs. Kostein! Hello, my name is Karla Kostein and I am so excited to join the Waterford community as a special education teacher at Evergreen Elementary School this coming year. I have only been here a few days, but can already feel the positive energy and welcoming atmosphere. I hold a Bachelor's degree from Carthage College and a Master's degree from the University of Wisconsin Madison. Over the course of my career I have taught all grade levels from 4K to eighth grade. "I have learned that, although I am a good teacher, I am a much better student, and I was blessed to learn valuable lessons from my students on a daily basis. They taught me the importance of teaching to a student- and not to a test." Erin Gruwell Spending time with my family which includes my husband and two sons is my favorite thing. During our free time together in the summer we love camping, and during the winter months we can be found outside on the ski hills. I am looking forward to a great year getting to know all of the students and parents.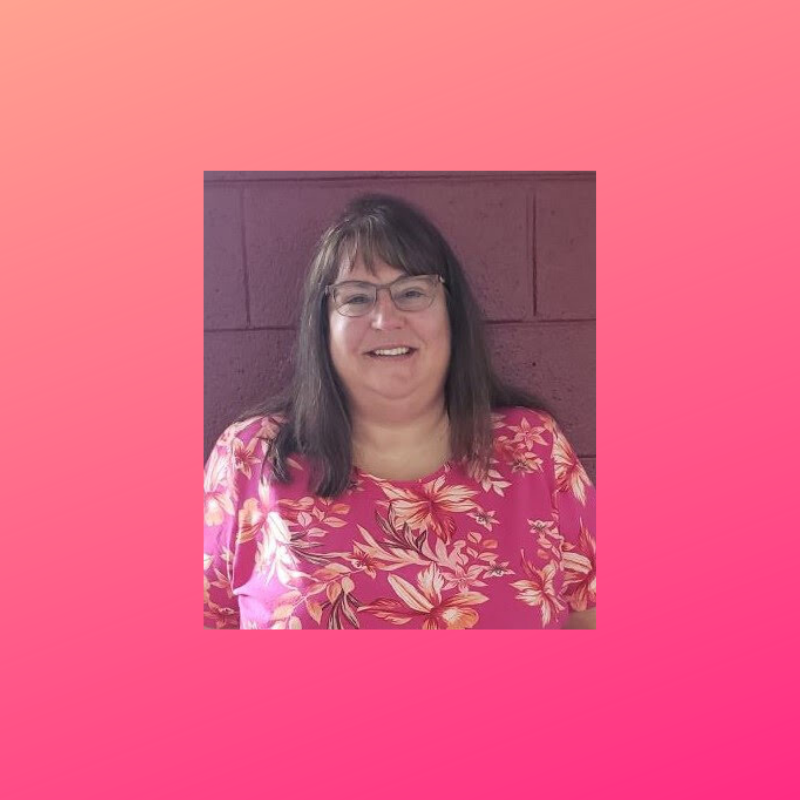 Congratulations Mrs Kulow! The Wisconsin Choral Directors Association board has named Mrs. Kulow as the Outstanding Middle Level Director for 2019! Mrs. Kulow will receive the award in July at the University of Wisconsin Eau-Claire as part of WCDA's summer conference.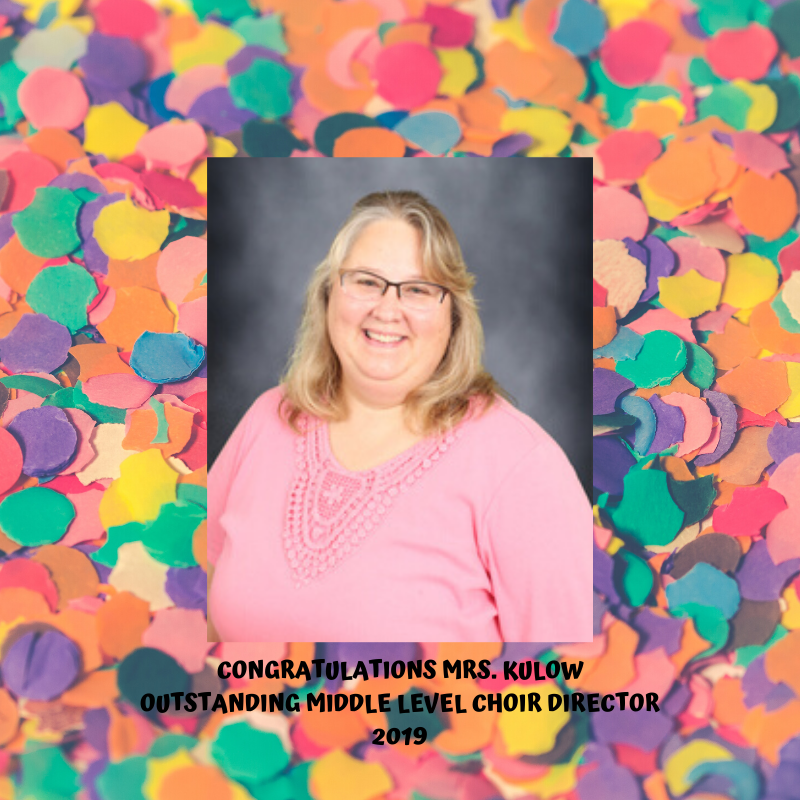 Waterford Recreation Department Basketball Program: Register online today for our Co-ed 4K thru 4th Grade Basketball Program. Practice one (1) night / week, two (2) Saturday open gym days, six (6) Saturday morning games. Program begins in January. Registration Deadline = December 15th. Visit the Waterford Recreation Website for all details

On November 1st, Fox River Middle School hosted their 8th Annual Veterans Day Celebration. This year we were honored to have Josh Davis, US Army, First Sgt (Ret.) to be the keynote speaker. Fox River Middle School along with Integrity Celebration Center proudly welcomed 130 vets and spouses, parents and grandparents of our students and staff. Student musicians and writers shared their awesome talents with those that participated. We heard speeches made by WWII War heroes- Julian Plaster and Chuck Franzke and a more recent veteran- Josh Davis. Their words impacted all of us in a special way. Thank you to all that have served our country.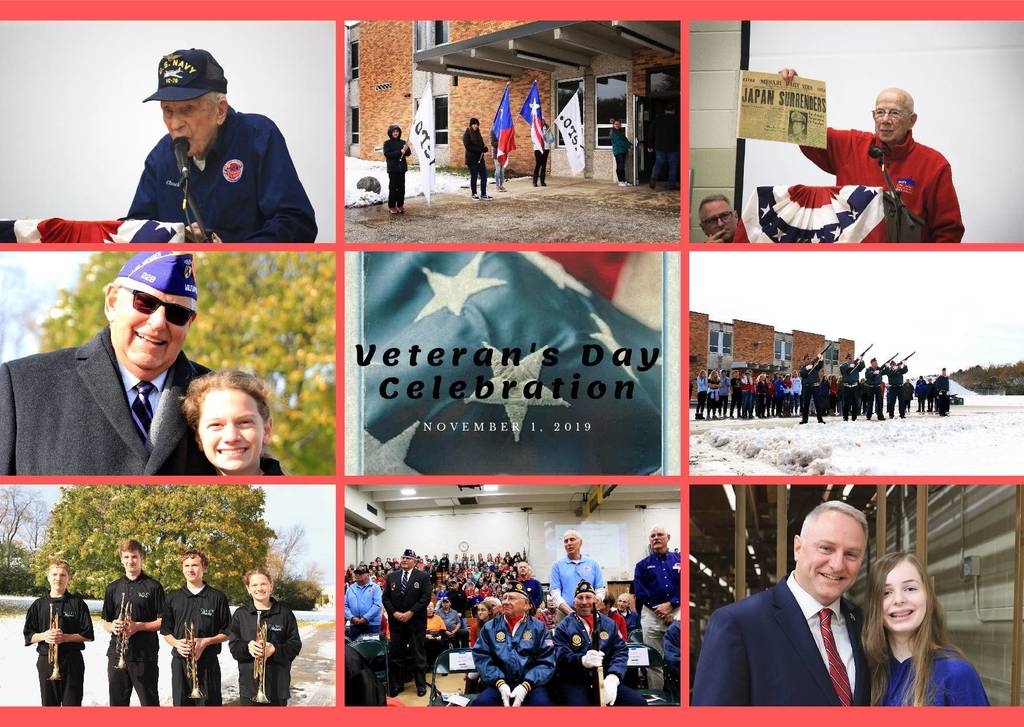 Earlier this week our 7th grade students had an opportunity to participate in a Courage Retreat. This was a day to inspire students to follow their hearts instead of the crowd, use courage and make responsible decisions despite their fears. The kids really got involved and it was a great experience for all of us!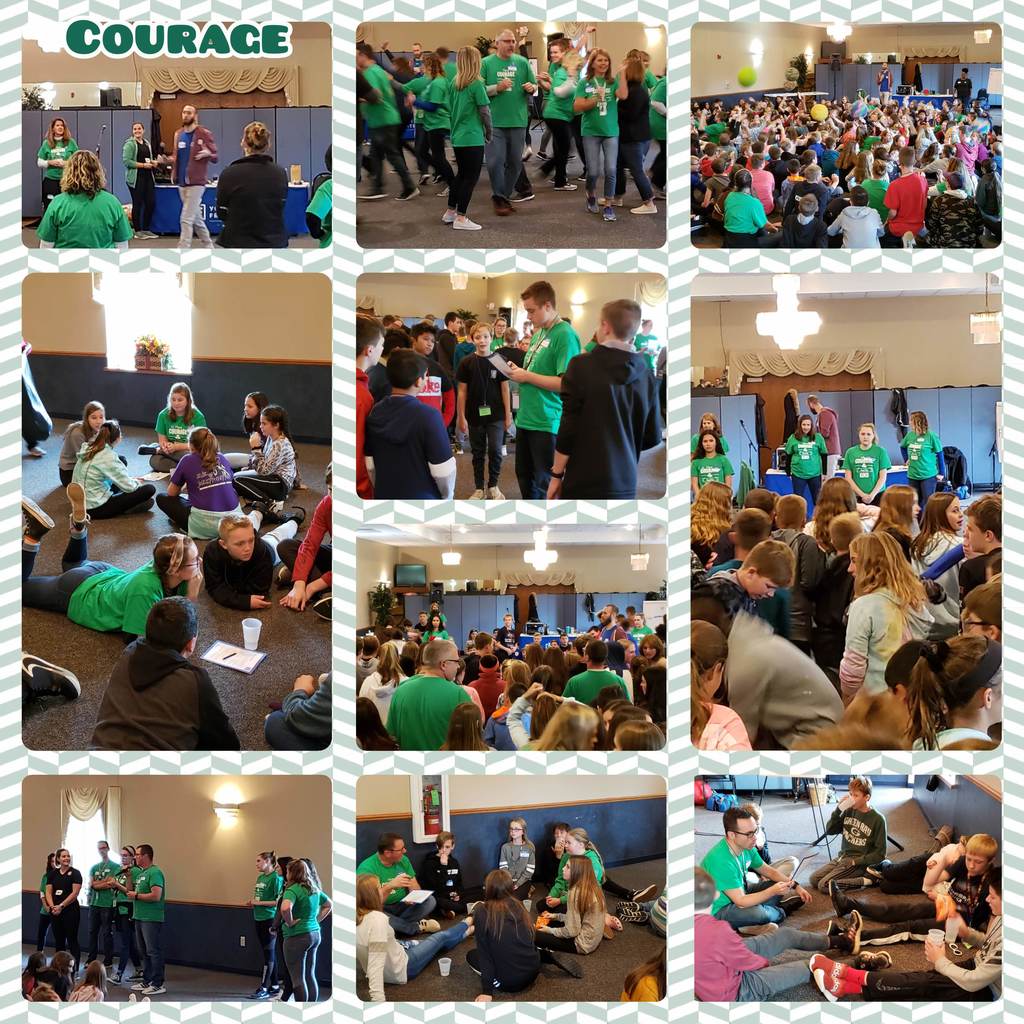 Several WGSD 6th graders had the chance to participate in the Southern Lakes Advanced Learners Network's annual Science Immersion Day. This year's event was held at MSOE. Participants attended three hands-on sessions where they explored vehicle safety in "Crash Test Cars," coded a robot to avoid collisions in "Real World Robotics," and designed a prototype of a mitral valve in "Heart Valve Re-Design."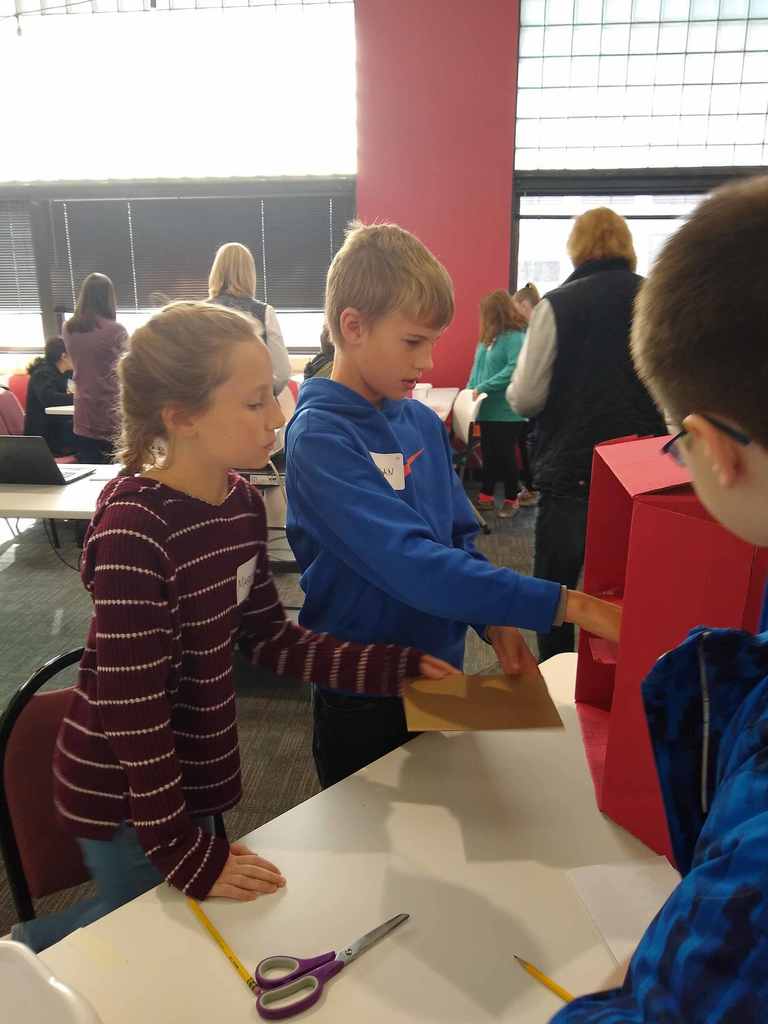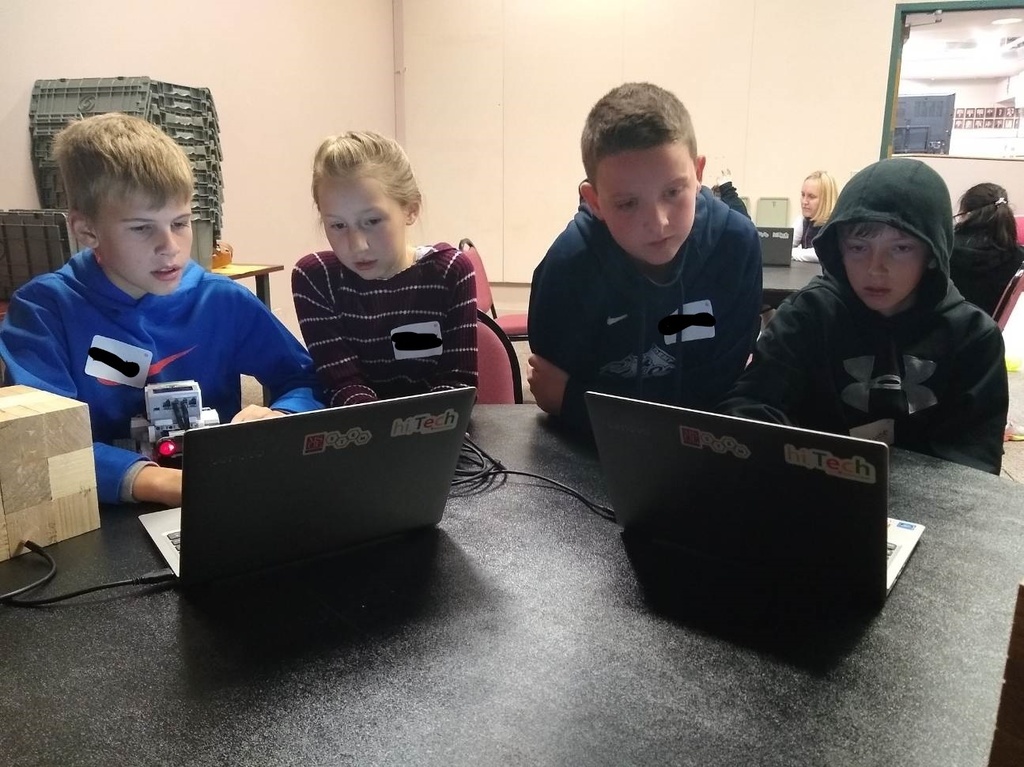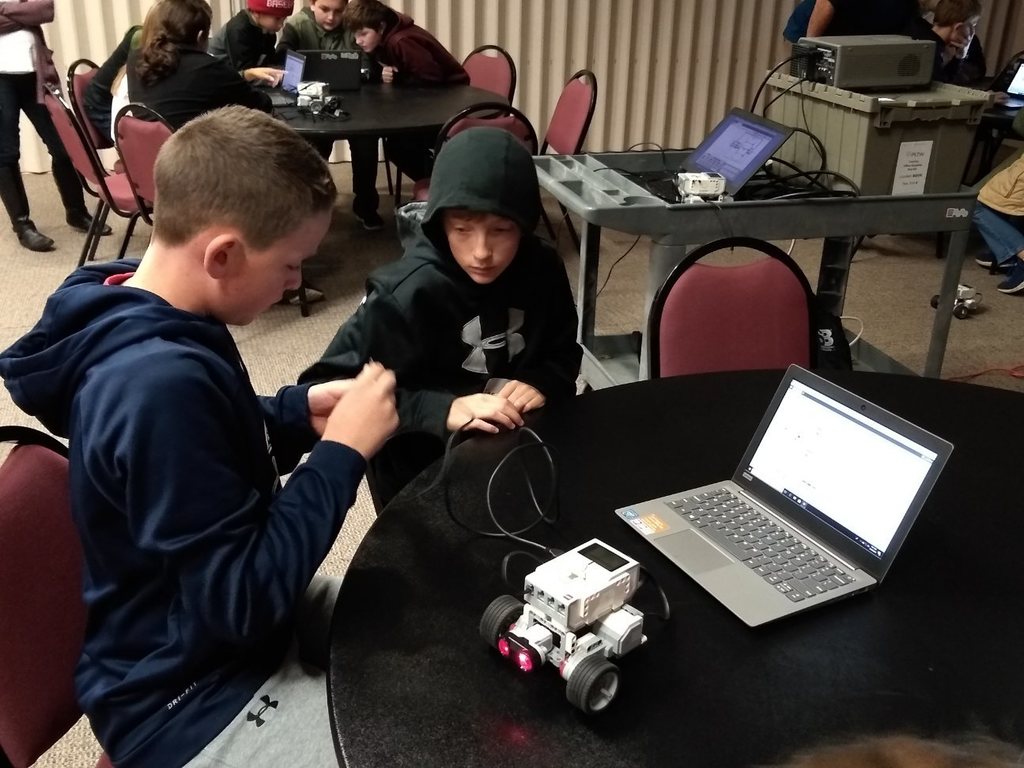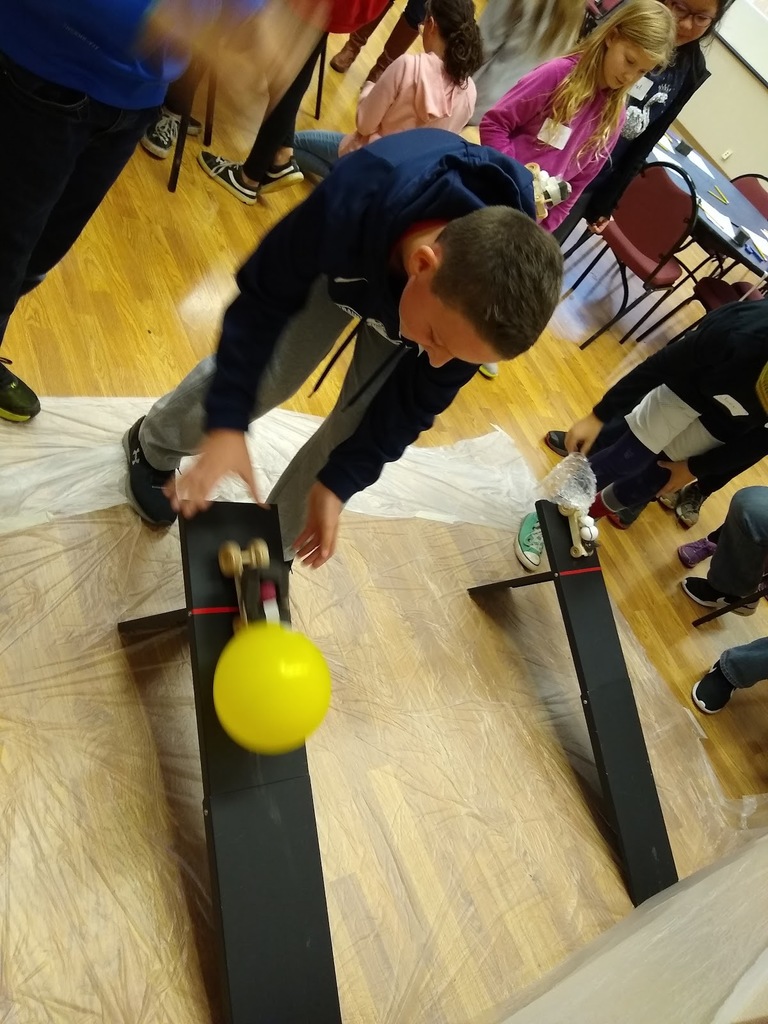 October is National Emotional Wellness Month. Stress is part of life, and in small doses, can actually be beneficial to our health. However, for some, stress can be overwhelming; leading to a mental health crisis. Stress if just one cause that can lead to a mental health concern. Millions of Americans are affected by mental health conditions every year, affecting every age group. Waterford Graded School District wants you to know that there is help out there. If you ever have concerns about how mental health could be affecting your child while at school, please contact the District RN, Chris McMahon (262-514-8250, ext: 6514); the District LPN, Kim Allen (262-514-8250, ext: 1056), or the Director of Student & Staff Services, Jane Aegerter (262-514-8250, ext: 1051). In addition, WGSD offers our families help through Aurora's Student and Family Assistance Program (SFAP). Help begins as soon as you make the call. Give the SFAP program a call at 1-800-236-3231.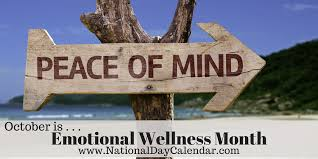 Dear WGSD Families, The way that you find the monthly menus on our website has changed. The menus will no longer be pushed out through Facebook, but will be available on either the district or specific school site. To locate the menus you will need to select "Menu" at the top of the page, then select "For Parents" and click on "Food Service". This is a direct link to all school menus. You will also be able to see calorie and allergy information. Paper menus will still be available at your child's school.

Wear WHITE on Friday, October 4th in support of White Ribbon Week!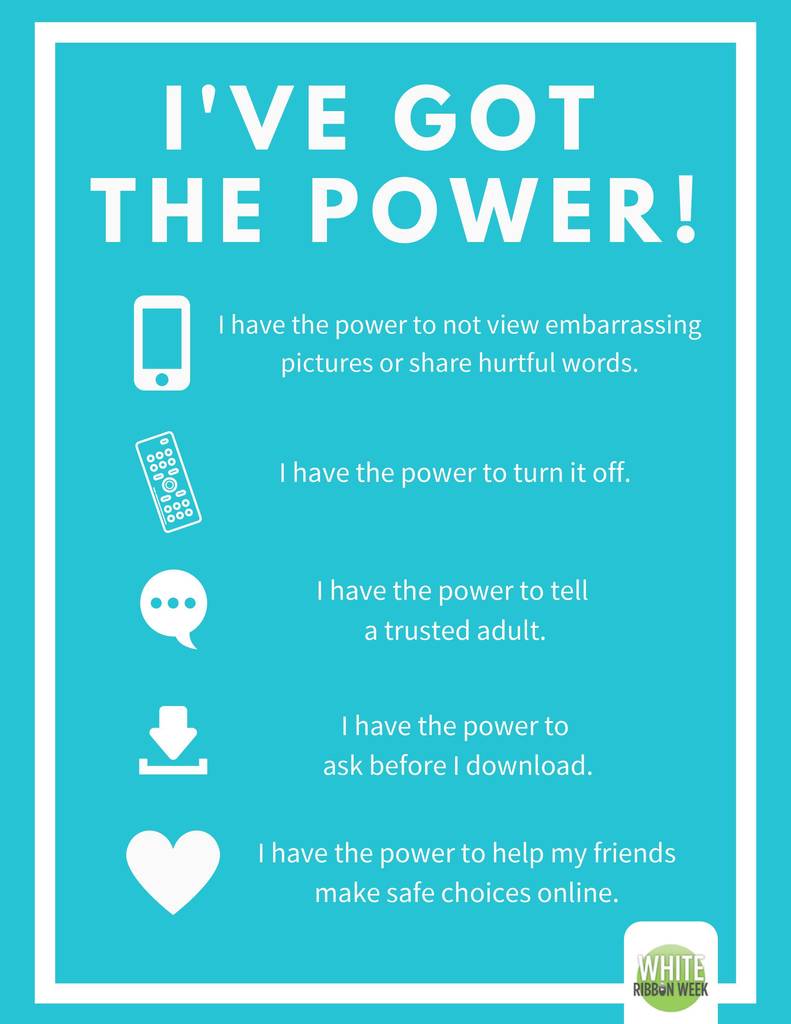 The Wisconsin Department of Transportation (WisDOT) is underway with the reconstruction of WIS 20/83 (Main Street / 1st Street /Beck Drive) in Waterford. Work includes complete roadway and sidewalk reconstruction, as well as the reconstruction of the bridge over the Fox River.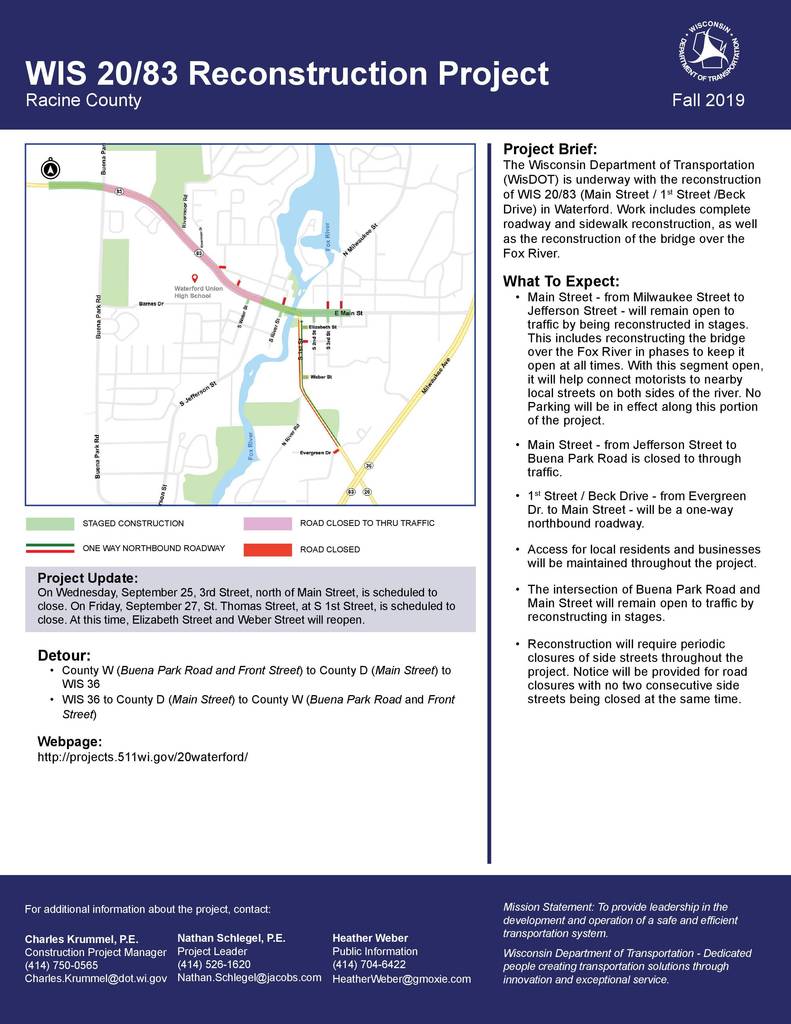 Dear Parents, The first few days of school can be fun and exciting, but they also can be a time of stress for both you and your child. As the school year continues, please know there are wonderful resources beyond the school walls that will allow you and your child to have a great 2019-2020 school year. Please take time to visit the website listed below regarding physical health, mental health, and positive social behaviors. If you ever have concerns about your child's health at school, please reach out to your child's school office, the District RN, Chris McMahon (262-514-8250, ext: 6514); the District LPN, Kim Allen (262-514-8250, ext: 1056), or the Director of Student & Staff Services, Jane Aegerter (262-514-8250, ext: 1051). Please visit
https://www.dhs.wisconsin.gov/publications/p02472.pdf
for a "Back to School Checklist for Parents"

Any child from 2 1/2 to 5, NOT YET ENROLLED in K4 or K5, are invited to participate in a FREE Child Developmental Screener. Please see image for further details or to register contact Erica Bills at 262-534-4034.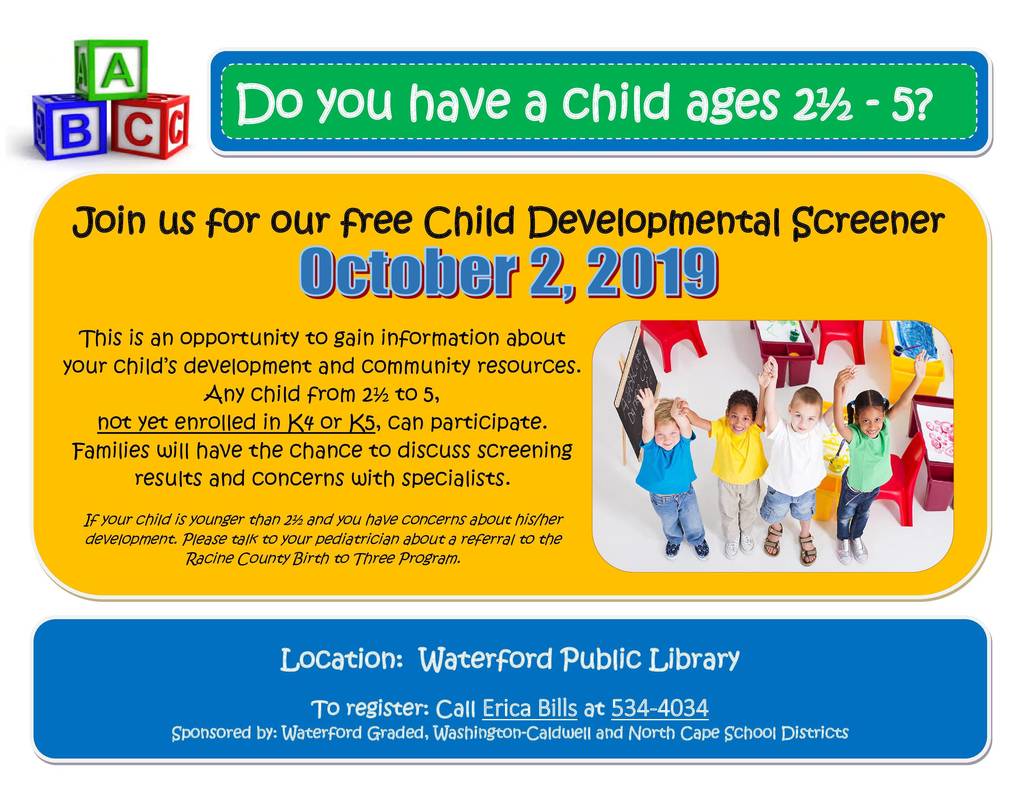 The Waterford Recreation Fall Soccer League. Program Fees (includes t-shirt/jersey): U4- U8 = $58 U9-U15 = $68. Practices: 1 day per week, beginning week of Sept 9th. Games: Saturday Mornings - Sept 21, 28, Oct 5, 12, 19, 26. Registration Deadline: August 29th. While every effort will be made to place a player on a team, players with late registrations are not guaranteed a spot, so please sign-up early or by the registration deadline - August 29th, 2019 to make sure your player gets placed on a team! Visit our website (
http://bit.ly/WaterfordRecreation
) for more details. Note: Registration can be done completely online.