Waterford Recreation Department Basketball Program: Register online today for our Co-ed 4K thru 4th Grade Basketball Program. Practice one (1) night / week, two (2) Saturday open gym days, six (6) Saturday morning games. Program begins in January. Registration Deadline = December 15th. Visit the Waterford Recreation Website for all details

On November 1st, Fox River Middle School hosted their 8th Annual Veterans Day Celebration. This year we were honored to have Josh Davis, US Army, First Sgt (Ret.) to be the keynote speaker. Fox River Middle School along with Integrity Celebration Center proudly welcomed 130 vets and spouses, parents and grandparents of our students and staff. Student musicians and writers shared their awesome talents with those that participated. We heard speeches made by WWII War heroes- Julian Plaster and Chuck Franzke and a more recent veteran- Josh Davis. Their words impacted all of us in a special way. Thank you to all that have served our country.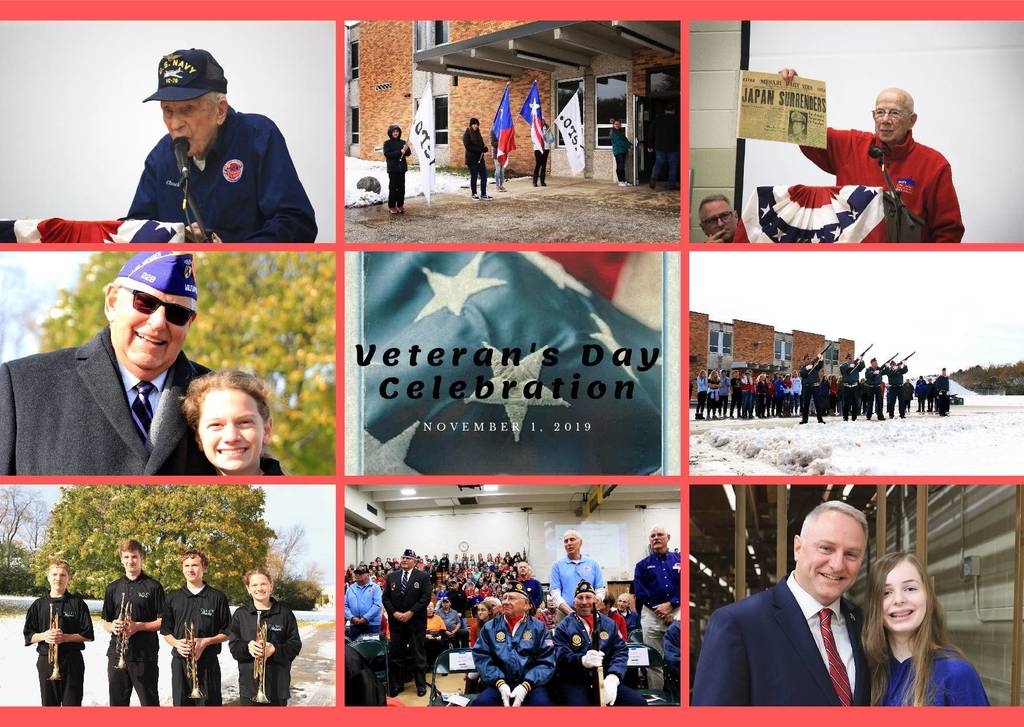 Earlier this week our 7th grade students had an opportunity to participate in a Courage Retreat. This was a day to inspire students to follow their hearts instead of the crowd, use courage and make responsible decisions despite their fears. The kids really got involved and it was a great experience for all of us!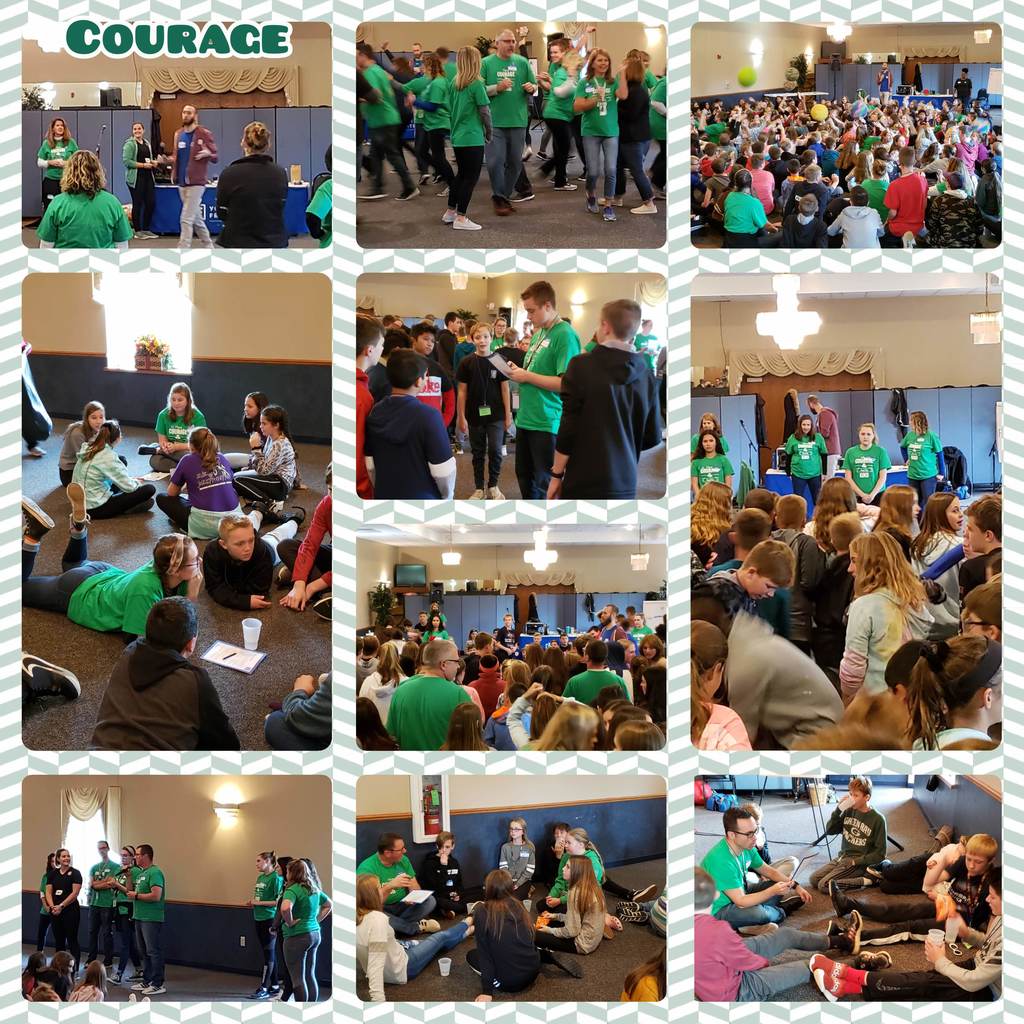 Several WGSD 6th graders had the chance to participate in the Southern Lakes Advanced Learners Network's annual Science Immersion Day. This year's event was held at MSOE. Participants attended three hands-on sessions where they explored vehicle safety in "Crash Test Cars," coded a robot to avoid collisions in "Real World Robotics," and designed a prototype of a mitral valve in "Heart Valve Re-Design."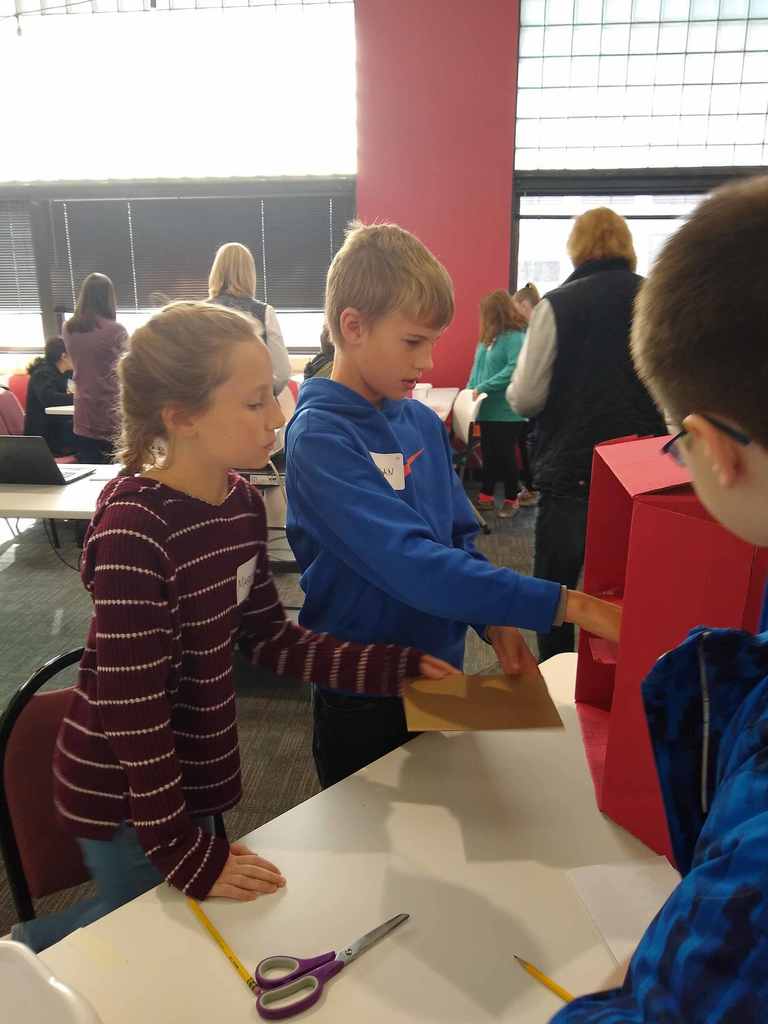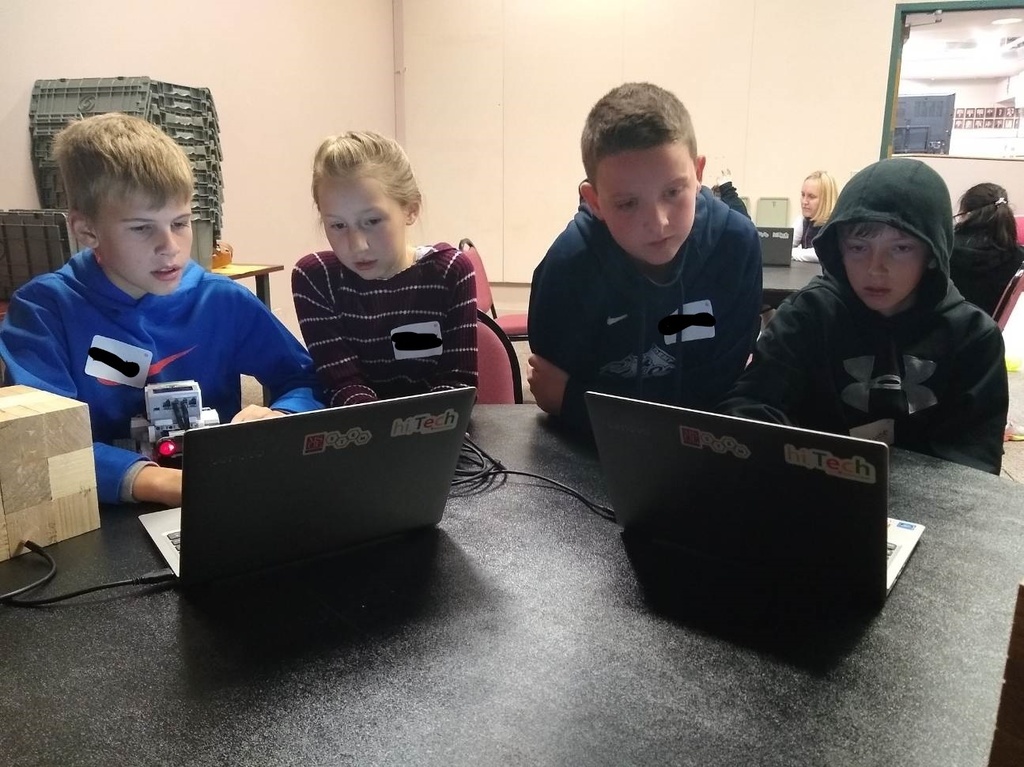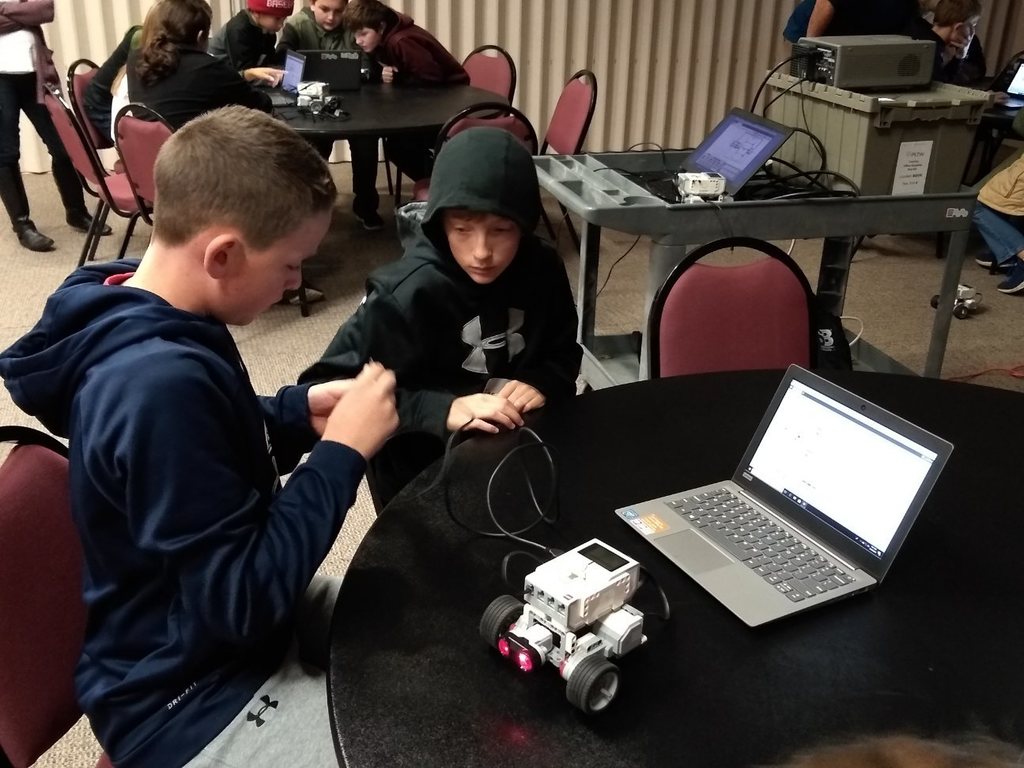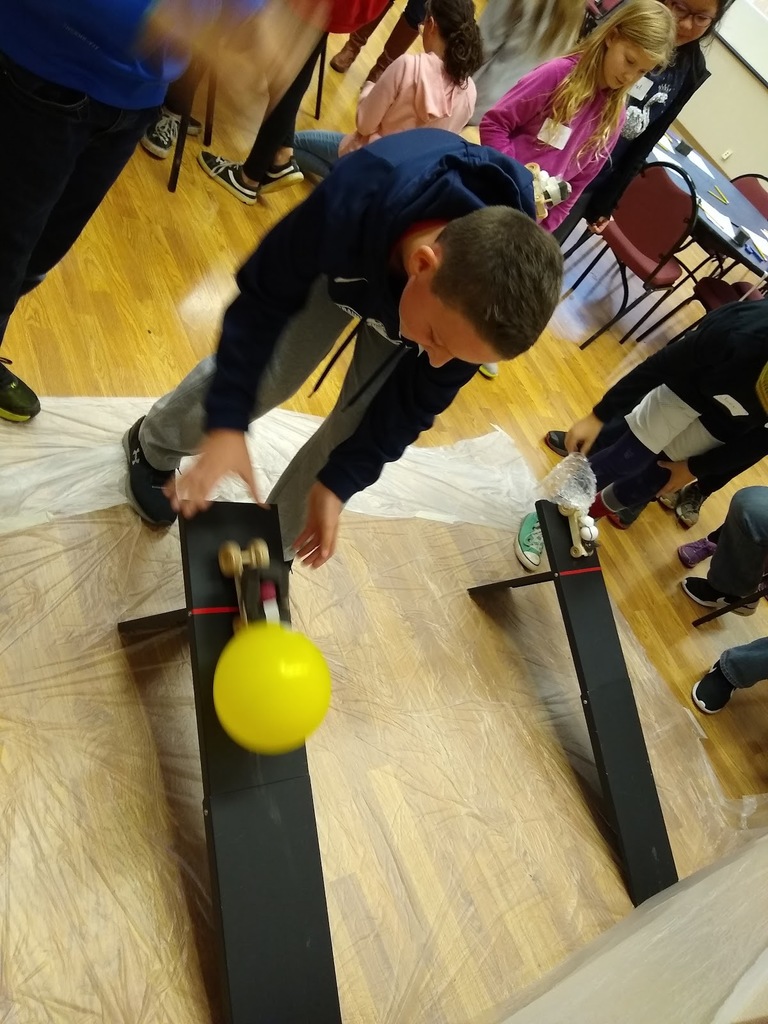 October is National Emotional Wellness Month. Stress is part of life, and in small doses, can actually be beneficial to our health. However, for some, stress can be overwhelming; leading to a mental health crisis. Stress if just one cause that can lead to a mental health concern. Millions of Americans are affected by mental health conditions every year, affecting every age group. Waterford Graded School District wants you to know that there is help out there. If you ever have concerns about how mental health could be affecting your child while at school, please contact the District RN, Chris McMahon (262-514-8250, ext: 6514); the District LPN, Kim Allen (262-514-8250, ext: 1056), or the Director of Student & Staff Services, Jane Aegerter (262-514-8250, ext: 1051). In addition, WGSD offers our families help through Aurora's Student and Family Assistance Program (SFAP). Help begins as soon as you make the call. Give the SFAP program a call at 1-800-236-3231.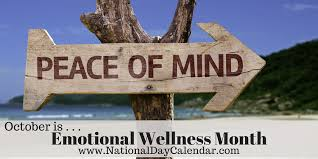 Dear WGSD Families, The way that you find the monthly menus on our website has changed. The menus will no longer be pushed out through Facebook, but will be available on either the district or specific school site. To locate the menus you will need to select "Menu" at the top of the page, then select "For Parents" and click on "Food Service". This is a direct link to all school menus. You will also be able to see calorie and allergy information. Paper menus will still be available at your child's school.

Wear WHITE on Friday, October 4th in support of White Ribbon Week!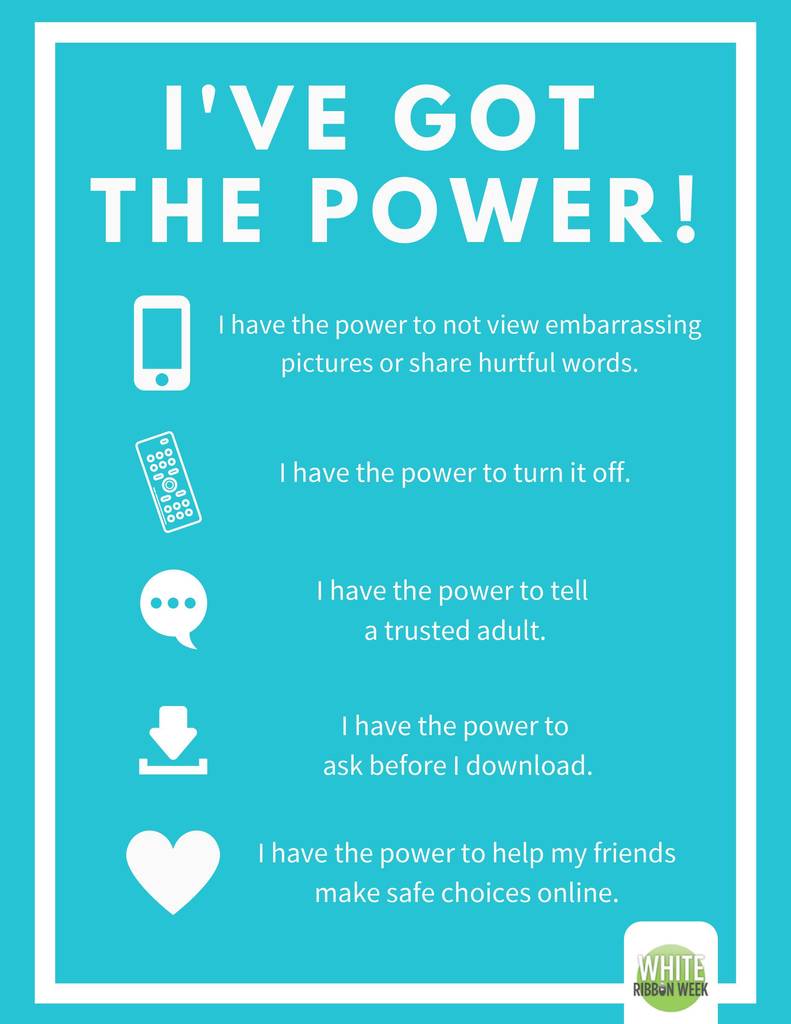 The Wisconsin Department of Transportation (WisDOT) is underway with the reconstruction of WIS 20/83 (Main Street / 1st Street /Beck Drive) in Waterford. Work includes complete roadway and sidewalk reconstruction, as well as the reconstruction of the bridge over the Fox River.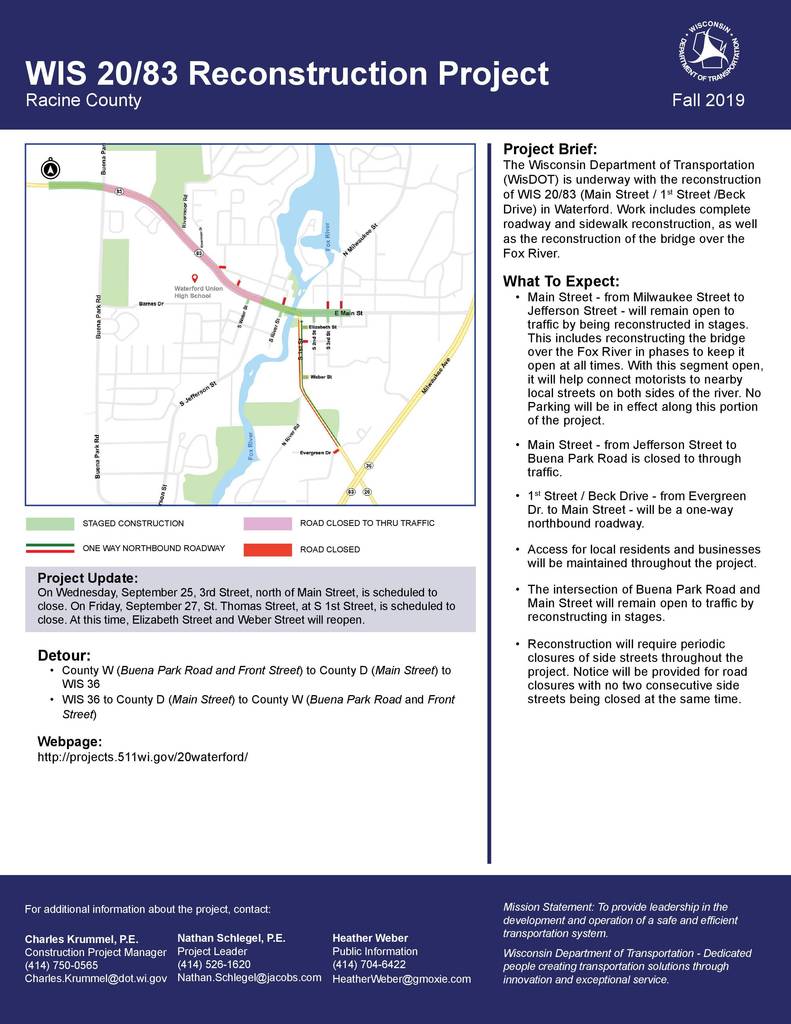 Dear Parents, The first few days of school can be fun and exciting, but they also can be a time of stress for both you and your child. As the school year continues, please know there are wonderful resources beyond the school walls that will allow you and your child to have a great 2019-2020 school year. Please take time to visit the website listed below regarding physical health, mental health, and positive social behaviors. If you ever have concerns about your child's health at school, please reach out to your child's school office, the District RN, Chris McMahon (262-514-8250, ext: 6514); the District LPN, Kim Allen (262-514-8250, ext: 1056), or the Director of Student & Staff Services, Jane Aegerter (262-514-8250, ext: 1051). Please visit
https://www.dhs.wisconsin.gov/publications/p02472.pdf
for a "Back to School Checklist for Parents"

Any child from 2 1/2 to 5, NOT YET ENROLLED in K4 or K5, are invited to participate in a FREE Child Developmental Screener. Please see image for further details or to register contact Erica Bills at 262-534-4034.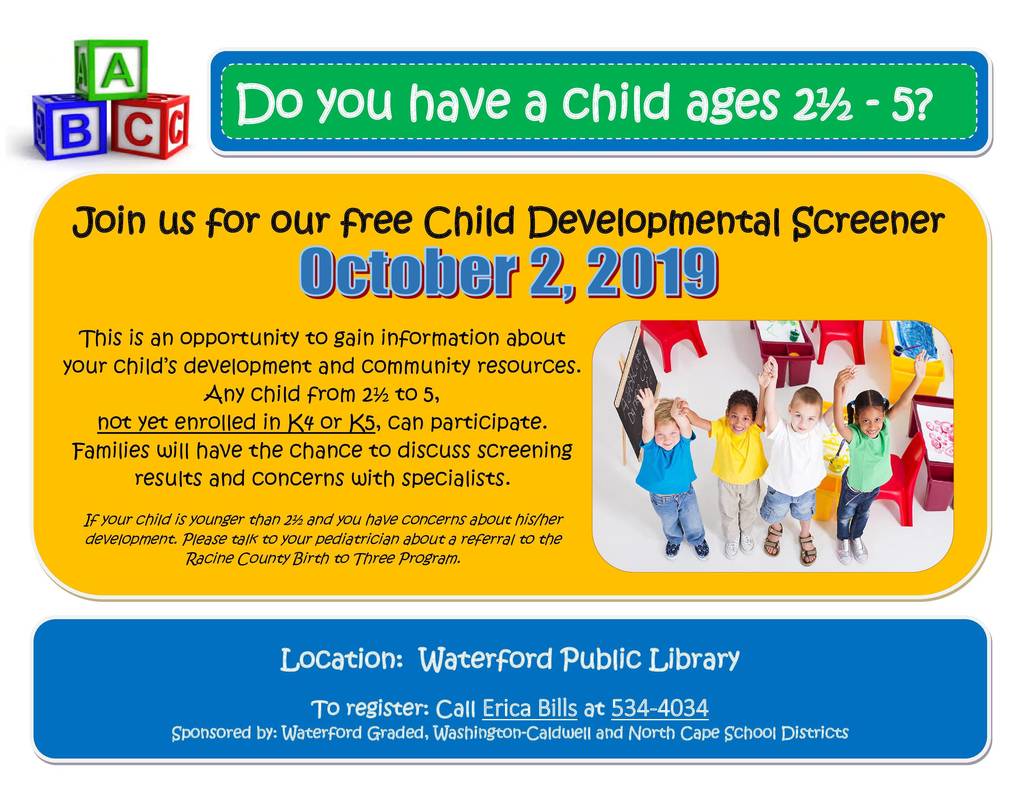 The Waterford Recreation Fall Soccer League. Program Fees (includes t-shirt/jersey): U4- U8 = $58 U9-U15 = $68. Practices: 1 day per week, beginning week of Sept 9th. Games: Saturday Mornings - Sept 21, 28, Oct 5, 12, 19, 26. Registration Deadline: August 29th. While every effort will be made to place a player on a team, players with late registrations are not guaranteed a spot, so please sign-up early or by the registration deadline - August 29th, 2019 to make sure your player gets placed on a team! Visit our website (
http://bit.ly/WaterfordRecreation
) for more details. Note: Registration can be done completely online.

**IMPORTANT** WIS 20/83 Please note the "Update" section of the attached Project Update as this has information that will impact your routes to and from school.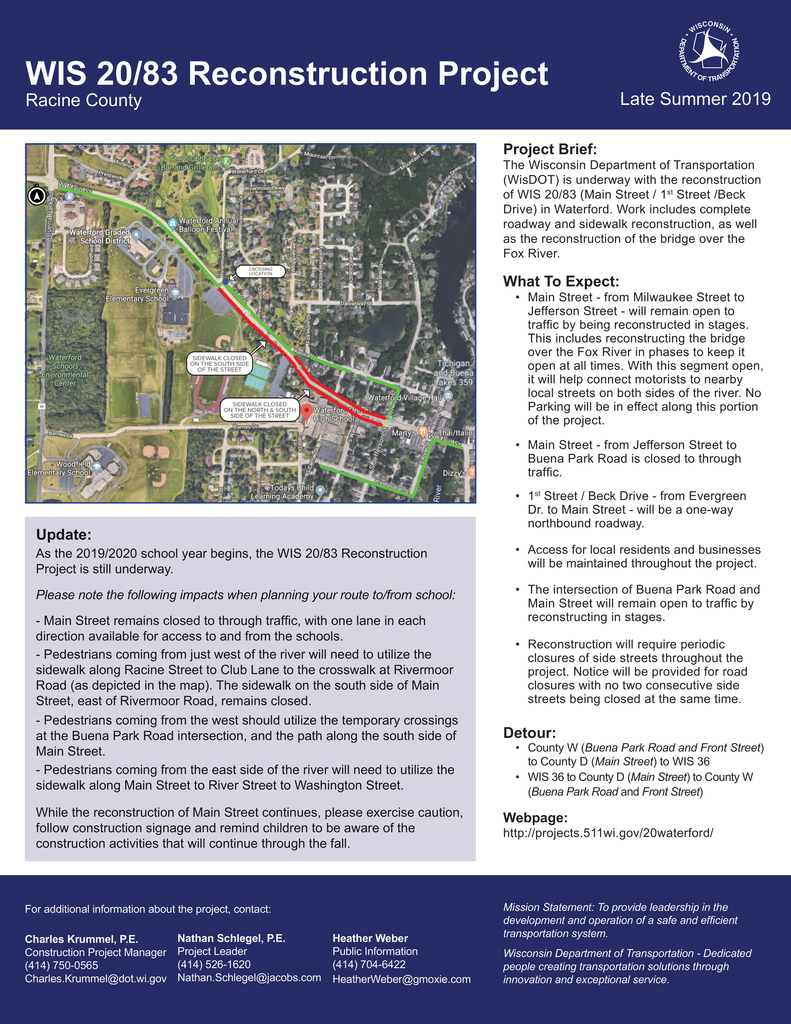 As the 2019/2020 school year begins, the WIS 20/83 Reconstruction Project is still underway. Please note the following impacts when planning your route to/from school: - Main Street remains closed to through traffic, with one lane in each direction available for access to and from the schools. - Pedestrians coming from the east will need to utilize the sidewalk along Racine St. to Club Ln. to the crosswalk at Rivermoor Road (as depicted in the map). The sidewalk on the south side of Main Street, east of Rivermoor Road, remains closed. - Pedestrians coming from the west should utilize the temporary crossings at the Buena Park Road intersection, and the path along the south side of Main Street. While the reconstruction of Main Street continues, please exercise caution, follow construction signage and remind children to be aware of the construction activities that will continue through the fall.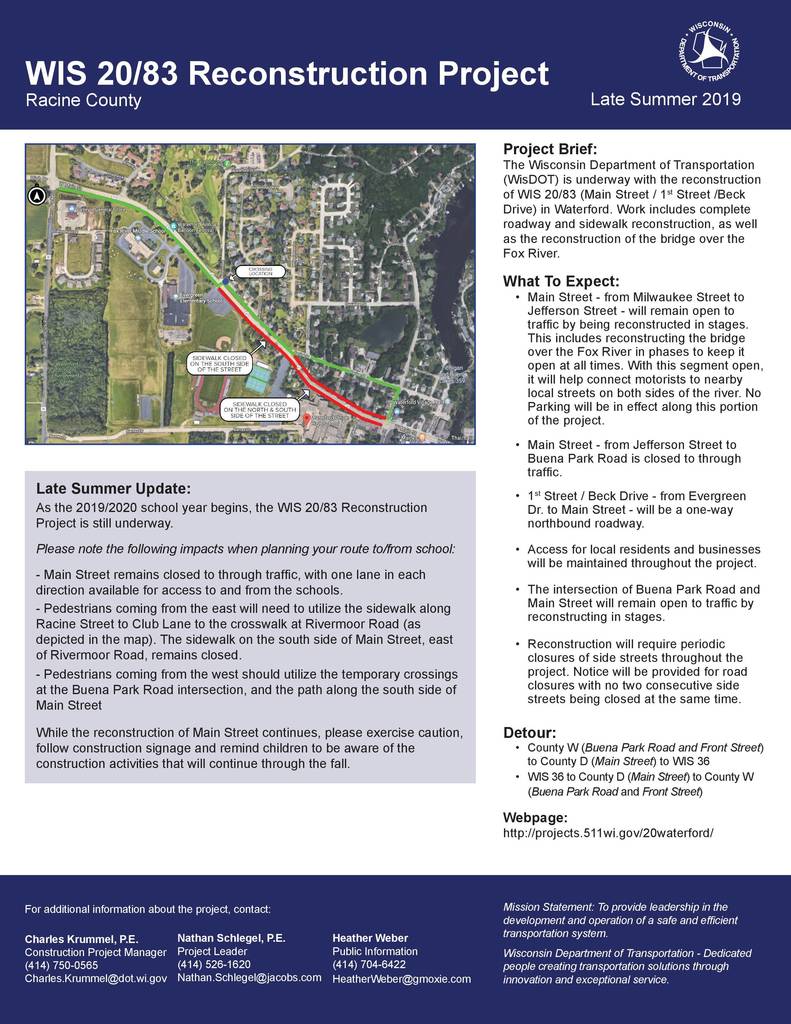 Summer Playground Registration Deadline is tomorrow - Friday, May 31st. Drop off your paperwork/payment at any Waterford Graded School office or in the black lock box outside district office (located at Evergreen School). All paperwork must be received by the end of the day tomorrow. Summer Playground runs June 17th through August 9th. Visit our website for all details related to our program. Hope you can join us this summer for some fun filled activities!

Have a safe and enjoyable Memorial Day weekend. A reminder that there is no school on Monday, May 27. School will resume on Tuesday, May 28.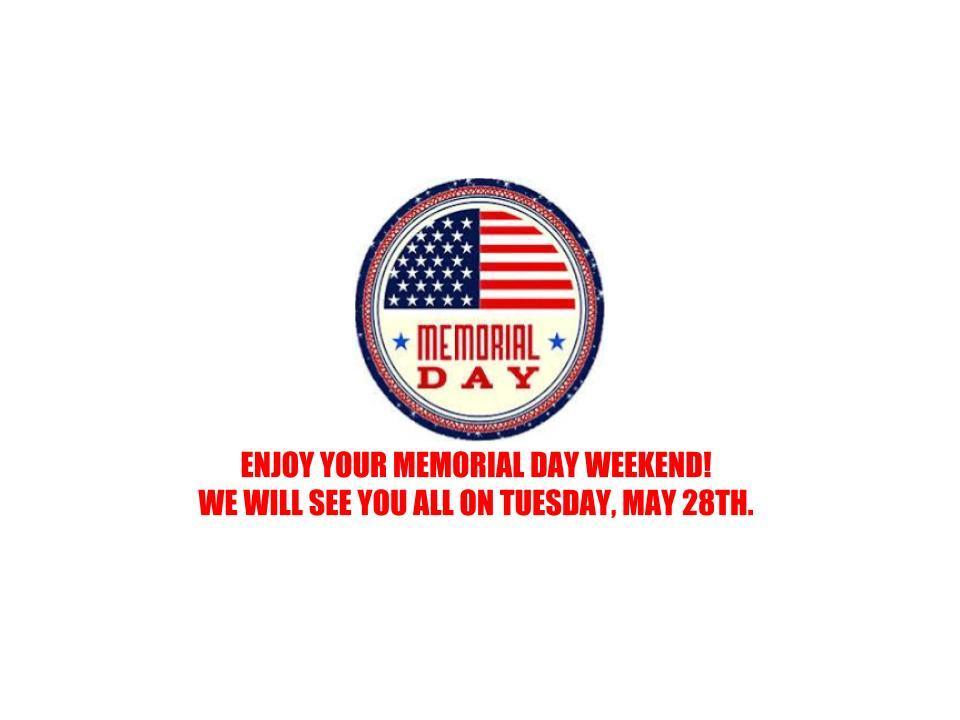 Thank you all to whom attended the Official Groundbreaking of Fox River Middle School last night. Pictured are some of the people who have helped this process along the way. Also pictured are a few students that came to represent what will be the first official 6th grade class at Fox River Middle School.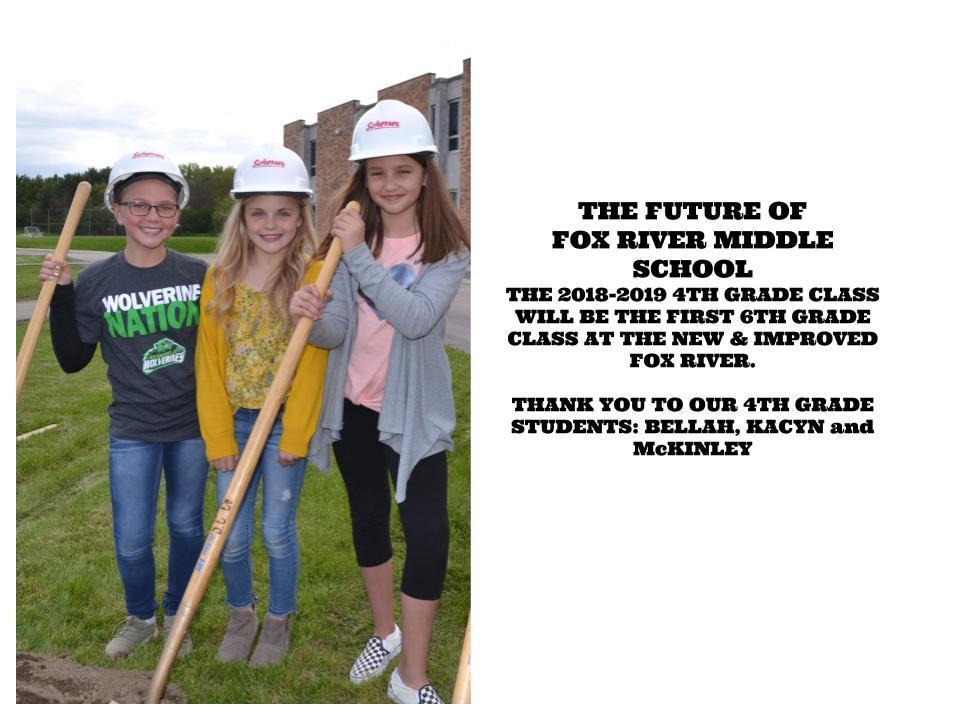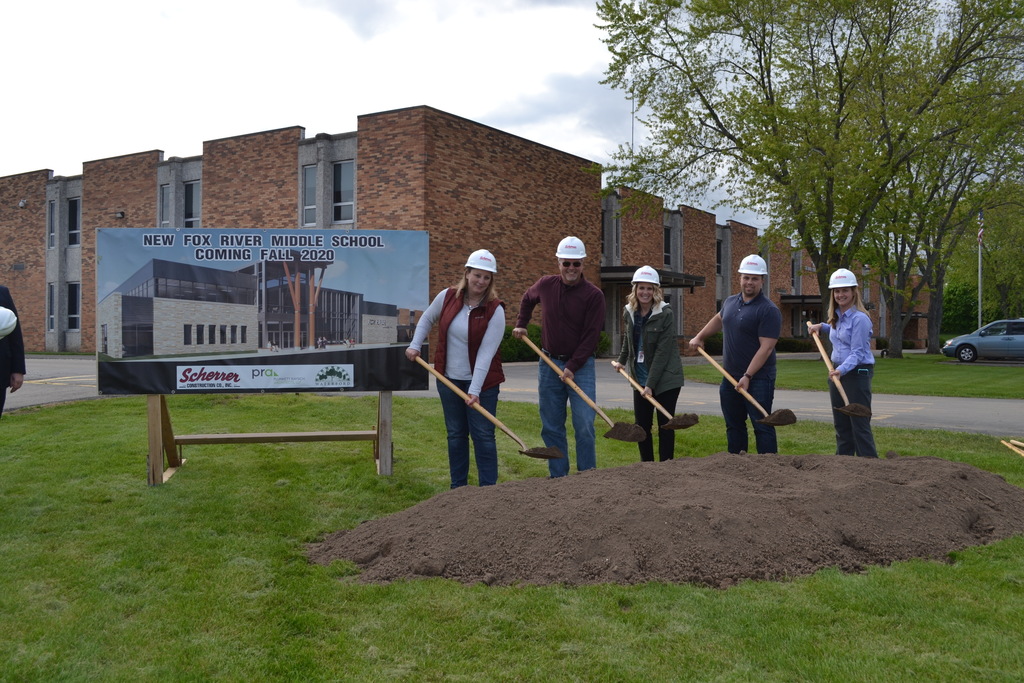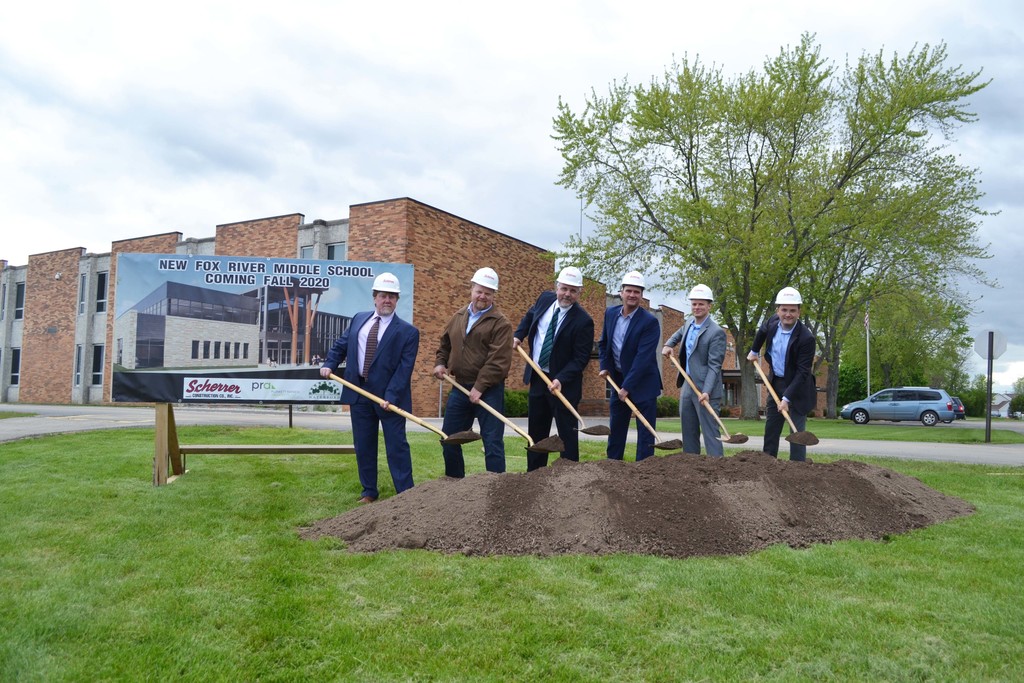 Waterford Recreation Summer Playground Registration Deadline is May 31st. Explore the Options... Enjoy the Fun @ the Waterford Recreation Summer Playground Program! Join us for 8 weeks of summer fun - June 17 through August 9. Visit our website for a listing of all options available.
http://bit.ly/WaterfordRecreation

Just a reminder that there is no school tomorrow Friday, April 19 and Monday, April 22, 2019. Please enjoy your long weekend.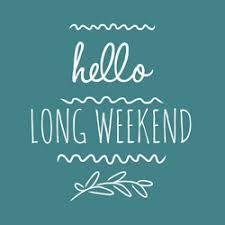 Please read the informational letter attached regarding an incident that occured at Fox River Middle School.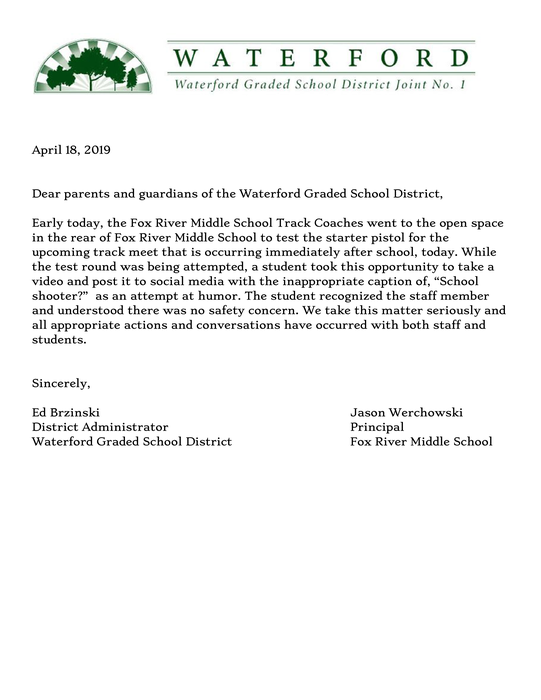 **IMPORTANT UPDATE** This Friday, April 19th there will be a FULL closure of HWY 20/83 just to the west of Rivermoor Rd. This closure will begin at 8am and will last until 5pm. Please see the attched map for further details.