Waterford Recreation 2019 Summer Playground Program - Register Online Today! Summer Playground is being held at Trailside School. Looking forward to 8 weeks of summer fun! Hope you join us!
http://bit.ly/WaterfordRecSummerPlayground

**UPDATE** Please read the most recent update for the WIS 20/83 reconstruction project. Note that Main Street between S. Jefferson St. and Buena Park Rd. is closed to THRU traffic. You will still be able to drop children off at their school. Be aware of your surroundings,the DOT workers, and pedestrians while driving through the construction zone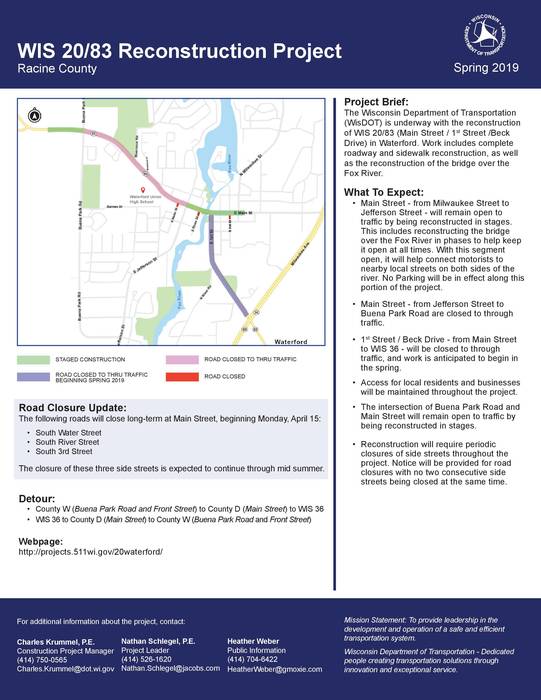 Please note that the next Public Information meeting regarding the HWY 83/20 Reconstruction Project will be held on Tuesday, April 30 from 4pm-6pm at the Waterford Public Library. With construction in full swing we encourage families to attend this meeting to get any questions or concerns addressed.

*HWY 83/20 RECONSTRUCTION PEDESTRIAN MAP* Please review the map depicting the pedestrian route during the closure of the south sidewalk along Main St.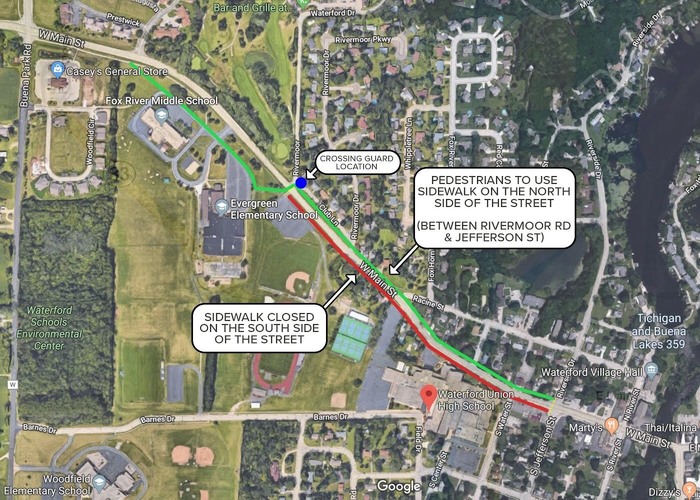 The 4th grade students of WGSD had an amazing opportunity to take part in a Kindness Retreat. The day was full of high energy and gave our students tools to develop empathy, promote kindness and prevent bullying. All the kids and volunteers had a great time.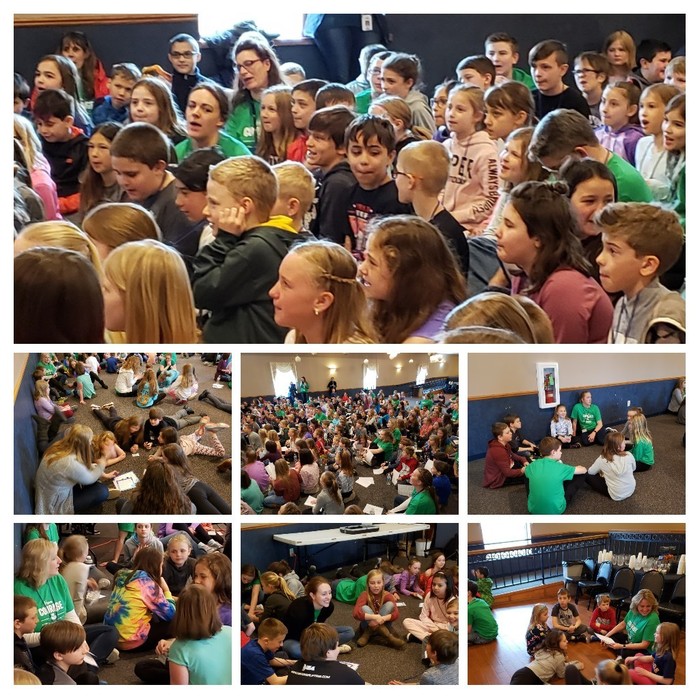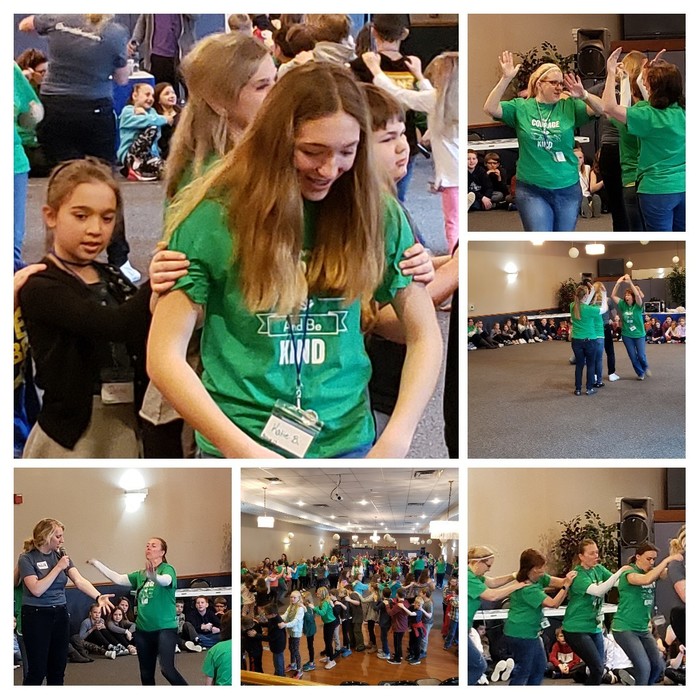 *UPDATE* Please read the most recent update for the WIS 20/83 Reconstruction Project. Please note that traffic will shift within the downtown area of Waterford. During this work, no street parking will be allowed on Main Street. For additional information please see that attached flyer for contact information.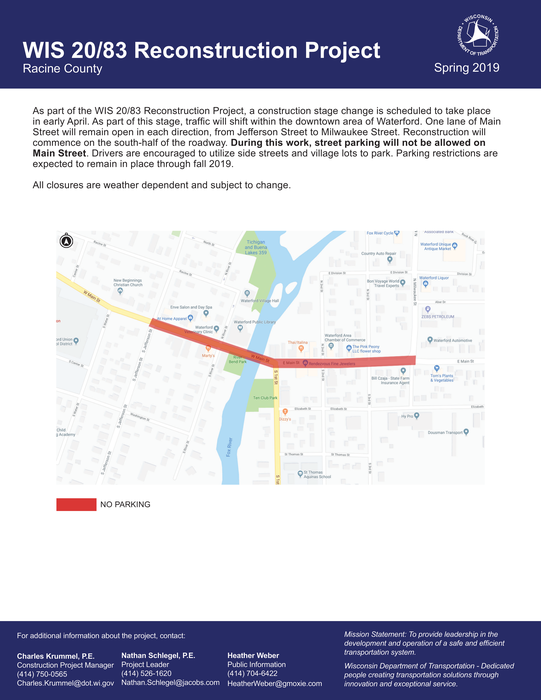 I would like to wish everyone in our Waterford Graded community a restful and safe Spring Break. For those of you who are travelling, I hope you have safe travels. For those staying in town, it looks like we have finally turned the corner and Spring has arrived! It has been a long, busy Winter for all of us. In the coming weeks we will be communicating with you about our construction schedule at the Fox River/Evergreen campus. But before that exciting project begins, let's all enjoy this break with our families and friends. Best wishes, Edward Brzinski

Woodfield Chorus, led by Mrs. Barb Canales, had the privilege of singing the National Anthem at the Milwaukee Wave Game this past weekend.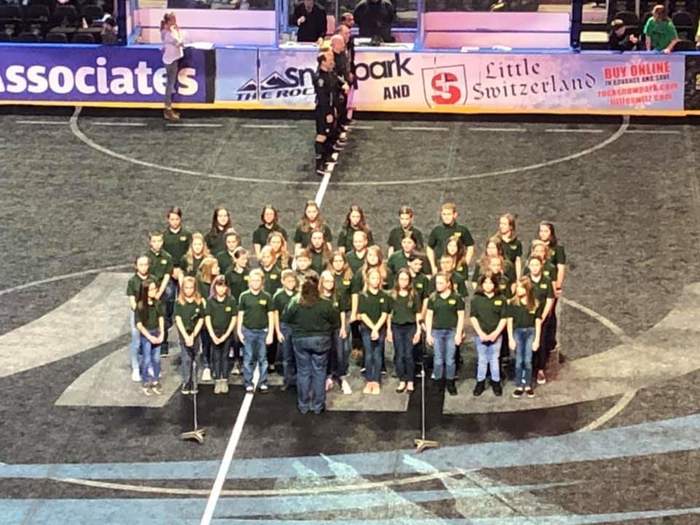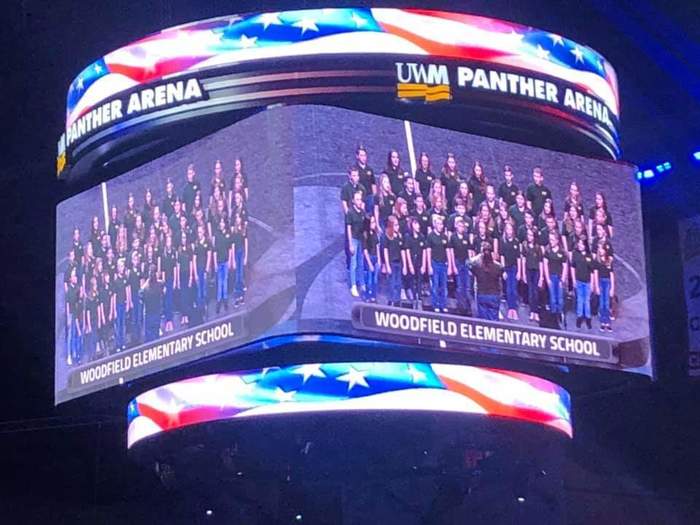 The Waterford Graded School District would like to congratulate Shelly Wagner, a 6th grade teacher at Evergreen Elementary on being chosen as WISN 12's Top Teacher of the Month. We are proud to ​to have you as a member of our staff!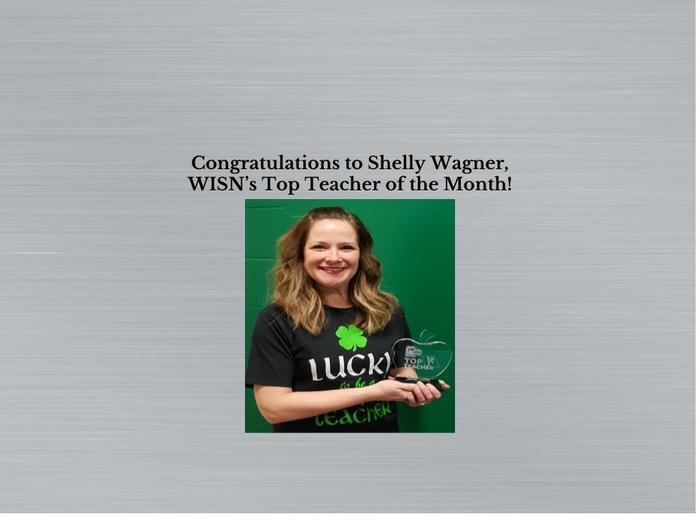 Waterford Recreation Spring Soccer - Last call for all soccer registrations. Registration deadline is Sunday, March 10th. Registrations can be done completely online. Visit our website and register before it's too late!
http://bit.ly/WGSD_SpringSoccer

Lunch Menu Update: Please note the following changes to the March lunch menu. On Tuesday, March 12, a BBQ pork sandwich has replaced the chicken drumstick. On Monday, March 18, pizza sticks with sauce will replace the chicken drumstick.

Waterford Graded School District would like to keep all families informed of a small number of positive cases of Influenza A. Please review the attachments for further information from Central Racine County Health Department and an informational sheet on when to keep your child home from school. Please contact your physician if you notice your child has any flu symptoms. Remember to communicate with your child's school regarding any communicable disease diagnosis, including Influenza.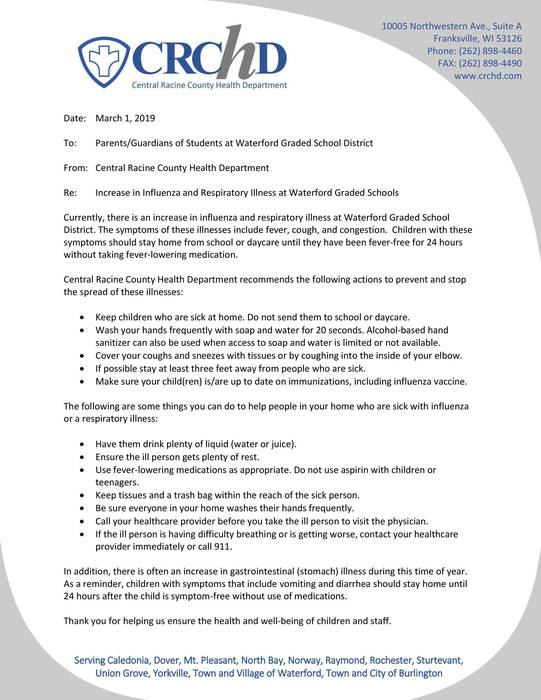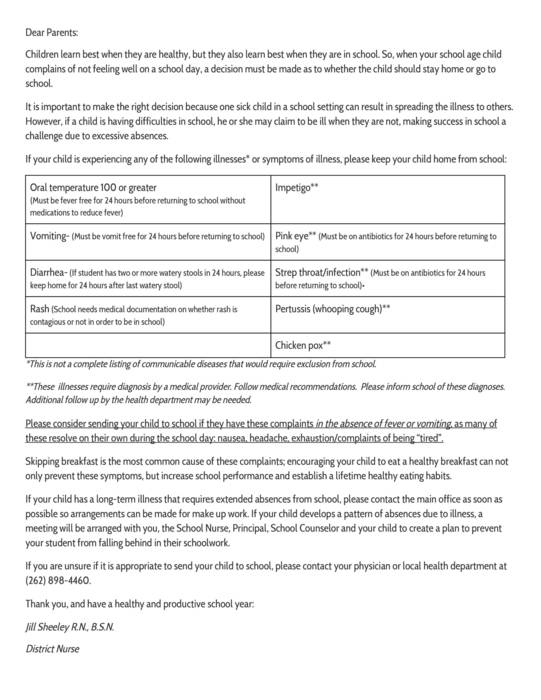 WGSD would like to congratulate our students that participated in the Math 24 Regional Tournament. The competition was tough, but our students demonstrated phenomenal perseverance and determination! The following 6th grade students placed at this event: 1st Place -Sydney K., 2nd Place - Brolan F., 3rd Place - Gabe G. and 5th Place - Cailyn K. While 7th grade participants did not place, Elijah D. received an award for being the top finisher on the Fox River Team.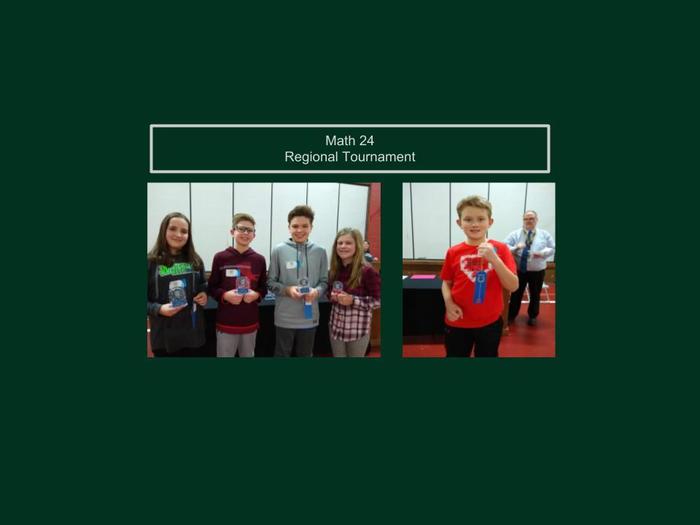 *UPDATE* Due to the freezing temperatures and snow this week and the forecast next week, the closure of Main St. between Buena Park Road and Jefferson St. has been pushed to mid-March. Please see the attached updated project brief.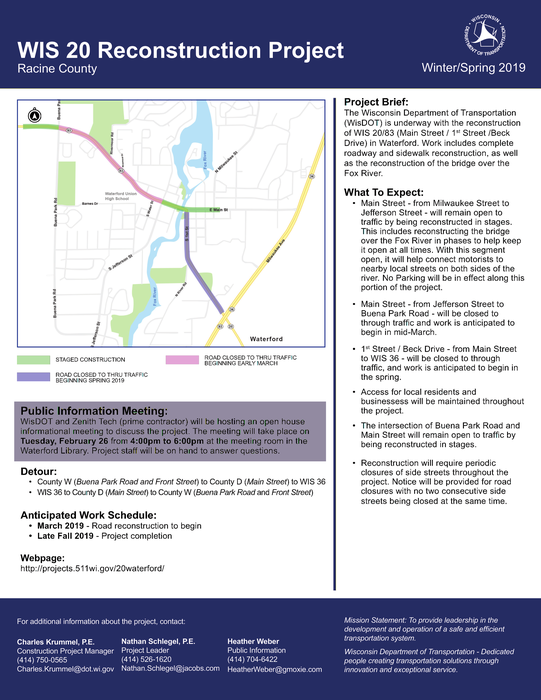 With Digital Learning Day coming up on Thursday, February 28, we wanted to share a NEW interactive safety resource launched by the Wisconsin Department of Justice Internet Crimes Against Children Task Force and the Department of Public Instruction. This program called "Interact!" will give parents resources to have conversations with their children about internet safety. For more information please go to
https://dpi.wi.gov/internet-safety/parents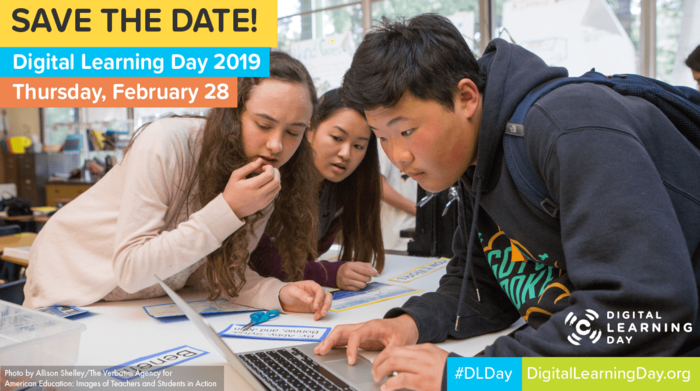 WIS 20 Reconstruction Project - Public Informational Meeting will take place on Tuesday, February 26 from 4pm to 6pm in the meeting room at the Waterford Library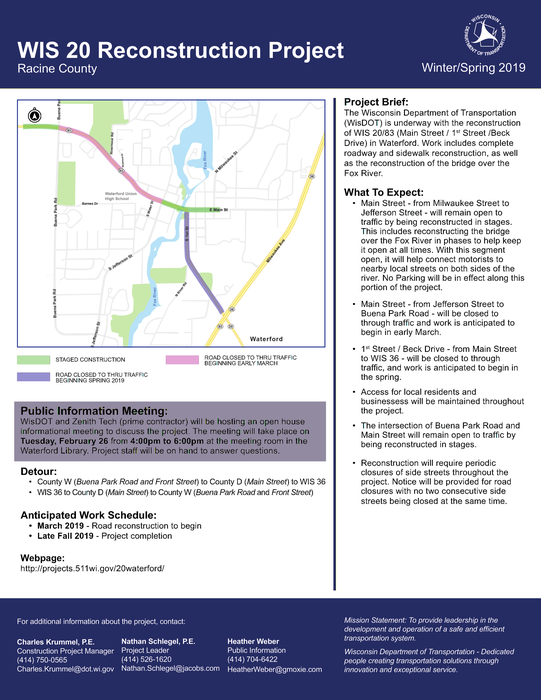 The Waterford Graded School District would like to congratulate the 2018-19 District Spelling Bee winners. First Place: Rylie Second Place: Isaiah Third Place: Ella Thank you to all of the participants and their hard work, you were all AMAZING!

Calendar Update: February 25 will now be a snow make-up day. All students should plan on attending as a regular school day.

New Class Offering - Middle School STEAM Lab. STEAM education is a crucial component toward building critical-thinking and creativity skills for our young learners. Join Mrs. Meier, District Talented and Gifted Coordinator, in this upcoming program. Session begins on March 4th.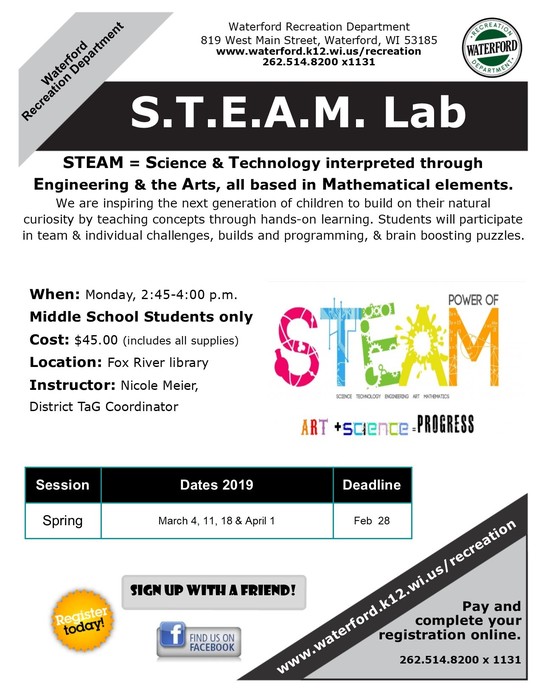 **AUDITIONS RESCHEDULED** Due to school closings, auditions for the roles of Young Fiona and Young Shrek in SHREK the Musical have been moved to Wednesday, February 6th. The time is 6-7:30 pm. Please see the flyer for additional details.