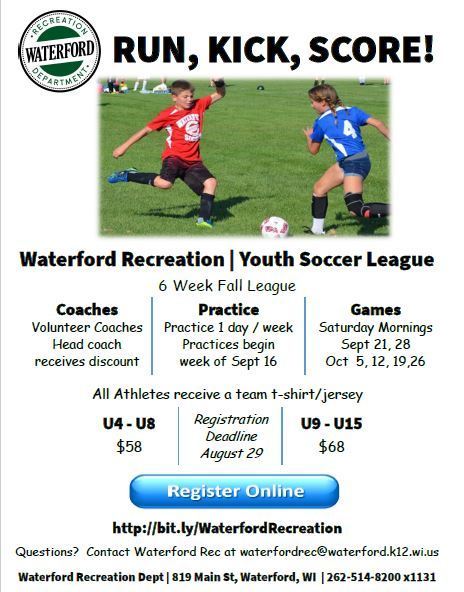 Youth Fall Soccer League
Waterford Recreation
Monday, July 22, 2019
FALL YOUTH SOCCER LEAGUES FORMING NOW!
The Waterford Recreation Department soccer program is a progressive program, with multiple age-specific levels. Players are taught basic game skills such as passing, receiving, shooting, footwork and dribbling. Our co-ed program allows young players to enjoy soccer in a positive and fun environment. Kids not only become better soccer players, they learn the value of teamwork, the importance of social skills and healthy competition - it's always fun to win, but losing is a part of life and a valuable lesson for kids.
Fall leagues forming now! While every effort will be made to place a player on a team, players with late registrations are not guaranteed a spot. So please sign-up early or by the registration deadline - August 29th, 2019, to make sure your player gets placed on a team! Visit our website for all program details.