LIVE FEED

Heidi Engel ,
18 days ago
**IMPORTANT UPDATE** 1st Street Closure Update: On May 3rd, the following side roads (at the intersection with 1st Street) will close long-term: Elizabeth St., Weber St., and Evergreen Dr. (west of 1st Street). Please see attached map for visual details. view image

Heidi Engel ,
25 days ago
​**UPDATE** Please read the attached flyer regarding the WIS 20/83 Reconstruction Project. Note that there will be a public information meeting on Tuesday, April 30 from 4:00-6:00 pm at the Waterford Library. This will be hosted by the WisDOT and Zenith Tech. There will be project staff there to answer any questions you may have. view image

Heidi Engel ,
about 1 month ago
*UPDATE* Please read the most recent update for the WIS 20/83 Reconstruction Project. Please note that traffic will shift within the downtown area of Waterford. During this work, no street parking will be allowed on Main Street. For additional information please see that attached flyer for contact information. view image

Heidi Engel ,
3 months ago
Lunch Menu Update: Please note the following changes to the March lunch menu. On Tuesday, March 12, a BBQ pork sandwich has replaced the chicken drumstick. On Monday, March 18, pizza sticks with sauce will replace the chicken drumstick.

Heidi Engel ,
3 months ago
WGSD would like to congratulate our students that participated in the Math 24 Regional Tournament. The competition was tough, but our students demonstrated phenomenal perseverance and determination! The following 6th grade students placed at this event: 1st Place -Sydney K., 2nd Place - Brolan F., 3rd Place - Gabe G. and 5th Place - Cailyn K. While 7th grade participants did not place, Elijah D. received an award for being the top finisher on the Fox River Team. view image
SEE ALL posts
News
Parents of our 5K thru 4th grade students are invited to attend our APTT night, tomorrow May 2nd at 6pm.
To view the May Breakfast and Lunch Menus, please click on the links below. Both breakfast and lunch menus are also displayed on the Food Service tab of your school's...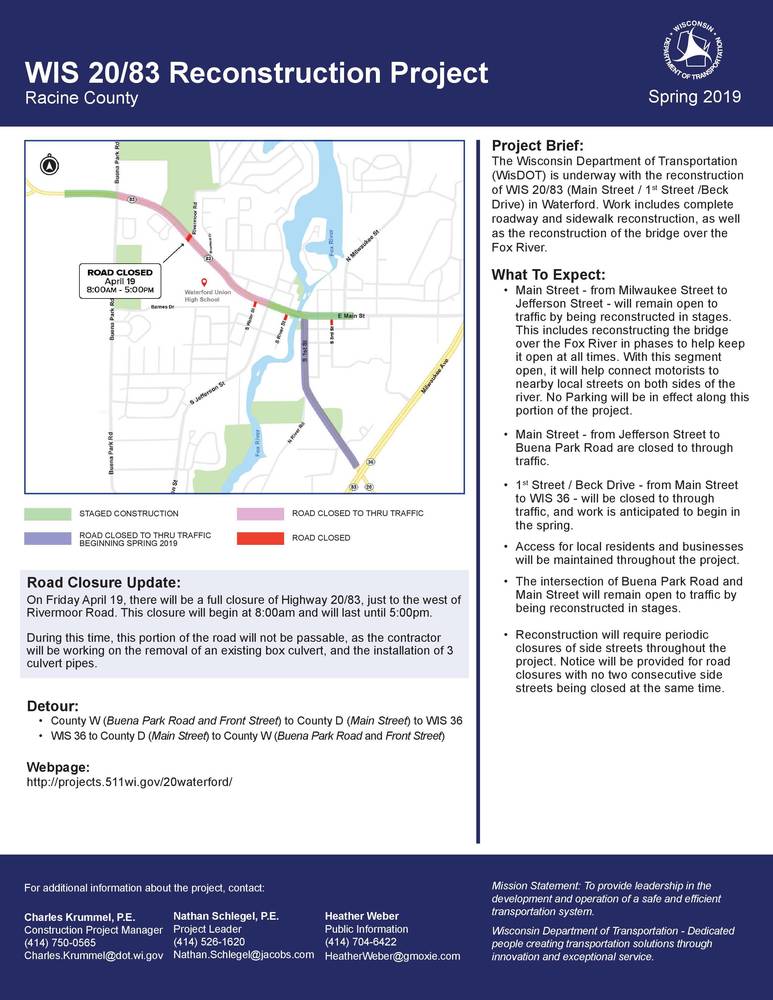 **IMPORTANT UPDATE** This Friday, April 19th there will be a FULL closure of HWY 20/83 just to the west of Rivermoor Rd. This closure will begin at 8am and will last...
SEE ALL NEWS