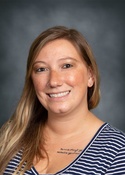 MRS. NISSA KOBYLINSKI, TRAILSIDE COUNSELOR
CONTACT INFORMATION:
262-514-8200 EXT. 2108
KOBYLINSKI@WATERFORD.K12.WI.US
ABOUT MRS. KOBYLINSKI
Hello! My name is Nissa Kobylinski and I am the school counselor at Trailside Elementary. When I am not in school, I enjoy reading, running, biking, watching TV, and traveling with my husband. An interesting fact about me is that I was raised in Waterford and I attended WGSD as a student!
This is my second year in Waterford Graded School District and prior to this, I worked as a school counselor in Racine Unified School District for three years. I am very excited to come back to Waterford and give back to the community that gave me so much!
I earned my Undergraduate Degree in Sociology from the University of Wisconsin - La Crosse, and I earned my Masters Degree in Educational Psychology from the University of Wisconsin - Milwaukee. I have a school counselor license (#54).