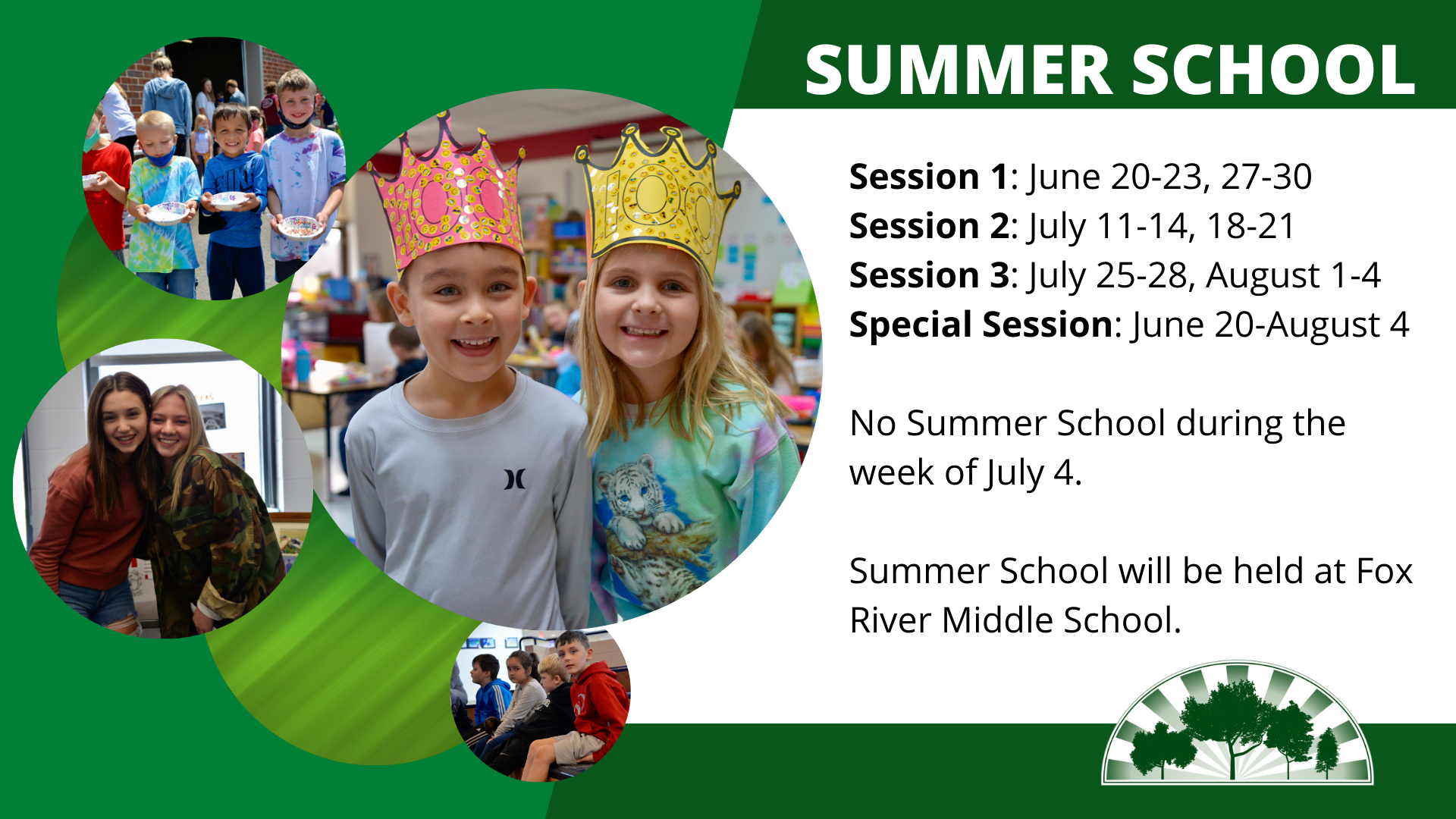 Summer School OPEN HOUSE
June 16th 4-6pm
Fox River Middle School
Daily School Day Information
Everything you need to know regarding Summer School can be found by clicking here to view the WGSD Summer School Handbook. Please be sure to take time to review the handbook as it contains information on class times, transportation, food service, attendance, etc.
Session Dates:
Session 1 - June 20-23, 27-30 (Monday - Thursday)

Session 2 - July 11-14, 18-21 (Monday - Thursday)

Session 3 - July 25-28, August 1-4 (Monday - Thursday)
School Day Hours:
Start Time - 8:00 am (Entrance to school 7:40 am for breakfast)

Release Time - 11:00 am
Class Times:
8:00 am - 9:15 am (Class 1)

9:45 am - 11:00 am (Class 2)

8:00 am - 11:00 am (Camp INTERACTION and Ready for 5K ONLY)
Recess:
9:15 am - 9:45 am
Students will have the opportunity to either relax in the Commons, play in the field area by the gazebo, or have fun on the Evergreen playground. Each area will be supervised by staff. After recess, students will be escorted to their class for the following session.
What to bring: The only thing students will need to bring to class is a snack, if desired, water bottle, and a positive growth mindset. All other materials will be provided by the teacher in the classroom for their selected course.
If your student is participating in math or reading reinforcement classes, or First Grade Blast-Off, please bring headphones. If headphones are needed to be purchased, this can be done in the Fox River office for $2.