Our students are in one of their favorite units of the year, the large food paper mache project. Stay tuned for a full reveal in the next couple of weeks.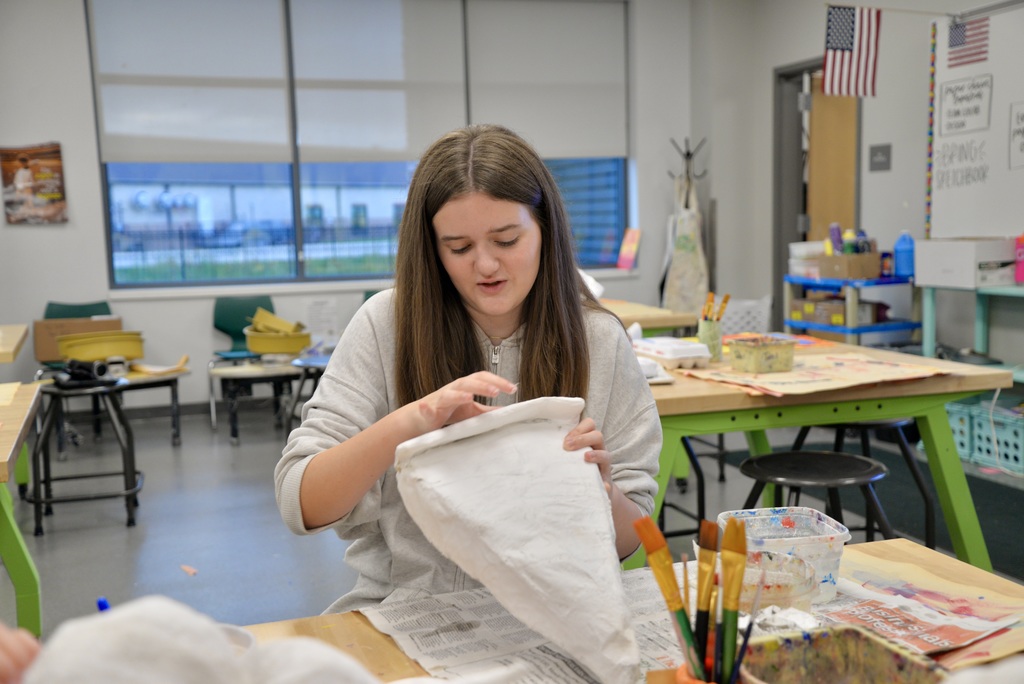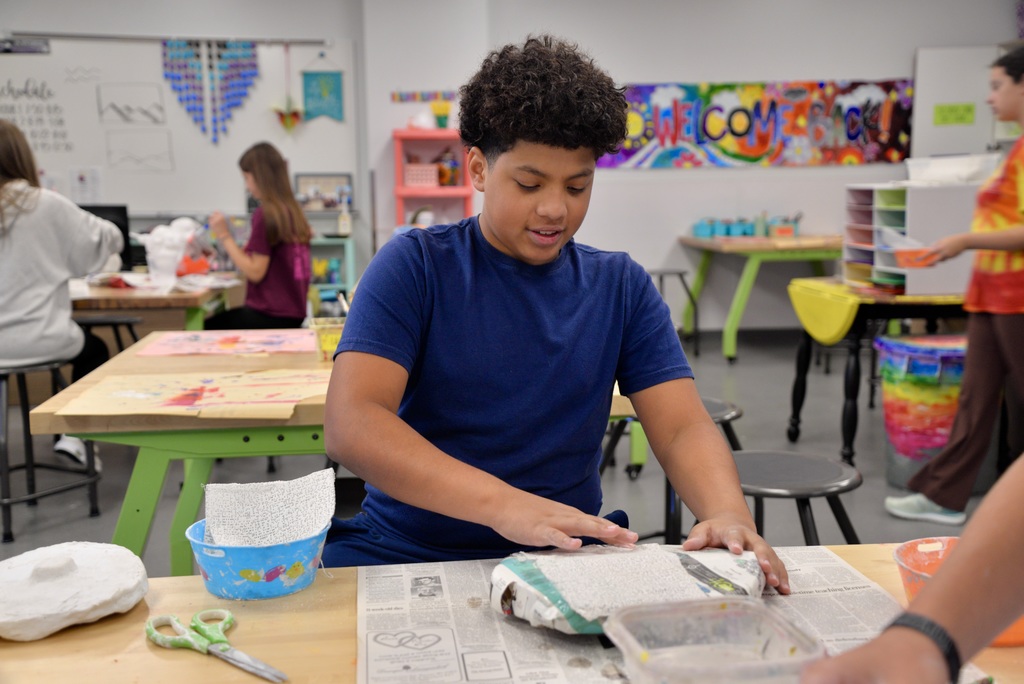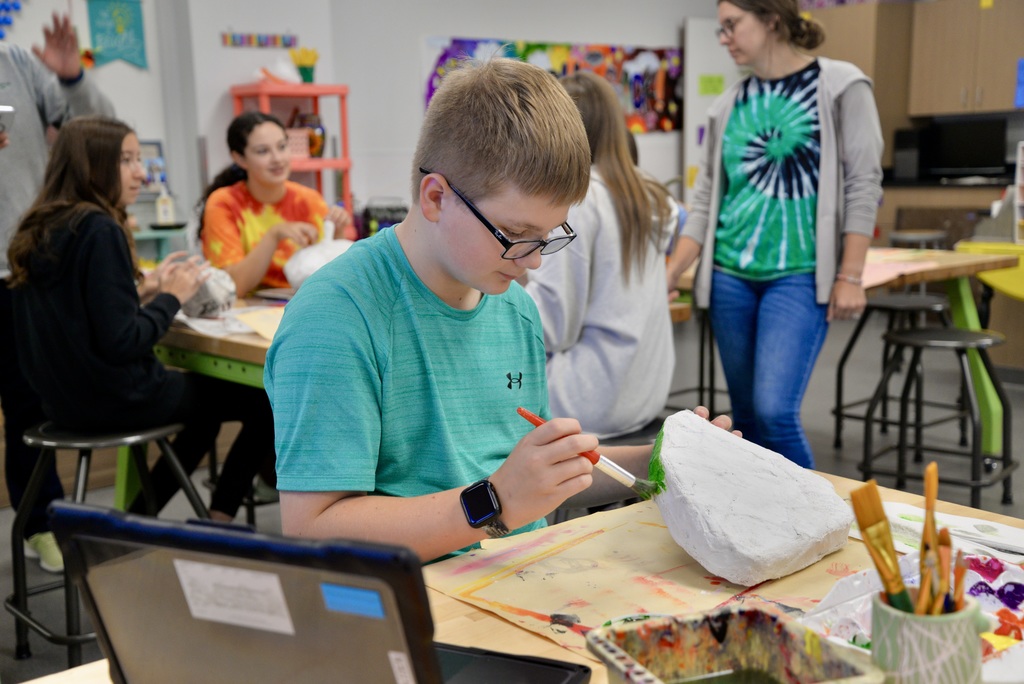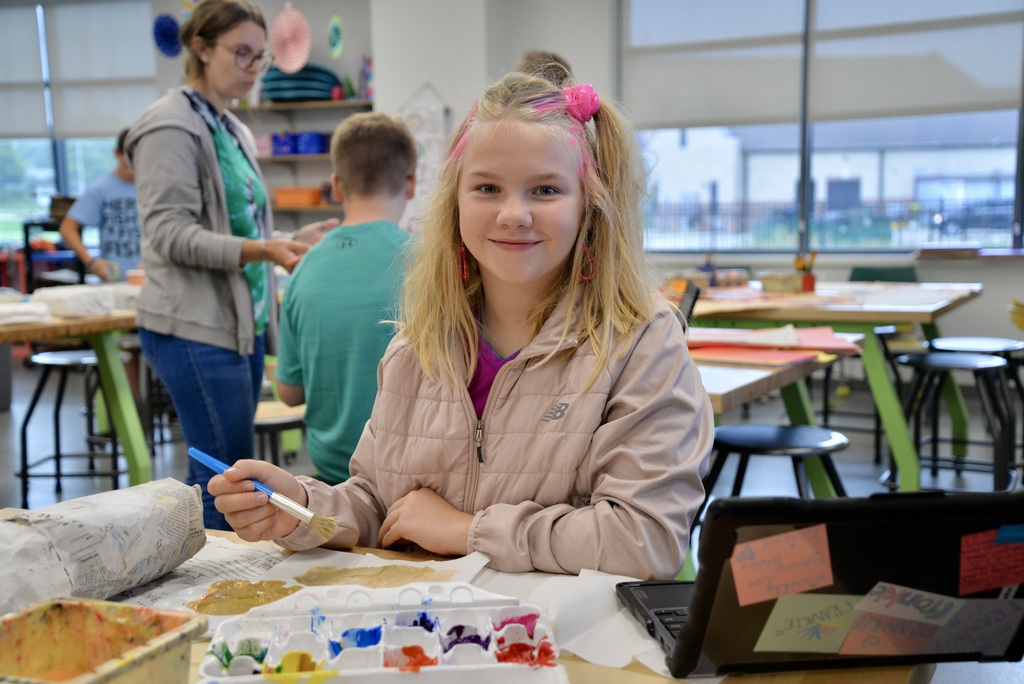 Fox River Middle School hosted over 900 middle school students for a home cross-country meet!


Should TikTok be banned in the United States? Should schools embrace Al/ChatGTP or ban it? 7th graders discussed these questions during their Fishbowl discussion. Both sides of the debate presented great perspectives on these issues!

Our Falcons hosted the first track meet of their season! Congratulations to all our students for being great hosts and showing the Falcon spirit

Fox River PTO is hosting a Dairy Queen night on Tuesday, May 9th from 5 to 8pm. All sales (drive-thru, dine-in, and carry-out) will generate a donation to the Fox River PTO. We hope to see a huge turn-out at this great fundraising event! Dairy Queen Grill & Chill 330 6th St, Waterford, WI 53185

Mrs. Maurice's 6th-grade science has been learning about cerebral palsy over the past week. They are now working on researching, designing, and prototyping a custom-sized ankle-foot orthosis (AFO) to help patients with spastic hemiplegia, a muscular disorder associated with cerebral palsy. The students have been creating unique prototypes based on specific criteria and constraints!

WUHS Student Council would like to invite all 6th, 7th & 8th graders to the high school for the Spring/ Hawaiian Dance on Friday April 14th. This dance will be held at WUHS in the old gym (door 19) from 7:00 - 9:00 pm. $5 entry – concessions will be sold. Student ID and school-appropriate attire are required. The first 100 guests will receive a free flower lei, so dress to impress!

It was a packed night for our first Falcon Family Engagement event. Thank you to all who came out!

Join us on March 2nd from 5:00 pm - 6:30 pm for Family Engagement Night! This is a wonderful opportunity for families to come together and get to know our amazing building, fantastic teachers, staff, and classes that your student is exposed to. Big O's Texas BBQ will be parked outside for your convenience to purchase a scrumptious dinner. We hope to see you there!

Congrats to Kylie, whose artwork will be moving onto the State Youth Art Show and be displayed in Madison next month! Her piece was selected as the winner of the staff pick out of all the works from 7th and 8th-grade students.

Congratulations to Grant, Brady, and Landon on qualifying for the Math 24 Regional Tournament being held on Feb. 15 at Washington Caldwell. Miles will be our alternate. Best of luck to all players!

Attention 7th and 8th Graders – Mark Your Calendars! We are offering an opportunity to interested 7th and 8th graders to join us during your lunch period for LUNCH WITH PROFESSIONALS!! Throughout the year we will have different professionals come to share about their job and what it involves. Grab your lunch and head down to the Fox River Library on Thursday, January 26th to learn about one of our local businesses, Creative Spaces Studio. You can check out their site ahead of time at:
https://www.creativespacesstudio.net/
Pre-registration is required. Sign Up Link:
https://forms.gle/U67YDnkrJr9HAsku7

Last night, our 7th and 8th graders put on an amazing Winter Concert! We also want to give a special shoutout to all the students who performed in the prelude. These students volunteered and practiced outside of class time! Amazing job, Falcons!

Our building is FILLED with holiday spirit! ❄️

Each year the music ensemble leaders at Fox River Middle School choose a service project. The band leadership team (BLT) and vocal leadership team (VLT) decided to bring instruments and serenade shoppers at Pick n Save in Waterford. The kids sang, played, and rang the bell for Salvation Army last Saturday morning. Great to see our students out in the community 💚

The 8th graders just finished their memoir unit today and our staff hosted an open mic event complete with hot chocolate to celebrate!

We share a responsibility to ensure your child is on track for college and career readiness. With PreACT®, you can get useful information to help your child choose the right high school courses, think about ways to work on areas for improvement, and even begin discussions about their college and career interests. This year, we've chosen to administer the PreACT® to continue actionable steps that your 8th Grader can take to become ready for college and plan for the future. At no cost to you, we are providing your child with the PreACT on December 7, 2022, during regular school hours. You, nor your student, need to prepare for this test. Your student will simply show up to school as if it is a regular school day. The 8th grade staff has prepared a testing schedule and an alternative academic schedule for the students to follow. During the test, students will not be allowed to use any electronic technology, except a calculator (watches, phones, airpods, computers are not allowed). On testing day, please make sure that your child brings a calculator and a #2 pencil. We're confident your child will do their best. Your student's results will support academic placement at Waterford Unified High School. We're confident your child will do their best. This is an opportunity to see your student's potential performance on the ACT® test. To learn more about the test, visit act.org/preact. For more information on how PreACT 8/9 Data is used at the high school, please feel free to contact Waterford Union High School Principal Dan Foster
dfoster@waterforduhs.k12.wi.us
or Waterford Union High School Counselor Nicole Werner
nwerner@waterforduhs.k12.wi.us
.

Our school believes that to do well in school, students need to feel connected to their school community. In our ongoing effort to create a positive and caring school culture, we are having a Youth Frontiers Courage Retreat®. Youth Frontiers (YF) is a nonprofit organization that has been delivering retreats to schools since 1987. They provide schools with experiences that inspire character, civility, and community so that our next generation of leaders is grounded in character. On the Courage Retreat, the YF Programs Staff will focus on creating a more positive school community by engaging students in a variety of activities that enhance self-confidence, empathy, and connectedness. This high-energy, interactive retreat is scheduled for December 9th for the 7th grade class and will be held in the Fox River Gym. Pizza will be provided for all students for lunch. If your child has a food allergy, please contact the school or send a lunch. To reinforce the positive effects of the retreat, we believe it's important for the entire community to be involved in supporting and communicating the messages delivered on the retreat. Because of this, we encourage parents and caregivers to inquire about their student's retreat experience by asking the following questions: 1. What activities did you find fun? 2. What were the small-group leaders like? 3. What were some of the social fears that you discussed during the small-group conversations? 4. What's a fear you really struggle with? 5. What is one thing you can do tomorrow at school to show more courage? Visit
https://www.youthfrontiers.org/courage-retreat/
for more information on Youth Frontiers and to watch a video about the Courage Retreat. If you wish to opt your child out of this experience, please contact the office by Thursday, Dec 8th

Hello Fox River Family! This is Mr. Singer and Mr. Harris sending you an email to let you know about an opportunity coming on Tuesday, November 29th called GivingTuesday! Giving Tuesday is a day that encourages people to give back in whatever ways they can. An anonymous donor will double all donations on Donors Choose on GivingTuesday, November 29! We are attempting to purchase a laser engraver for the shop since the demand in the classroom is growing and we are attempting to grow our equipment to meet that need. If you are able to donate to our project on Tuesday, November 29th we would appreciate the support. Click on the link below to help support the Fab Lab. We appreciate your support and help as we keep working towards our vision of Developing real-world skills to drive community contribution.
https://www.donorschoose.org/classroom/frmsfablab
Thank you again for your support and generosity!