Attention 7th and 8th Graders – Mark Your Calendars! We are offering an opportunity to interested 7th and 8th graders to join us during your lunch period for LUNCH WITH PROFESSIONALS!! Throughout the year we will have different professionals come to share about their job and what it involves. Grab your lunch and head down to the Fox River Library on Thursday, January 26th to learn about one of our local businesses, Creative Spaces Studio. You can check out their site ahead of time at:
https://www.creativespacesstudio.net/
Pre-registration is required. Sign Up Link:
https://forms.gle/U67YDnkrJr9HAsku7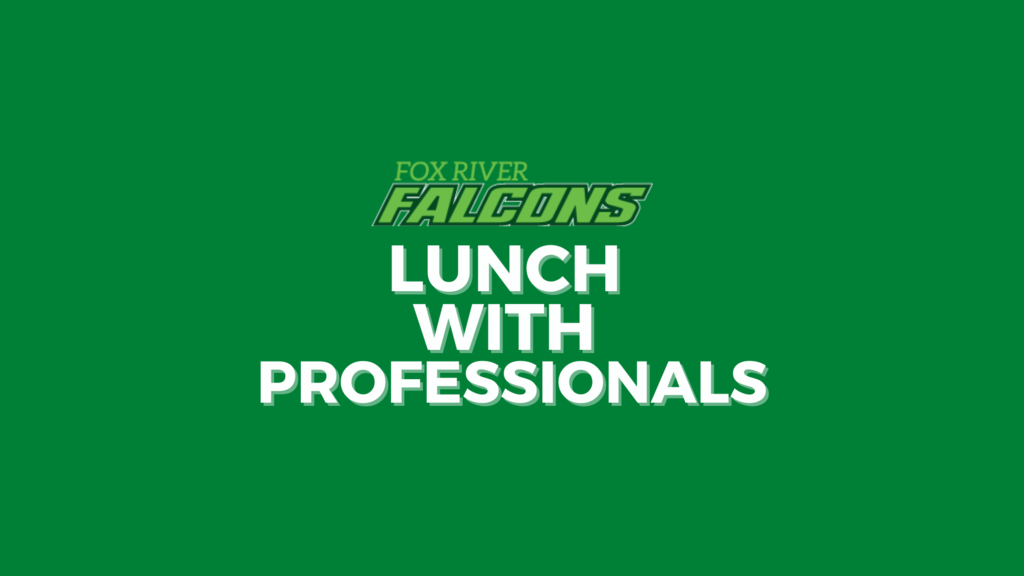 Last night, our 7th and 8th graders put on an amazing Winter Concert! We also want to give a special shoutout to all the students who performed in the prelude. These students volunteered and practiced outside of class time! Amazing job, Falcons!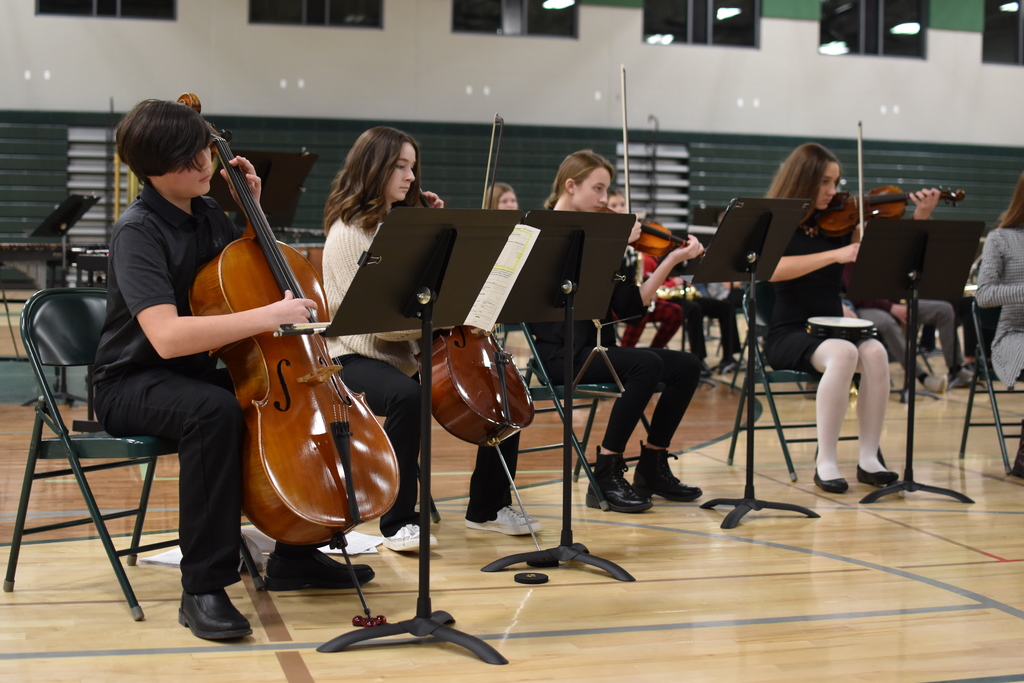 Our building is FILLED with holiday spirit! ❄️

Each year the music ensemble leaders at Fox River Middle School choose a service project. The band leadership team (BLT) and vocal leadership team (VLT) decided to bring instruments and serenade shoppers at Pick n Save in Waterford. The kids sang, played, and rang the bell for Salvation Army last Saturday morning. Great to see our students out in the community 💚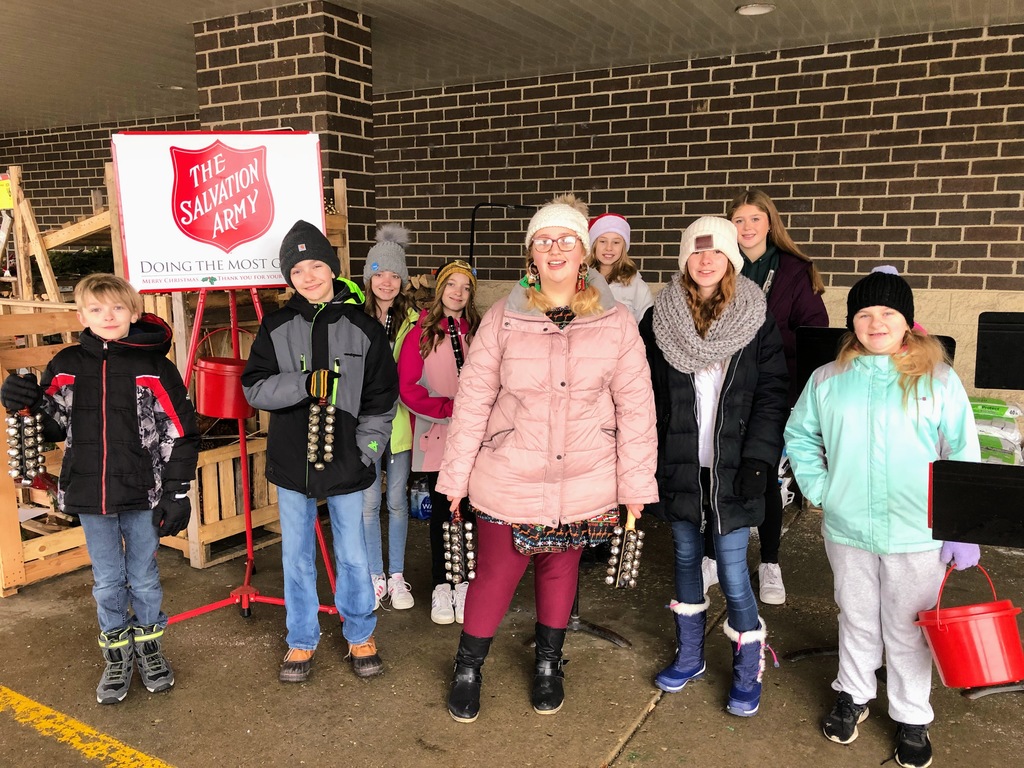 The 8th graders just finished their memoir unit today and our staff hosted an open mic event complete with hot chocolate to celebrate!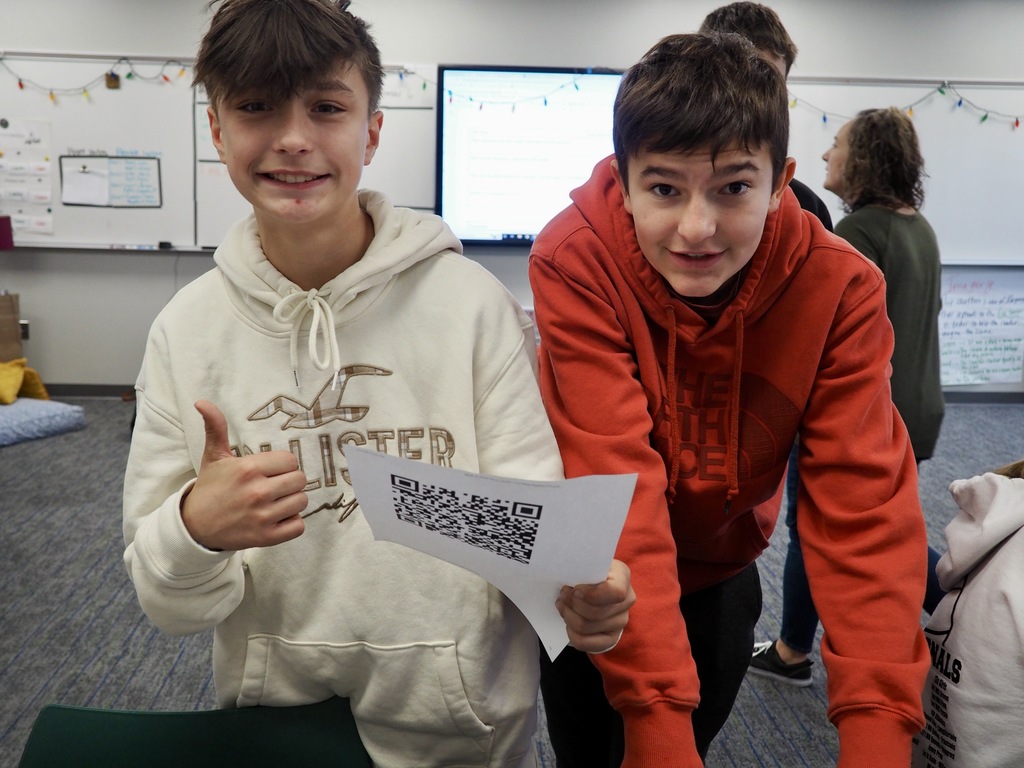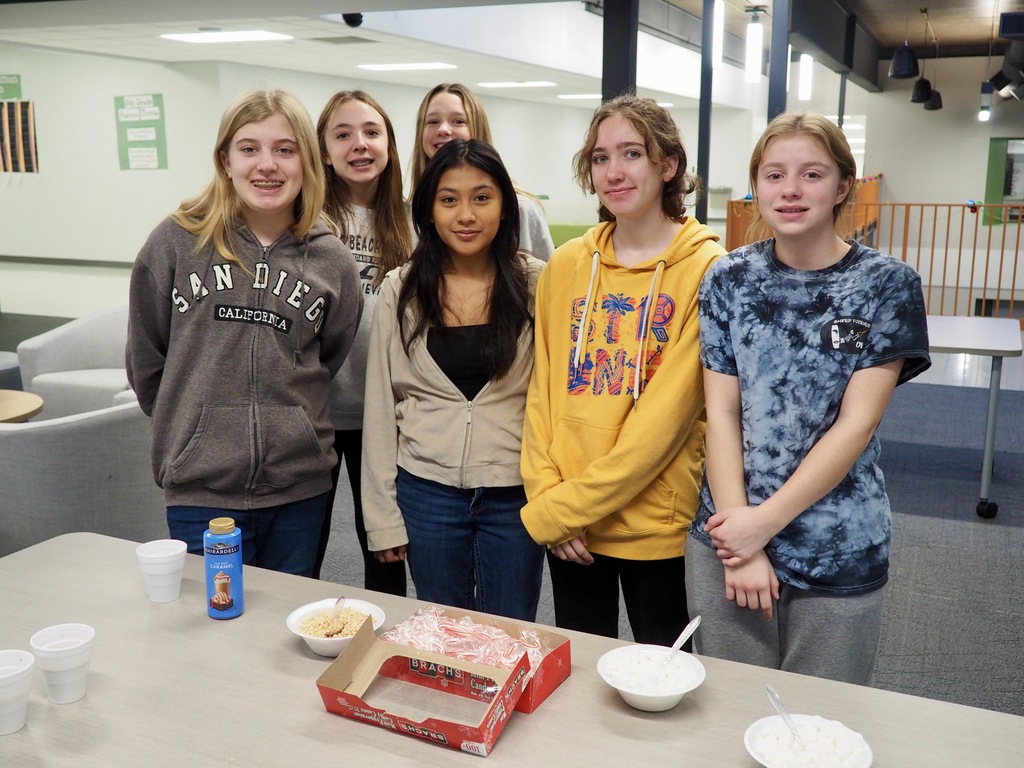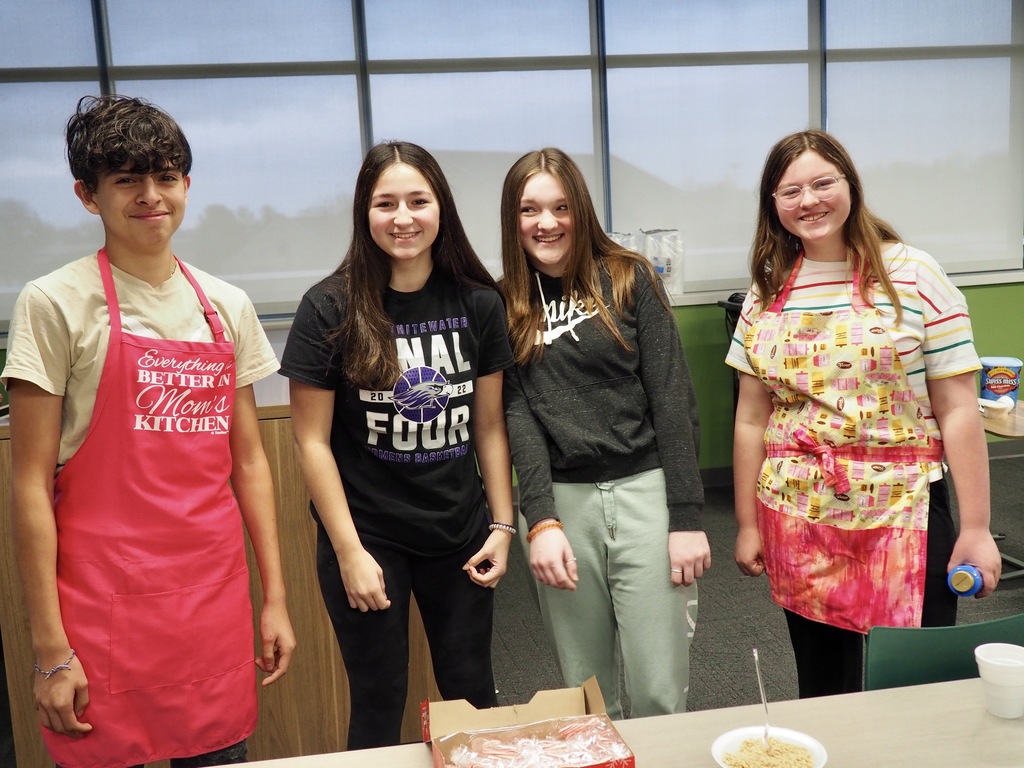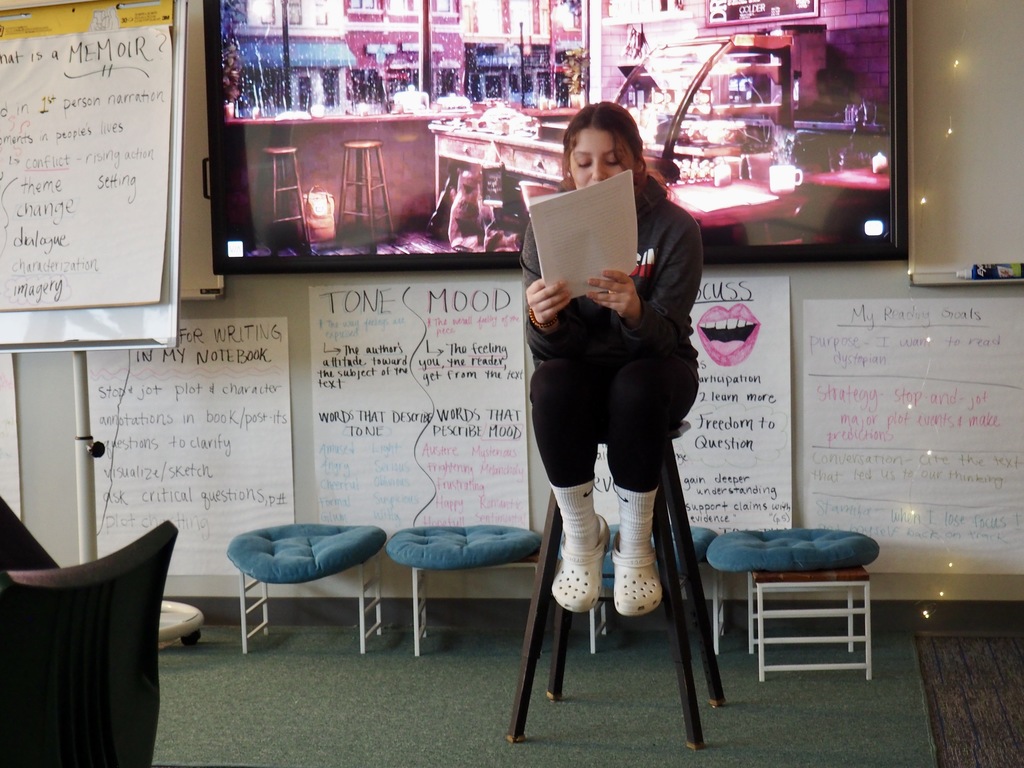 We share a responsibility to ensure your child is on track for college and career readiness. With PreACT®, you can get useful information to help your child choose the right high school courses, think about ways to work on areas for improvement, and even begin discussions about their college and career interests. This year, we've chosen to administer the PreACT® to continue actionable steps that your 8th Grader can take to become ready for college and plan for the future. At no cost to you, we are providing your child with the PreACT on December 7, 2022, during regular school hours. You, nor your student, need to prepare for this test. Your student will simply show up to school as if it is a regular school day. The 8th grade staff has prepared a testing schedule and an alternative academic schedule for the students to follow. During the test, students will not be allowed to use any electronic technology, except a calculator (watches, phones, airpods, computers are not allowed). On testing day, please make sure that your child brings a calculator and a #2 pencil. We're confident your child will do their best. Your student's results will support academic placement at Waterford Unified High School. We're confident your child will do their best. This is an opportunity to see your student's potential performance on the ACT® test. To learn more about the test, visit act.org/preact. For more information on how PreACT 8/9 Data is used at the high school, please feel free to contact Waterford Union High School Principal Dan Foster
dfoster@waterforduhs.k12.wi.us
or Waterford Union High School Counselor Nicole Werner
nwerner@waterforduhs.k12.wi.us
.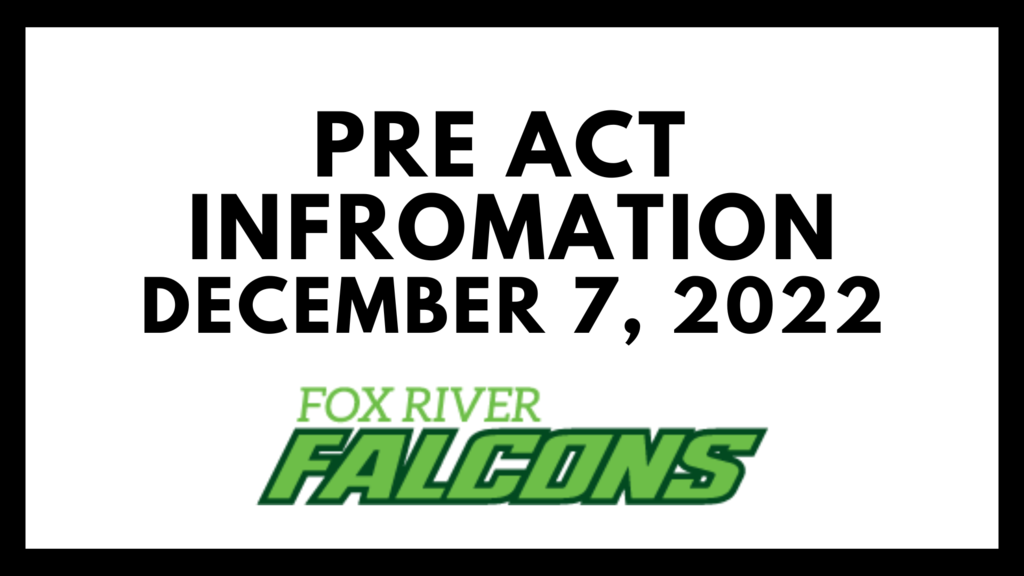 Our school believes that to do well in school, students need to feel connected to their school community. In our ongoing effort to create a positive and caring school culture, we are having a Youth Frontiers Courage Retreat®. Youth Frontiers (YF) is a nonprofit organization that has been delivering retreats to schools since 1987. They provide schools with experiences that inspire character, civility, and community so that our next generation of leaders is grounded in character. On the Courage Retreat, the YF Programs Staff will focus on creating a more positive school community by engaging students in a variety of activities that enhance self-confidence, empathy, and connectedness. This high-energy, interactive retreat is scheduled for December 9th for the 7th grade class and will be held in the Fox River Gym. Pizza will be provided for all students for lunch. If your child has a food allergy, please contact the school or send a lunch. To reinforce the positive effects of the retreat, we believe it's important for the entire community to be involved in supporting and communicating the messages delivered on the retreat. Because of this, we encourage parents and caregivers to inquire about their student's retreat experience by asking the following questions: 1. What activities did you find fun? 2. What were the small-group leaders like? 3. What were some of the social fears that you discussed during the small-group conversations? 4. What's a fear you really struggle with? 5. What is one thing you can do tomorrow at school to show more courage? Visit
https://www.youthfrontiers.org/courage-retreat/
for more information on Youth Frontiers and to watch a video about the Courage Retreat. If you wish to opt your child out of this experience, please contact the office by Thursday, Dec 8th

Hello Fox River Family! This is Mr. Singer and Mr. Harris sending you an email to let you know about an opportunity coming on Tuesday, November 29th called GivingTuesday! Giving Tuesday is a day that encourages people to give back in whatever ways they can. An anonymous donor will double all donations on Donors Choose on GivingTuesday, November 29! We are attempting to purchase a laser engraver for the shop since the demand in the classroom is growing and we are attempting to grow our equipment to meet that need. If you are able to donate to our project on Tuesday, November 29th we would appreciate the support. Click on the link below to help support the Fab Lab. We appreciate your support and help as we keep working towards our vision of Developing real-world skills to drive community contribution.
https://www.donorschoose.org/classroom/frmsfablab
Thank you again for your support and generosity!

Fox River Middle School is seeking donations of gently used athletic apparel to benefit students for whom purchasing a uniform t-shirt may be a barrier to participation in sports. Thus if you have gently used volleyball, cross country, or track uniform shirts that you would like to donate to a student, kindly bring those to the Fox River office. Spread the word to those families who may no longer have middle school students. We appreciate our families' generosity, who help make athletics available to all.

Waterford Union High School Student Council will again host dances for 7th and 8th-grade students. These dances will be held at WUHS in the old gym (door 19). Fridays – November 4th, January 13th, and April 14th 7:00 - 9:00 pm $5 entry – $1 drinks Student ID and school-appropriate attire are required.

Congratulations to our 8th graders who, as a group, had 90% of the class filling out and bringing their assignment notebooks to class for three weeks! Their incentive was Uncle Harry's ice cream. Thank you, Uncle Harry's, for opening on a Tuesday to make this possible 💚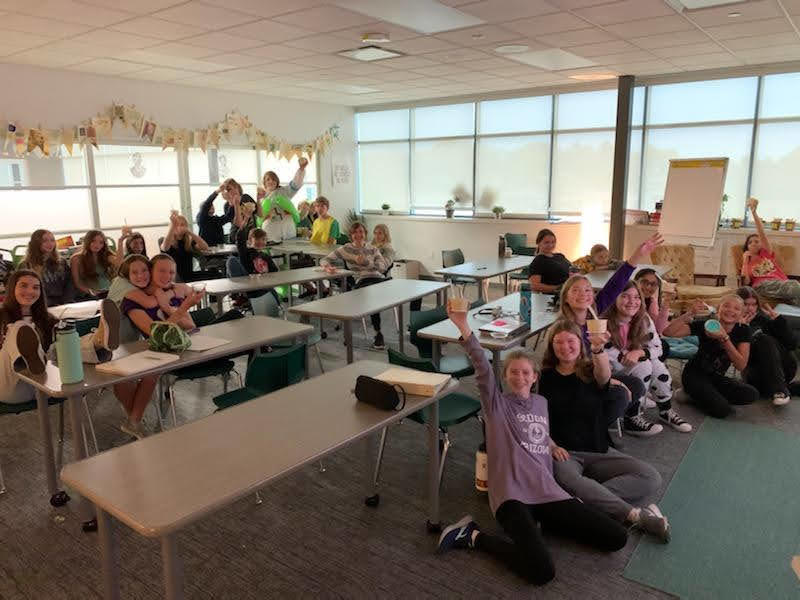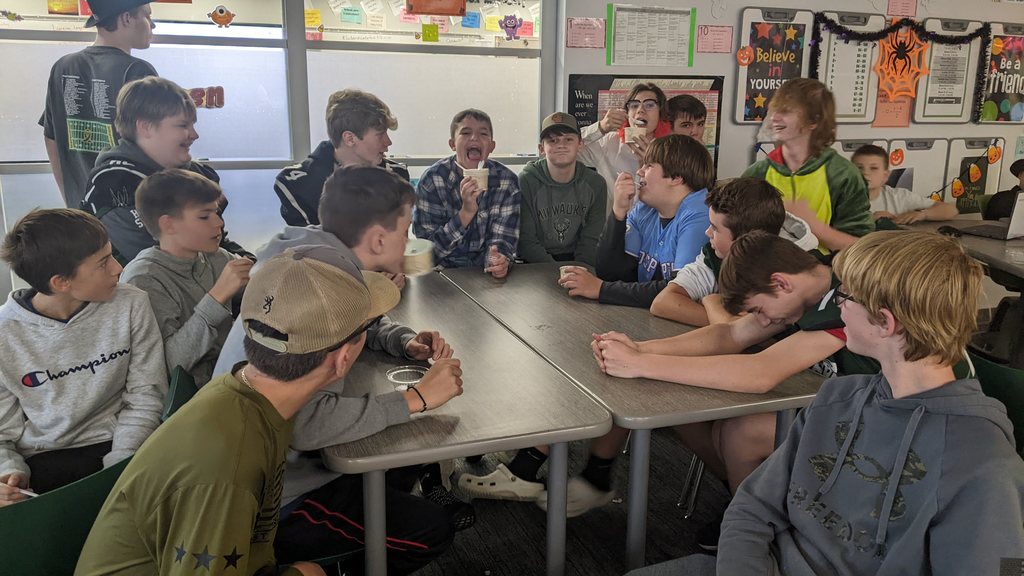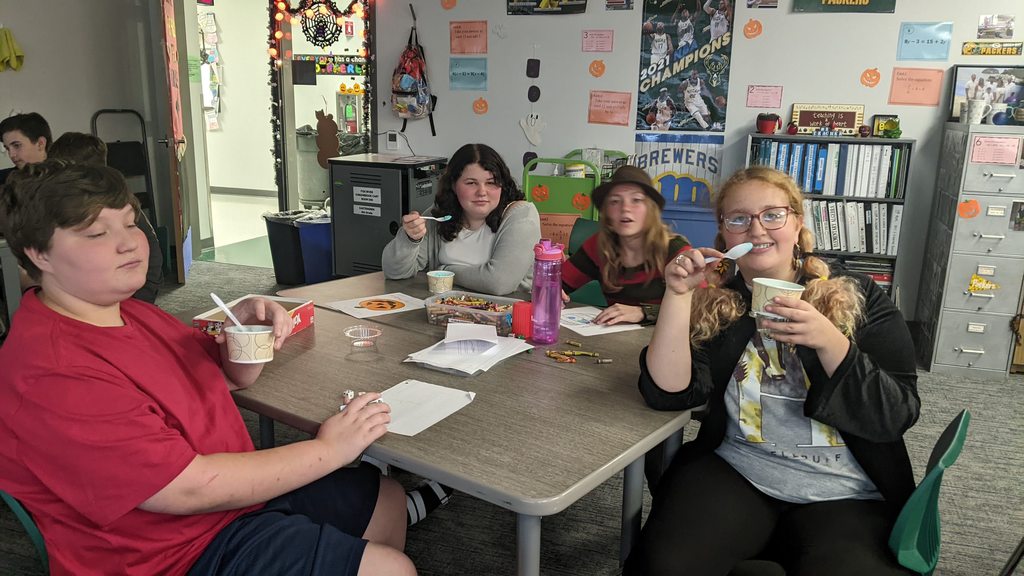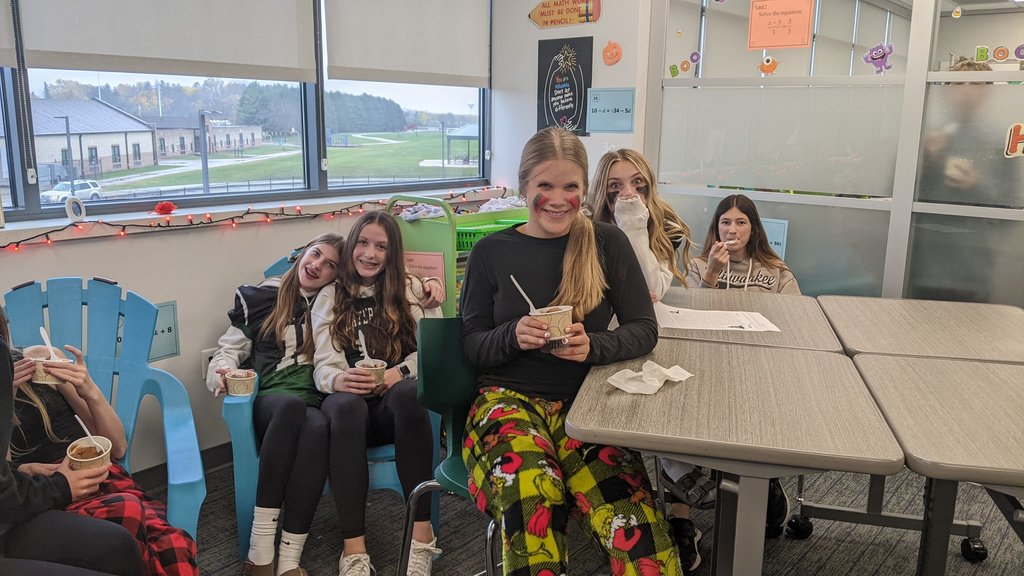 Reminder: Friday, October 7th is a teacher in-service day – No school for students Reminder: Monday October 10th is Photo Retake/Make-up Day 7:30am – please see below for ordering links and instructions. I had my photo taken, and I ordered photos but I would like a retake: The Fox River photo retake day will be first thing in the morning on Monday October 10th. IF your student has already had their photos taken, but you wish to have them retaken you are to return the envelope and the photos on retake day. You do not need to place a new order. You will receive a replacement package identical to the one ordered prior. I had my photo taken, I did not order and I would like a retake: If you had photos taken, but did not order and wish for your child's photo to be retaken, please return your empty envelope on October 10th to aid in the retake process. Follow this link. This link is for new orders only.
https://mortensen.orderschoolpix.com/53809
Password: Prepay I missed photo day and have never had my photo taken: Below is the link for ordering photos taken on retake day. Please use this link to order photos ONLY if you have not ordered prior.
https://mortensen.orderschoolpix.com/53809
Password: Prepay For questions please call Mortensen 262-754-8889

As the excitement builds towards the first day of school we wanted to send one last reminder that ONLY 6th graders (and 8th grade WEB leaders) will attend school on Thursday 9/1. The first full day of school for ALL students is Friday 9/2. Before tomorrow, please review the visual aid to assist with the flow of traffic for drop off and pick up.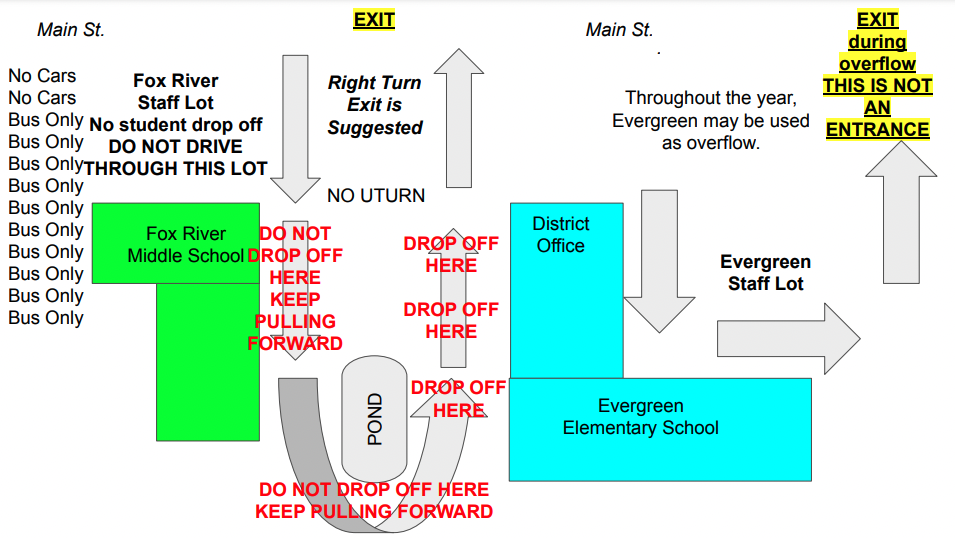 Thank you to all the families that attended the open house last night. After seeing all the kids back at Fox River, we can't wait for this upcoming school year!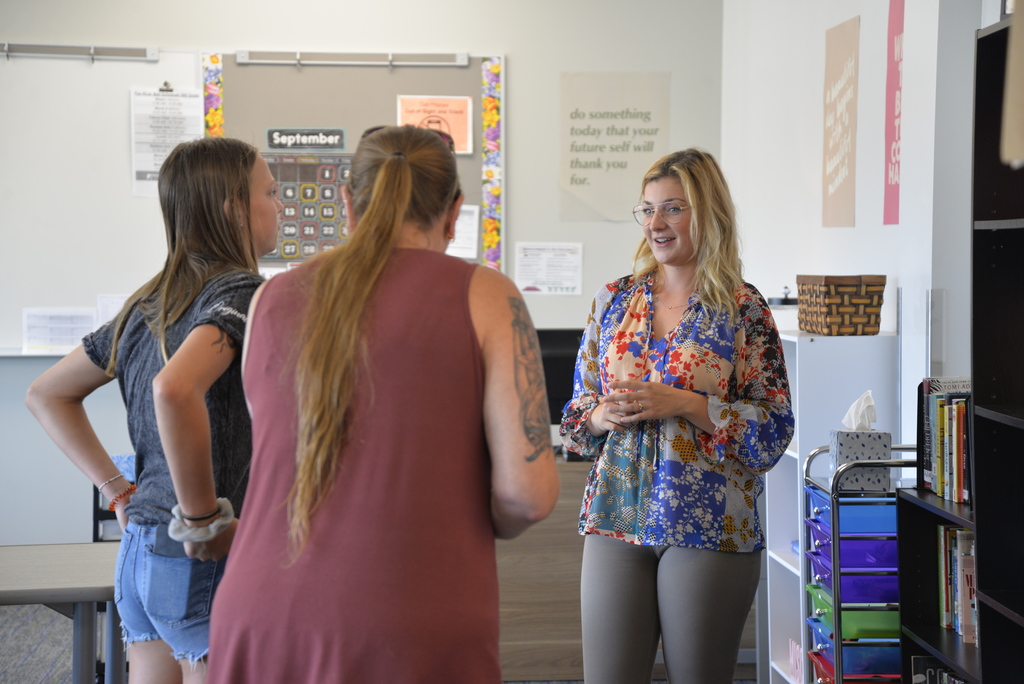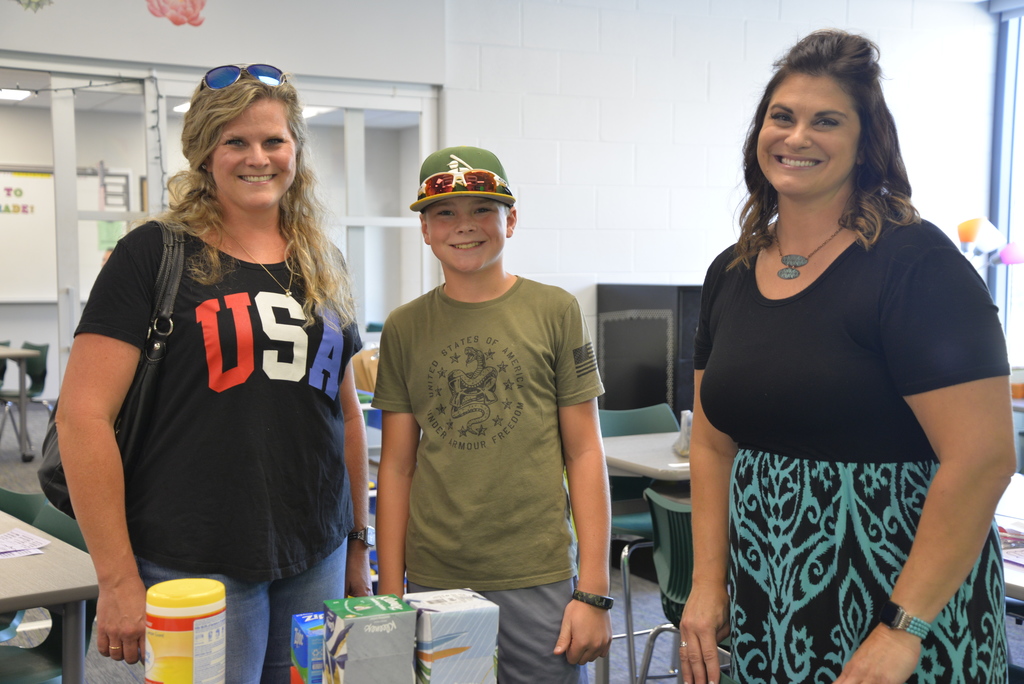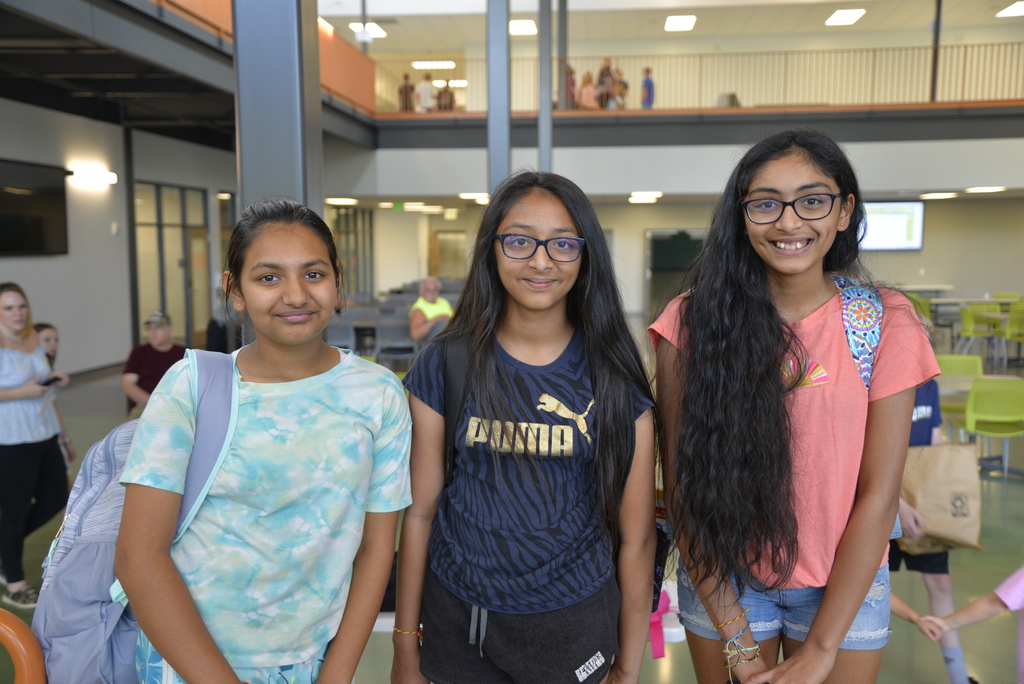 Just a quick reminder to log on to Skyward Family Access and take care of online registration. The instructions are attached. Please get in touch with the Fox River office at 262-514-8420 if you need help. Also, please note that registration fees and elective course fees have been added and should also be paid. Please double-check your balance due, as prices may have been added since your last log-in. Fees are payable online, but if you would like to pay your fees in person, please feel free to stop in the office ahead of the open house and do so.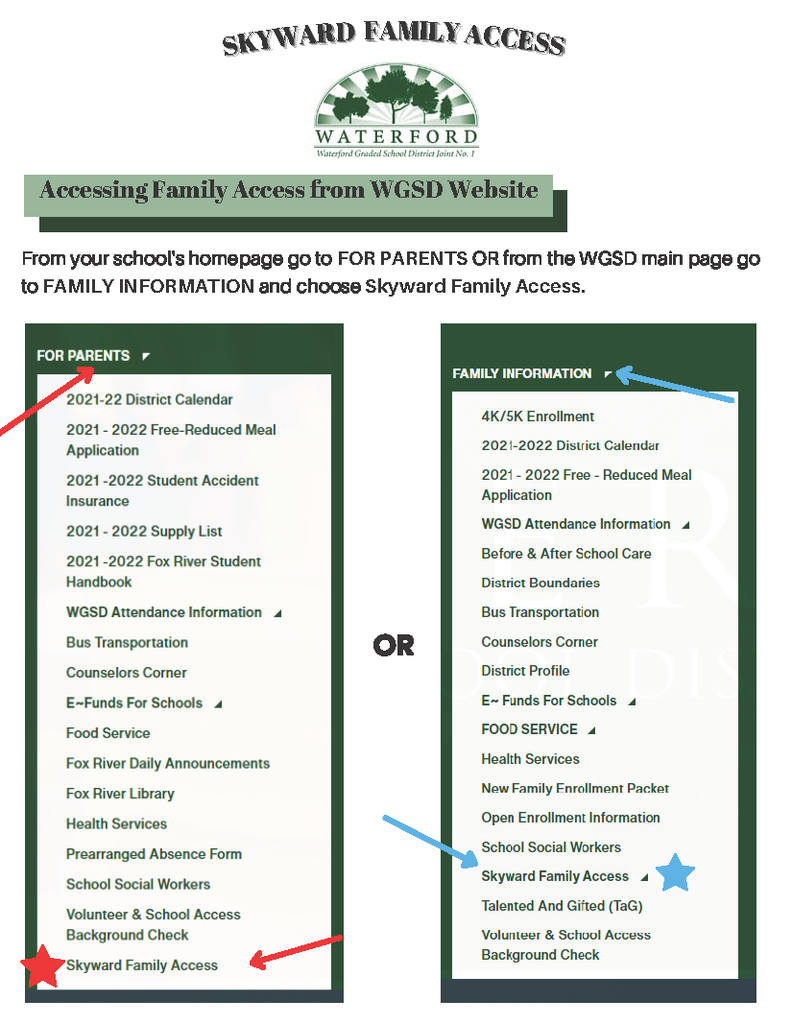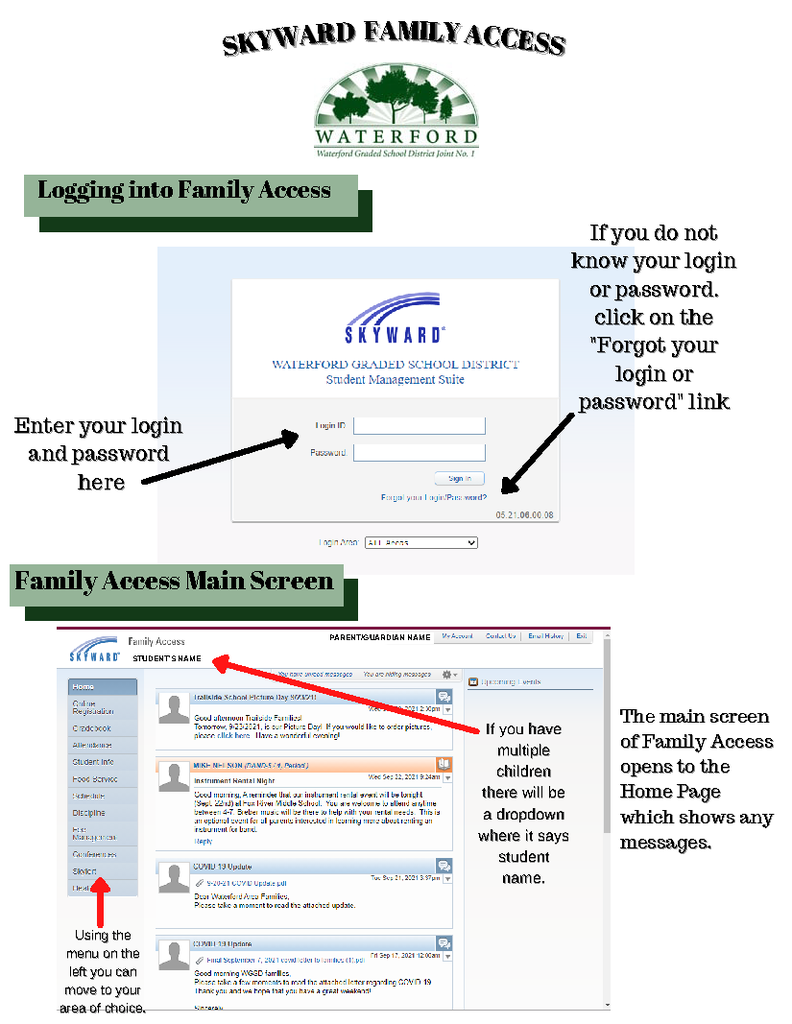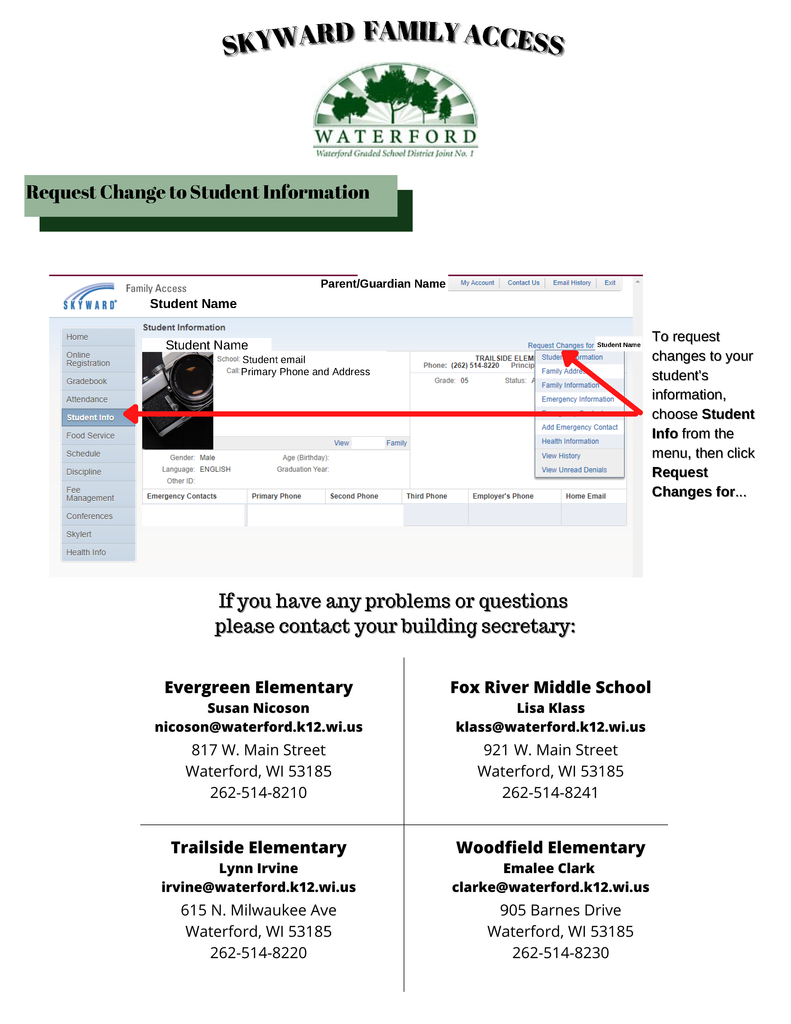 As a result of our work, we are being recognized by the @WisRtICenter in behavior at the bronze level. This award celebrates our efforts as we progress toward an equitable system.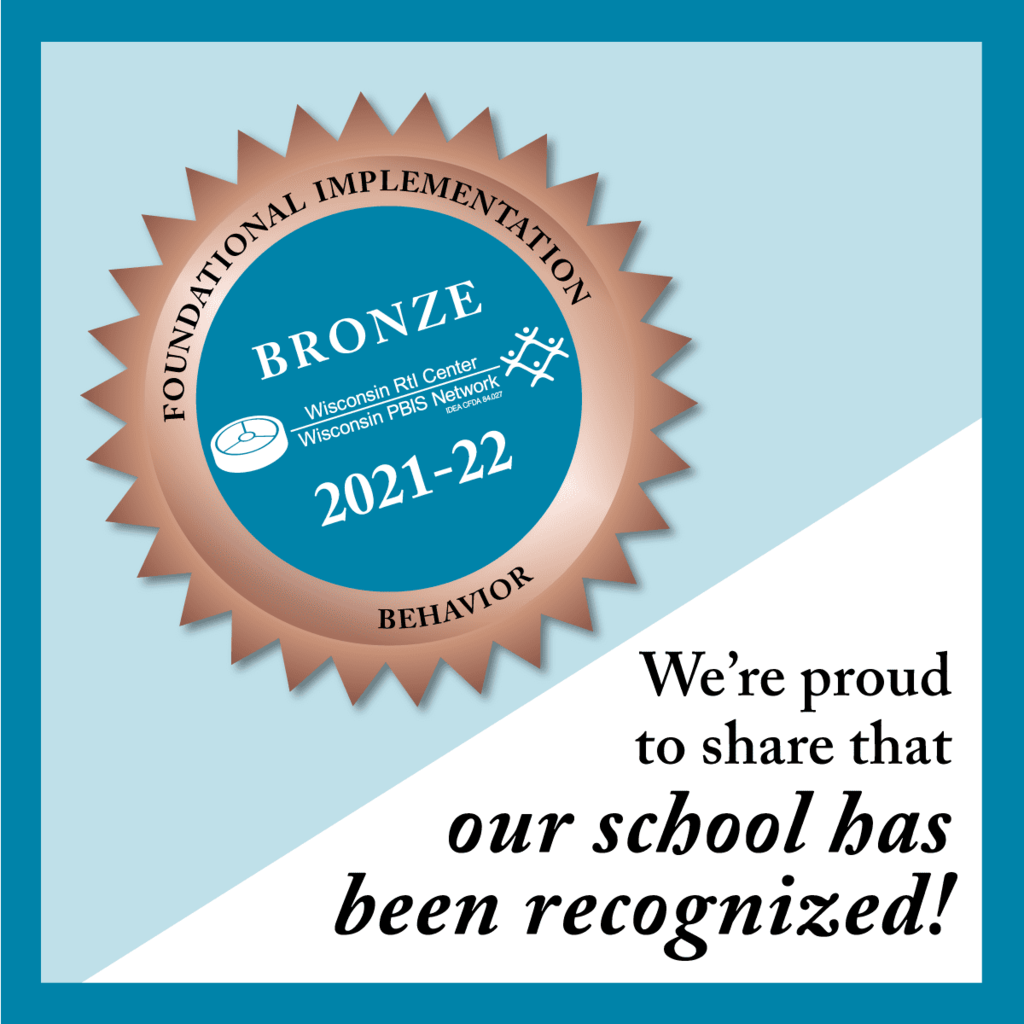 The eighth-grade band and chamber strings members voted for our Outstanding Musician of the Month. -Landon Mabert, Oboe and Tenor Sax (April) -Hannah Bruce, Cello (April) -Mylie Fujinaka, Violin (May) -Roman Read, Trombone (June) ⭐️ Congratulations to our "End of the Year" Musicians of the Month!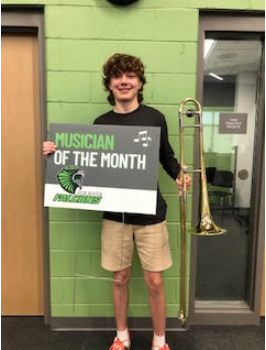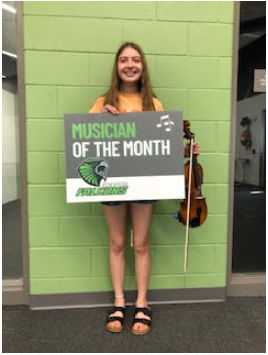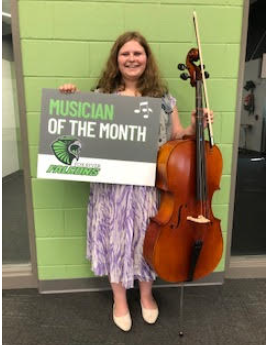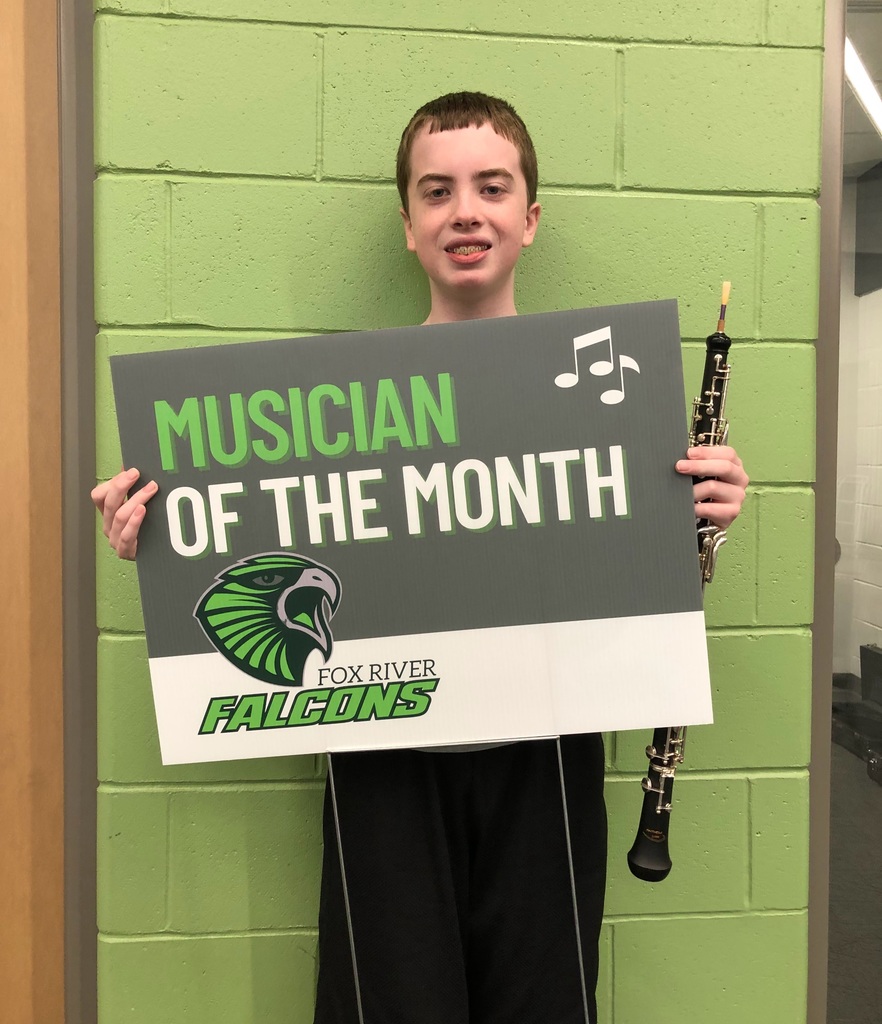 We invite our students to join in the fun as we count down the days until summer! Below please find a list corresponding to each letter of the alphabet with a fun theme for the day. ABC Countdown to Summer 5/4 Animal day -Dress as an animal (think leopard print, animal onesies, muppets inspired, etc - no costume face masks) 5/5 B Day - Wear your Brewers, Bucks or Badgers gear 5/6 Crazy Hair Day - Show off that creative spirit with your hair 5/9 Disney Day - Dress as your favorite Disney character. Wear your Disney gear, and don't forget those mouse ears. (no costume masks) 5/10 Eclectic Day - (Definition of eclectic - deriving ideas, style, or taste from a broad and diverse range of sources.) So get creative, mismatch, wear various styles in one outfit. Let's see your creativity! 5/11 Flip Flop Day - Wear your flip flops (make sure you have gym appropriate shoes with you) 5/12 Green Day - Wear green 5/13 Hat Day -Wear your favorite hat in school 5/16 Impress/Inside Out Day - Dress to impress, OR wear your clothes inside out 5/17 Jeans and Jersey Day - Wear jeans and and a jersey 5/18 Kickball Day - Play a game of kickball at recess (or some of your really cool teachers might even organize a game) 5/19 Lunch Outside Day- We will eat lunch outside today. (Weather permitting) 5/20 Milwaukee Sport's Day-Wear your Milwaukee sports gear! (Brewers, Bucks, Admirals, Wave) 5/23 Neon Day - Wear your neon colors 5/24 Organization Day - Organize your lockers during falcon time, be ready for our final countdown of school days! 5/25 Pajama Day - Wear pajamas 5/26 Quiet Day - Bring a blanket to work quietly with. 5/27 Red or Rainbow Day - Wear red or rainbow colors 5/31 Silly Sock Day - Wear your silly socks 6/1 Thank you day - During your falcon time write thank you notes to your teachers, and other staff members who have helped you this school year. 6/2 USA Day - Wear red, white, and blue 6/3 Veteran Appreciation Day - Write a thank you letter to a veteran during falcon time. We will collect and distribute these to veterans. 6/6 Western Day - Wear your best Western gear (think cowboy/cowgirl) 6/7 eXchange Autographs Day - Time to sign yearbooks during a class designated by your teachers. 6/8 You Better Bring It Day - play games in your falcon time 6/9 ZIP UP YOUR BACKPACK AND ZOOM OUT OF HERE!

Our 6th graders joined Explore Waterford for their Beautification event! We are proud of our Falcons for taking care of their community.