Calling all 4K-6th Graders - Join us for our Dance Stars Christmas Themed Program. This themed dance class is packed with interactive fun for all! Class will be divided based on skill/experience level. REGISTRATION DEADLINE = Oct 31. Register Online today -
http://bit.ly/WaterfordRecreation

Dear WGSD Families, The way that you find the monthly menus on our website has changed. The menus will no longer be pushed out through Facebook, but will be available on either the district or specific school site. To locate the menus you will need to select "Menu" at the top of the page, then select "For Parents" and click on "Food Service". This is a direct link to all school menus. You will also be able to see calorie and allergy information. Paper menus will still be available at your child's school.

Just a reminder to WEAR WHITE tomorrow to show support for White Ribbon Week!

Dear Parents or Guardians of WGSD Children, We would like to share with you the upcoming program flyer for the 2019-2020 Parents United presentations. These free programs present timely and informative information, in a neutral forum, for parents and professionals. If you are interested in attending any of the free presentations, you can register at
http://parentsunitedwi.org/register-now/
or by calling 262-345-7810.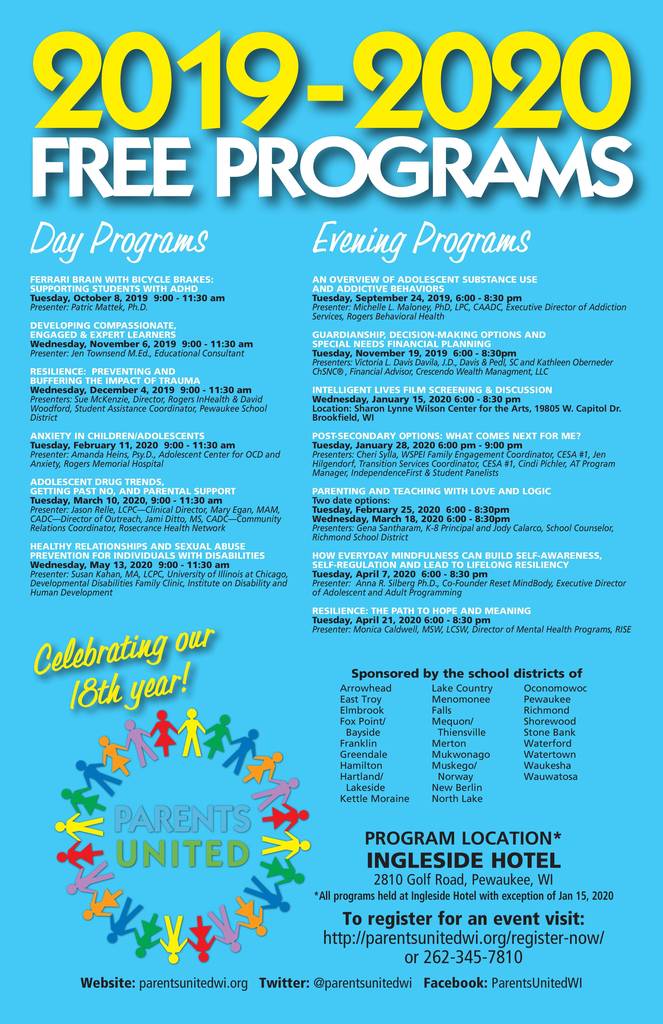 Evergreen Families, Please see the attached document with the drop off and pick up procedures during the construction phase of the school year. Please know that if any changes occur to this you will be notified at that time. Remember to use caution at all times both in the parking lots and on Main St.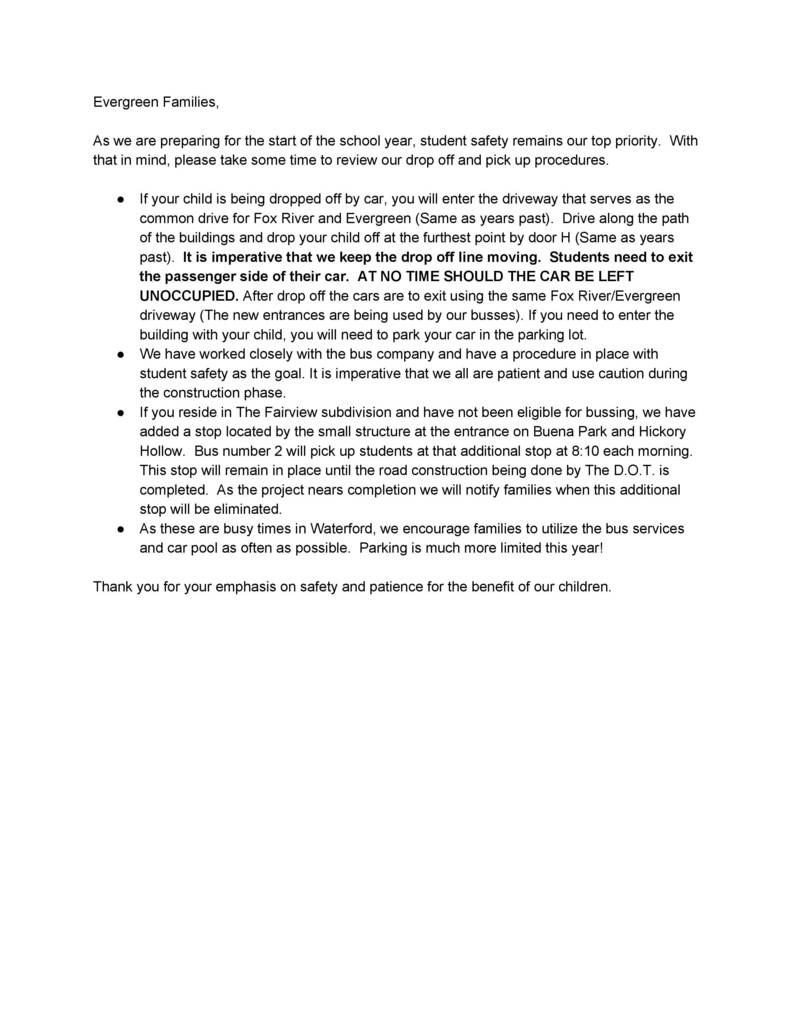 **IMPORTANT** WIS 20/83 Please note the "Update" section of the attached Project Update as this has information that will impact your routes to and from school.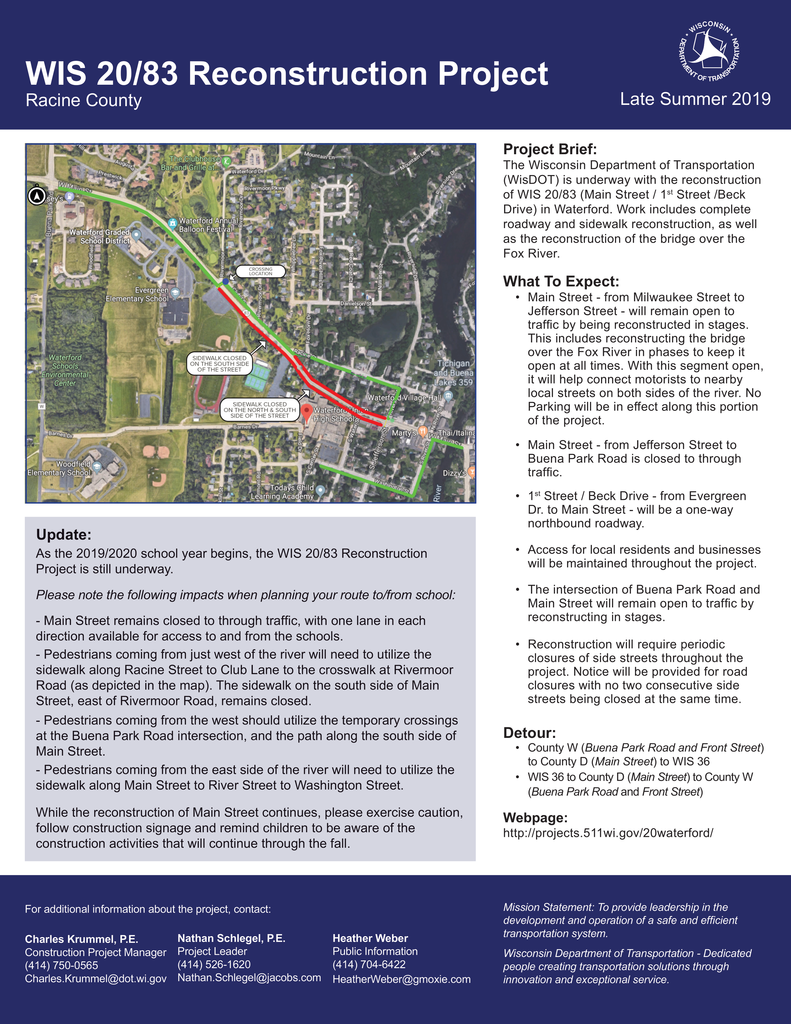 WI 20/83 UPDATE: On Friday, August 9th, 2nd Street south is scheduled to close to through traffic. When 2nd Street closes, 3rd Street will open. Please see the attached project update​ for additional information.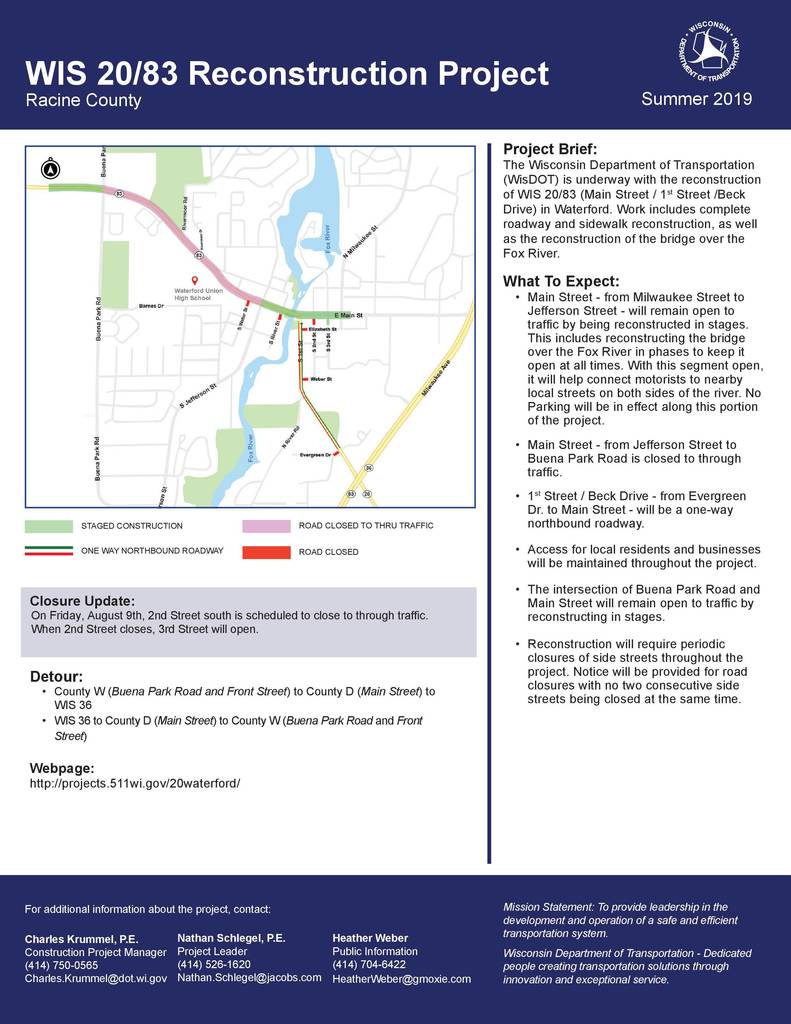 Our "Evergreen" Seniors came back for one more walk through the school. Congratulations WUHS Class of 2019!!!!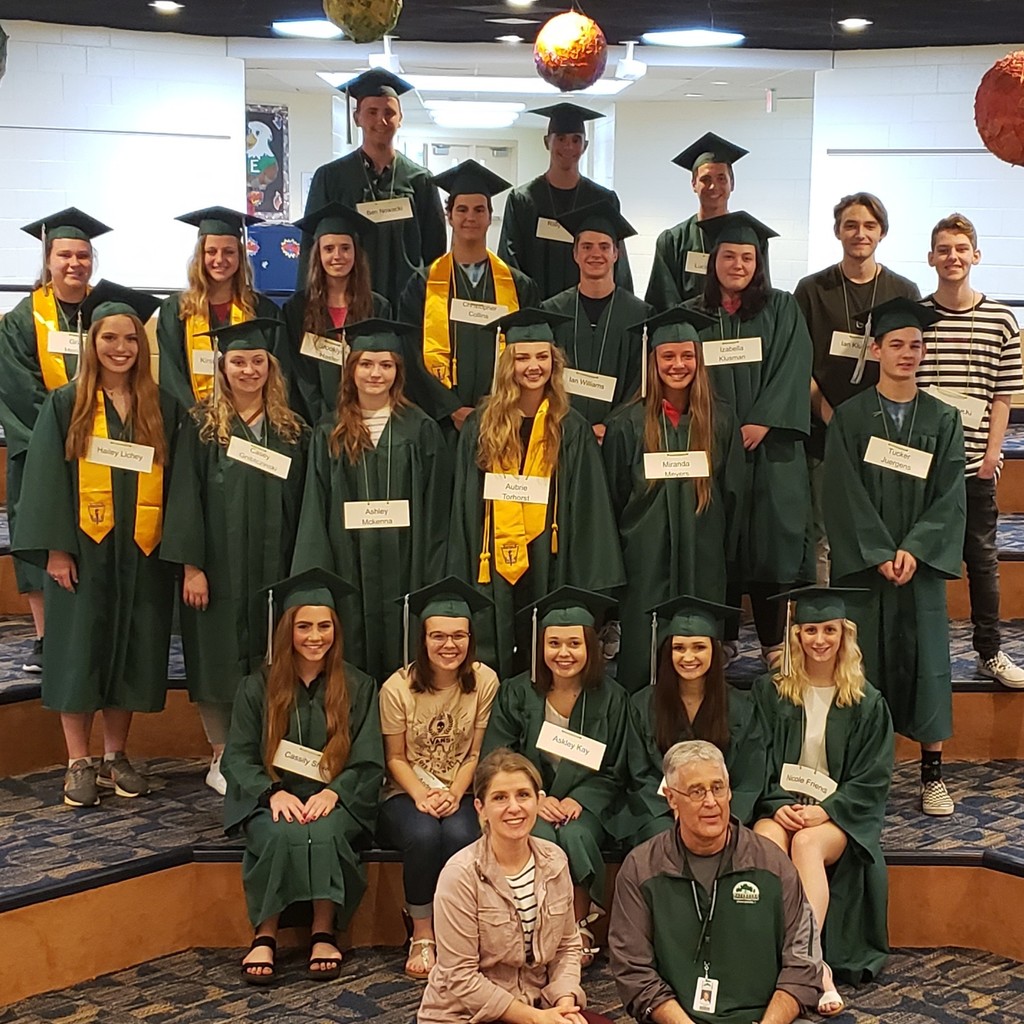 Waterford Recreation Summer Playground Registration Deadline is May 31st. Explore the Options... Enjoy the Fun @ the Waterford Recreation Summer Playground Program! Join us for 8 weeks of summer fun - June 17 through August 9. Visit our website for a listing of all options available.
http://bit.ly/WaterfordRecreation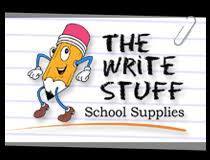 **IMPORTANT UPDATE** 1st Street Closure Update: On May 3rd, the following side roads (at the intersection with 1st Street) will close long-term: Elizabeth St., Weber St., and Evergreen Dr. (west of 1st Street). Please see attached map for visual details.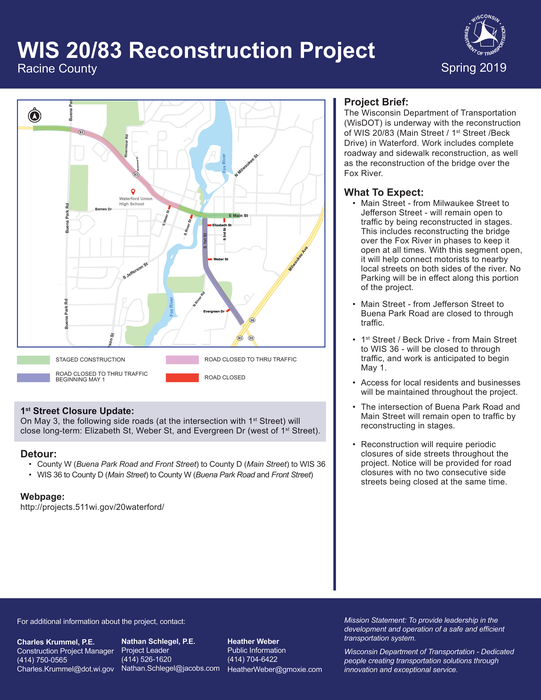 ​**UPDATE** Please read the attached flyer regarding the WIS 20/83 Reconstruction Project. Note that there will be a public information meeting on Tuesday, April 30 from 4:00-6:00 pm at the Waterford Library. This will be hosted by the WisDOT and Zenith Tech. There will be project staff there to answer any questions you may have.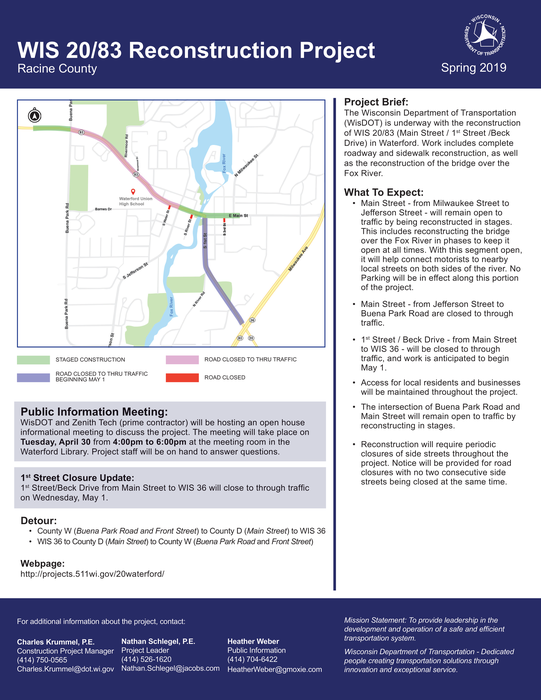 Attention 4th - 6th grade parents/guardians: The PBIS team is in need of donations for our PBIS Eagle cart. Please go to the following link to see what items are needed and to sign up to make a donation. Donations are needed by April 26, 2019.
https://www.signupgenius.com/go/30e0845ada62daafe3-eagle1

*UPDATE* Please read the most recent update for the WIS 20/83 Reconstruction Project. Please note that traffic will shift within the downtown area of Waterford. During this work, no street parking will be allowed on Main Street. For additional information please see that attached flyer for contact information.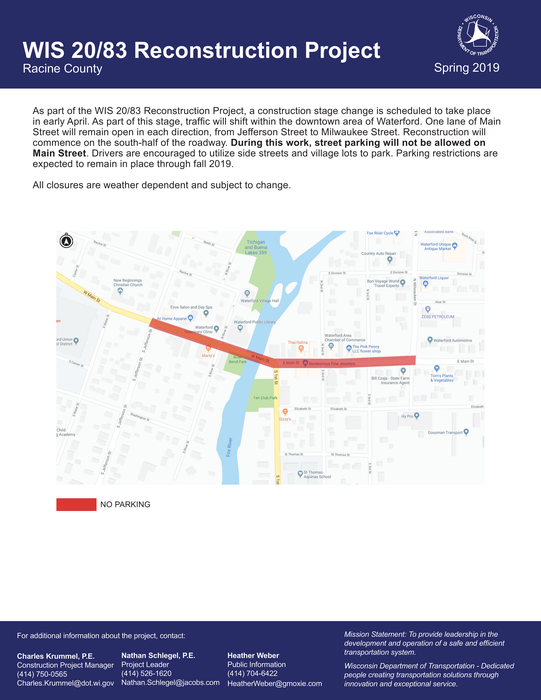 All of our WGSD 4K families are invited to the Mark Twain presentation on March 22nd at Evergreen Elementary. Please see attached flyer for further details.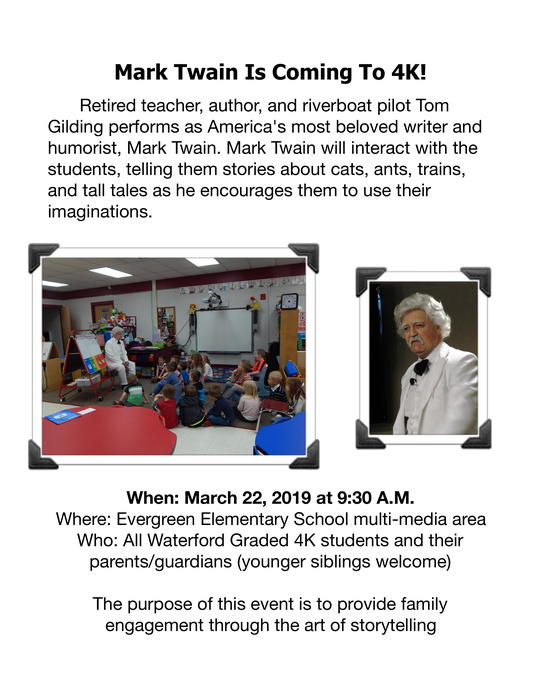 Lunch Menu Update: Please note the following changes to the March lunch menu. On Tuesday, March 12, a BBQ pork sandwich has replaced the chicken drumstick. On Monday, March 18, pizza sticks with sauce will replace the chicken drumstick.

WGSD would like to congratulate our students that participated in the Math 24 Regional Tournament. The competition was tough, but our students demonstrated phenomenal perseverance and determination! The following 6th grade students placed at this event: 1st Place -Sydney K., 2nd Place - Brolan F., 3rd Place - Gabe G. and 5th Place - Cailyn K. While 7th grade participants did not place, Elijah D. received an award for being the top finisher on the Fox River Team.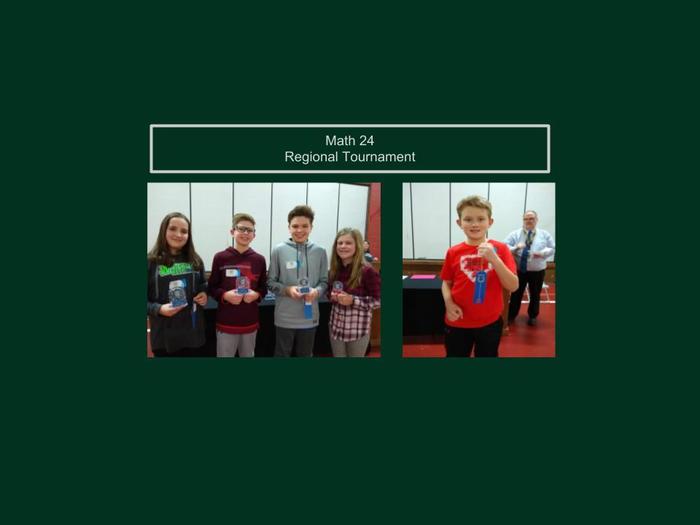 Update to menu on Monday, February 25th: Breakfast Chocolate Muffin Scooby Crackers Raisins Apple Juice Lunch Cheeseburger Chicken Drumstick Ham Sandwich Breaded Chicken Caesar Salad Sides: tater tots, fresh broccoli, mixed fruit, juice

The Waterford Graded School District would like to congratulate the 2018-19 District Spelling Bee winners. First Place: Rylie Second Place: Isaiah Third Place: Ella Thank you to all of the participants and their hard work, you were all AMAZING!