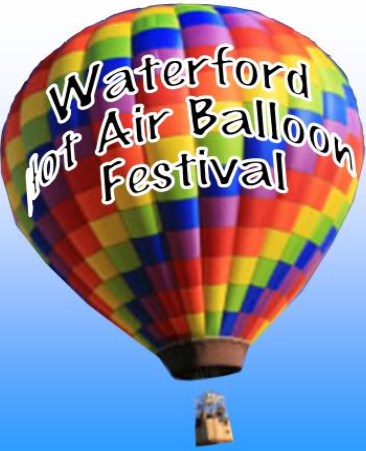 Waterford Chamber News
Sara Schoepke
Wednesday, June 28, 2017
Waterford Hot Air Balloon Festival
~The 7th annual Waterford Balloon Festival is set to launch July 21 - 23, 2017.~
Attend this family - friendly event to experience a magical weekend of color in the skies.
Come join in on the Magic in the Skies July 21-23, 2017 behind Evergreen Elementary and Waterford Union High Schools.
This year marks the 7th annual Waterford Balloonfest, one of only 100 hot air balloon festivals around the country that balloon enthusiast come to visit each year. The event, which takes place on the school grounds of Evergreen Elementary School, features hot air balloon activities (including competitions, launches and night glows), food, craft & business vendors, a beer garden, live entertainment stages for kids & adults, helicopter rides, tethered balloon rides, an outdoor movie, kids activities & more. Admission is free!
Please visit www.waterford-wi.org for a weekend schedule of events and
more information or click on following link: http://www.waterford-wi.org/waterford_balloon_fest.html