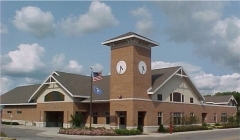 Waterford Public Library ~ July News
Sara Schoepke
Wednesday, June 28, 2017
The Waterford Library will be CLOSED Monday, July 3rd & Tuesday, July 4th.
Library Letterboxing Continues Available through August 31
Letterboxing is a scavenger hunt where you follow a set of clues that leads to a "letterbox". Inside the box is a notebook for you to document your success and a prize! The clues can be found in your summer reading packet or at the Information Desk. Enjoy a walk and learning about the rain garden and Village Hall Park as you search for answers. Available anytime the library is open through August 31.
Animals! Animals! With David Stokes
Wednesday, July 5 at 10:00am
Celebrate biodiversity in this fast-paced humorous look at animals that enrich our lives: frogs, turtles, snakes, insects, mammals, and more! Bring your camera.
Build a Better Friday for Teens*
Fridays, July 7 & 14 at 11:00am
Tweens and teens can come and participate in random acts of kindness throughout the Village of Waterford. Ages 10 and up. Additional registration required.
Family StoryWalk™ Friday, July 7 – Monday, July 10
A StoryWalk™ is an innovative approach to encourage people of all ages to get out and walk while enjoying wonderful children's books. Start in front of the library and enjoy a scenic half-mile route through historic downtown Waterford while enjoying a story with your family.
Dance By the River Party
Monday, July 10 at 10:00am
Munchkins in Motion with Amy will host this fun party! Geared for toddlers and preschoolers, we will enjoy music, dancing, glow sticks and fun during this 30 minute party!
Milwaukee Bucks Day Monday, July 10 while supplies last
Help us reach our goal of 200,000 items checked out this year! Receive a buy-one-get-one-free Milwaukee Bucks ticket when checking out at least five items. One reward per library card used. While supplies last.
Make-It, Take-It Tuesday
Tuesday, July 11 from 9:30am – 7:00pm
Join us for a do-it-yourself craft. The craft supplies and a workspace will be set up for children ages 4 - 10 in the Storytelling Room. Children accompanied by an adult or babysitter are welcome to complete the crafts to take home.
Storywagon Event: Ben's Bubble Show
Wednesday, July 12 at 10:00am
Using his bare hands and a few simple tools, Ben Jimenez makes humorous beautiful and mind-boggling soap bubble structures. He also creates giant bubbles and puts people inside of bubbles. Good clean fun for people of all ages.
Ice Cream Checkout Party
Monday, July 17 from 9:00am – 8:00pm
Help us celebrate our 50th anniversary of public service with an all-day ice cream social. When you check out one item for each person in your group, each person will receive an ice cream treat.
Storywagon Event: KidsPlay Comedy Theatre
Wednesday, July 19 at 10:00am
Join two fitness experts from KidsPlay as they give you a completely unique and hilarious look into their world of health and fitness. This family friendly, highly interactive show is sure to delight audience members of all ages.
Build A Better World Celebration
Thursday, July 20 from 5:00pm– 7:00pm.
Final Program Children and their families who have participated in the summer reading program are invited to celebrate their success! Inflatable bounce houses, petting zoo, dunk tank, hot dogs, crafts, and games are all a part of this fantastic event!
Please visit the Rochester Library at www.rochester.lib.wi.us for more information on upcoming activties at their location