*UPDATE* Please read the most recent update for the WIS 20/83 Reconstruction Project. Please note that traffic will shift within the downtown area of Waterford. During this work, no street parking will be allowed on Main Street. For additional information please see that attached flyer for contact information.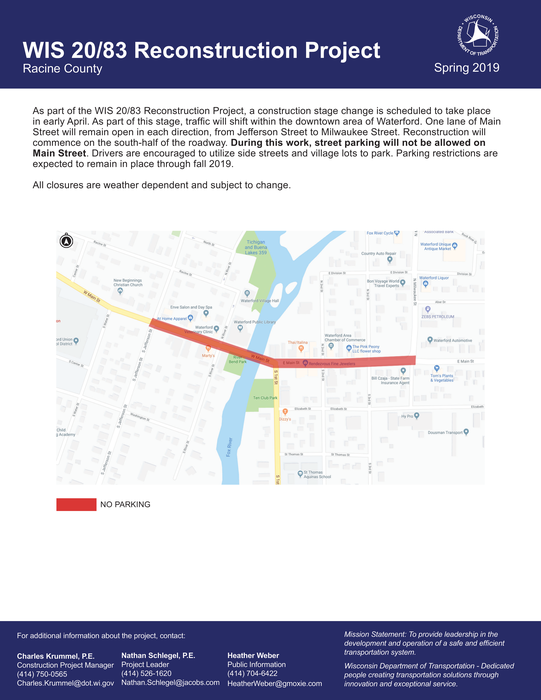 WGSD would like to congratulate our students that participated in the Math 24 Regional Tournament. The competition was tough, but our students demonstrated phenomenal perseverance and determination! The following 6th grade students placed at this event: 1st Place -Sydney K., 2nd Place - Brolan F., 3rd Place - Gabe G. and 5th Place - Cailyn K. While 7th grade participants did not place, Elijah D. received an award for being the top finisher on the Fox River Team.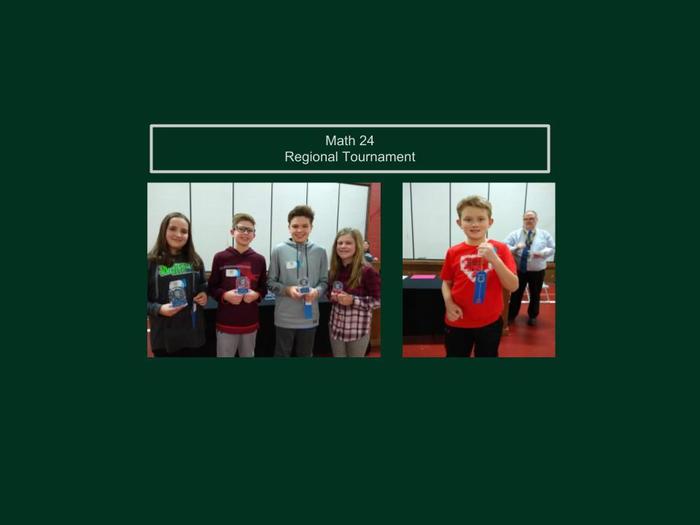 Calendar Update: February 25 will now be a snow make-up day. All students should plan on attending as a regular school day.

School Closing Update: All Waterford Graded Schools will be closed tomorrow, Thursday January 31st. This includes any after school activities and before/after school care.

Due to inclement weather, all afternoon and evening activities are cancelled on January 22, 2019 for the Waterford Graded Schools.
Thank you to everyone who came to Fox River for parent/teacher conferences! Have a great weekend!
Fox River Conferences: Wednesday, 24 & Thursday, 25.

All WGSD phone systems are now fully functional. TDS identified and repaired the issue. Thank you for your patience!
Fox River Middle School is adding a little something to Open House on August 29 (430PM-6PM)---a corn roast! Thanks to the Hanson family for donating the corn, and the Lions Club for the grill! The corn is free--donations accepted! Bring the whole family! Picnic tables out front!
Fox River student schedules will be available for viewing in Skyward starting on August 15!
Thank you to the Fox River families who registered online. This is the preferred method. If you were successful, you do not need to come to the in-person registration—avoid long lines! If you need a little help, stop on in between 9-6 on August 15!
Have a great summer break! And, good luck to all of our outbound 8th graders!
Civil War & Shadow Day this Friday, May 25!

These 8 Fox River students did a fantastic job presenting in Pewaukee today! Thanks to a grant from the Wisconsin DPI, these students were able to spend the last 10 weeks practicing leadership skills as they collaborated in a project based learning experience. The students were challenged to respond to the driving question, "Which technological innovation has had the greatest impact, and what you do you predict it will look like in the future?" This talented group of young leaders developed and engaging, entertaining, informative, hands-on presentation that explained why they believe the greatest technological innovation is...DUCT TAPE!
First week back from Spring Break has been a success! We had a tornado drill yesterday and the students did fantastic! Have a great weekend!
Early release on Thursday, March 29 (11:00AM)! Have a safe and relaxing Spring Break!
Forward testing starts tomorrow! Make certain that your student brings a pair of headphones!
Have a great weekend from the staff at Fox River!
Have a terrific week! Fox River is looking forward to two girls basketball games this week! Go Falcons!
Reminder: Parent/Teacher Conferences are Thursday, Feb. 22 (2PM-745PM). See you then.
Happy Valentines Day!
Families~Due to the snow day, Friday´s lunch menu will be served on Monday. Thank you!
Note: A correction to the Feb Lunch Menu. Feb.22 was marked as No School day on the Elem Lunch Menu. It's an Early Release.The Printable menus have been fixed on the website. Sorry for any confusion!
Fox River Staff is wishing everyone a safe and happy winter break! Enjoy!
The Fox River staff wishes everyone safe travels over the holiday break! Make certain to spend some quality time with loved ones!
Parent/Teacher Conferences:Oct.25 & Oct.26.Be certain to schedule your conference via Family Access!This is a great opportunity to connect with your student's teacher(s)!
Please mark your calendar for this Thursday, October, 5---Open House @ Fox River from 5PM-630PM
Hope everyone is enjoying the beautiful weather!Don't forget about Fox River's Open House--October 5 (5-7:15PM)
Staff and students had a terrific first day of school! Fox River is a great place to be!
Have a fantastic Labor Day! See you Sept. 5! Just a reminder that there is no late bus for Fox River starting in the 2017-18 school year.

The first of four community listening sessions regarding the future of Fox River Middle School will be held tonight at 6:00 p.m. in the Evergreen gym.
Enjoy the rest of your summer! Fox River is ready for the return of students--Sept. 5!
First Day of School for 5K-8 Grades September 5, 2017 First Day of School for 4K Grade September 6, 2017
Last Day of School for 5K - 7th Grade Early Release: K-6 dismiss at 11:30 AM; 7th dismiss at 12:45 PM
Summer Break June 9, 2017—September 4 (First day of 2017-18 School Year Sept. 5, 2017)
Last Day of School for 4K and 8th Grade: June 7
Monday, May 1 is a Teacher Inservice Day. There is No School for students. Thank you!