Attention 4th - 6th grade parents/guardians: The PBIS team is in need of donations for our PBIS Eagle cart. Please go to the following link to see what items are needed and to sign up to make a donation. Donations are needed by April 26, 2019.
https://www.signupgenius.com/go/30e0845ada62daafe3-eagle1

*UPDATE* Please read the most recent update for the WIS 20/83 Reconstruction Project. Please note that traffic will shift within the downtown area of Waterford. During this work, no street parking will be allowed on Main Street. For additional information please see that attached flyer for contact information.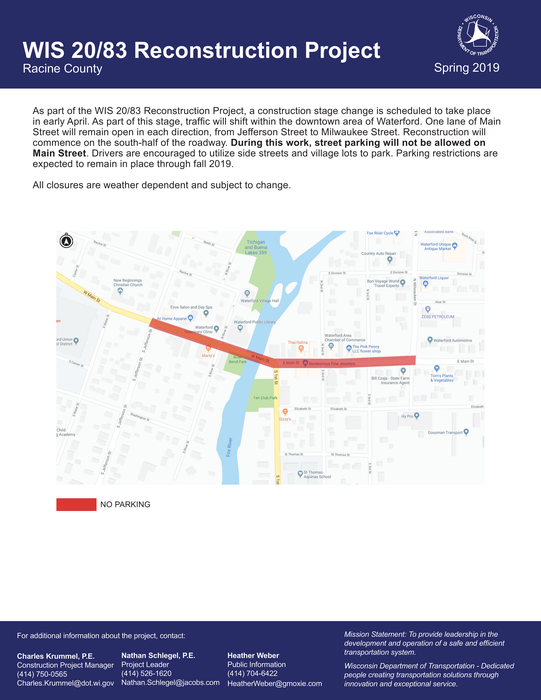 Lunch Menu Update: Please note the following changes to the March lunch menu. On Tuesday, March 12, a BBQ pork sandwich has replaced the chicken drumstick. On Monday, March 18, pizza sticks with sauce will replace the chicken drumstick.

WGSD would like to congratulate our students that participated in the Math 24 Regional Tournament. The competition was tough, but our students demonstrated phenomenal perseverance and determination! The following 6th grade students placed at this event: 1st Place -Sydney K., 2nd Place - Brolan F., 3rd Place - Gabe G. and 5th Place - Cailyn K. While 7th grade participants did not place, Elijah D. received an award for being the top finisher on the Fox River Team.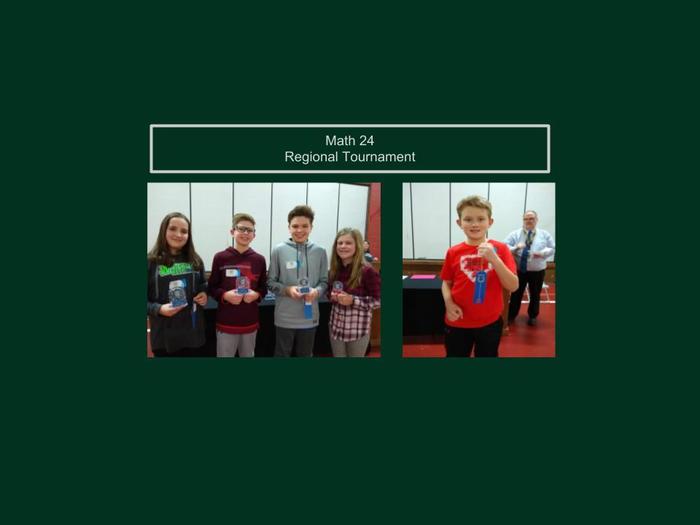 Update to menu on Monday, February 25th: Breakfast Chocolate Muffin Scooby Crackers Raisins Apple Juice Lunch Cheeseburger Chicken Drumstick Ham Sandwich Breaded Chicken Caesar Salad Sides: tater tots, fresh broccoli, mixed fruit, juice

Calendar Update: February 25 will now be a snow make-up day. All students should plan on attending as a regular school day.

Congratulations to our Evergreen Spelling Bee finalists: Tyler - 1st Place, Sophia - 2nd Place, Maddox - 3rd Place and Owen - 4th Place. These students have qualified for the District Spelling.

School Closing Update: All Waterford Graded Schools will be closed tomorrow, Thursday January 31st. This includes any after school activities and before/after school care.

Due to inclement weather, all afternoon and evening activities are cancelled on January 22, 2019 for the Waterford Graded Schools.

All WGSD phone systems are now fully functional. TDS identified and repaired the issue. Thank you for your patience!

Note: A correction to the Feb Lunch Menu. Feb.22 was marked as No School day on the Elem Lunch Menu. It's an Early Release.The Printable menus have been fixed on the website. Sorry for any confusion!

The first of four community listening sessions regarding the future of Fox River Middle School will be held tonight at 6:00 p.m. in the Evergreen gym.
Just a reminder that on-line registration is ongoing. Please feel free to contact the school office if assistance is needed.
First Day of School for 5K-8 Grades September 5, 2017 First Day of School for 4K Grade September 6, 2017
2017-2018 School Supply Lists are now posted on new district website. Look under News (on District page OR School pages) for printable lists.
Last Day of School for 5K - 7th Grade Early Release: K-6 dismiss at 11:30 AM; 7th dismiss at 12:45 PM
Last Day of School for 4K and 8th Grade: June 7
Summer Break June 9, 2017—September 4 (First day of 2017-18 School Year Sept. 5, 2017)
Monday, May 1 is a Teacher Inservice Day. There is No School for students. Thank you!